A Different Way to Make a Cathode May Mean Better Batteries
January 13, 2016 | Lawrence Berkeley National Laboratory
Estimated reading time: 4 minutes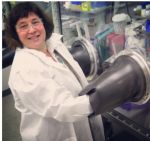 Lithium nickel manganese cobalt oxide, or NMC, is one of the most promising chemistries for better lithium batteries, especially for electric vehicle applications, but scientists have been struggling to get higher capacity out of them. Now researchers at Lawrence Berkeley National Laboratory (Berkeley Lab) have found that using a different method to make the material can offer substantial improvements.
Working with scientists at two other Department of Energy (DOE) labs—Brookhaven National Laboratory and SLAC National Accelerator Laboratory—a team led by Berkeley Lab battery scientist Marca Doeff was surprised to find that using a simple technique called spray pyrolysis can help to overcome one of the biggest problems associated with NMC cathodes—surface reactivity, which leads to material degradation.

These 3D elemental association maps generated using transmission X-ray tomography show the cathode material made by Berkeley Lab Marca Doeff and her team using spray pyrolysis.
"We made some regular material using this technique, and lo and behold, it performed better than expected," said Doeff, who has been studying NMC cathodes for about seven years. "We were at a loss to explain this, and none of our conventional material characterization techniques told us what was going on, so we went to SLAC and Brookhaven to use more advanced imaging techniques and found that there was less nickel on the particle surfaces, which is what led to the improvement. High nickel content is associated with greater surface reactivity."
Their results were published online in the premier issue of the journal Nature Energy in an article titled, "Metal segregation in hierarchically structured cathode materials for high-energy lithium batteries." The facilities used were the Stanford Synchrotron Radiation Lightsource (SSRL) at SLAC and the Center for Functional Nanomaterials (CFN) at Brookhaven, both DOE Office of Science User Facilities.
Page 1 of 3
---
Suggested Items
11/27/2023 | PRNewswire
Since its isolation in 2004, graphene has received widespread attention as a 'wonder' material, with the reported potential to enable a whole host of next-generation technologies, some of which would not be out of place in the latest sci-fi blockbuster.
11/24/2023 | PRNewswire
Superconductors are materials that offer no resistance to electrical current flowing through them. Combining their study with spintronics, which deals with the intrinsic spin of electrons and their use in electronics, has paved the way for the new field of superconducting spintronics.
11/21/2023 | ACN Newswire
Researchers of RIKEN at Japan's state-of-the-art synchrotron radiation facility, SPring-8, and their collaborators, have developed a faster and simpler way to carry out segmentation analysis, a vital process in materials science.
11/17/2023 | SHENMAO
SHENMAO Technology is proud to commemorate its 50th anniversary. Founded in 1973, SHENMAO has witnessed the evolution of Taiwan's electronics industry, playing a pivotal role in shaping the landscape of solder materials and setting new industry stanards.
11/16/2023 | ACN Newswire
The subtle adhesive forces that allow geckos to seemingly defy gravity, cling to walls and walk across ceilings have inspired a team of researchers in South Korea to build a robotic device that can pick up and release delicate materials without damage.