Books

Featured Books

pcb007 Magazine

Latest Issues

Current Issue

The Registration Sweet Spot

Registration is underrated and underappreciated. The key is to ensure proper registration from layer to layer across the entire printed circuit board. It's a holistic process requiring anticipation, prediction, precise attention at each step, and detailed data tracking and monitoring.

High-reliability Fabrication

In this month's issue, our expert contributors discuss the latest in technologies, trends, complexities and resources regarding high-reliability fabrication.

Finding Ultra

New demands on PCB fabrication, namely advanced packaging, ultra high density interconnect (UHDI), and new specialty materials, are converging, changing the landscape of our business. Is it time to start paying close attention to this convergence?

Columns

Latest Columns

||| MENU
Bay Area Circuits Adds Accu-Score AS-100-MAX V-Scoring Machine to its Silicon Valley Facility
January 15, 2016 | Bay Area Circuits, Inc.
Estimated reading time: Less than a minute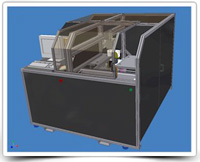 Bay Area Circuits Inc., a leading quick-turn manufacturer of printed circuit boards (PCBs), has purchased and installed an Accu-Score AS-100-MAX V-Scoring machine in its Silicon Valley facility. The AS-100-MAX is a high accuracy, high throughput, 4-axis CNC machine designed to score continuous and segmented ("jump") v-grooves on printed circuit boards (PCBs).
"This purchase is a part of our initiative towards investing in equipment which not only improves our manufacturing quality and precision but also reduces cycle time," said Stephen Garcia, President of Bay Area Circuits. "The Accu-Score AS-100-MAX is the perfect fit for the low volume, high mix PCB fabrication that we're known to deliver."
About Bay Area Circuits 
Founded in 1975 by the late Lawrence Nobriga, Bay Area Circuits has been serving the PCB manufacturing needs of high-tech electronics manufacturers, contract assemblers and design engineers for 40 years. By focusing on quick-turn prototyping and production while leveraging innovative, high quality designs, Bay Area Circuits has become the premiere PCB supplier for discerning customers around the world.
For more information visit www.bayareacircuits.com.   
---
Suggested Items
12/05/2023 | Travis Kelly -- Column: American Made Advocacy
For this month's PCBAA Member Profile, the focus is on Hari Pillai, president, Technology Components, Sanmina. Hari says, "I think I've had a good dose of luck throughout my career. But beyond luck, I had a vision to become a general manager as far back as my undergraduate years. I made all my career decisions based on that. My evaluation criteria was always, "How does this opportunity get me closer to my goal?" Sometimes opportunities come from unexpected places."
12/05/2023 | Amkor Technology
Amkor Technology, Inc., a leading provider of semiconductor packaging and test services, has announced its plan to build an advanced packaging and test facility in Peoria, Arizona.
12/05/2023 | HANZA
HANZA AB has signed an agreement to acquire all shares in Orbit One AB, a Swedish company that offers contract manufacturing of electronics and electromechanics. Orbit One has annual sales of approximately SEK 1.1 billion with an operating profit (EBITA) of approximately SEK 70 million.
12/05/2023 | Arch Systems
Arch Systems, the leading provider of data, analytics, and insightful actions for manufacturing operations, announced this week its collaboration with Plexus Corp., a global leader in complex product design, supply chain, manufacturing, and sustaining services.
12/05/2023 | Mycronic
Mycronic AB has received an order for an SLX mask writer from a new customer in Asia. The order value is in the range of USD 5-7 million. Delivery of the system is planned for the first quarter of 2025.