Books

Featured Books

smt007 Magazine

Latest Issues

Current Issue

Test and Inspection

Test and inspection methods are undergoing rapid change. In this issue, we consider the influence of AOI, AI, and human eyes. How exactly are these pieces of the puzzle changing the role of test and inspection?

Chips Don't Float

In Europe and the U.S., legislation is under way to revitalize PCB fabrication and packaging. What is the status of this work, and how specifically does this change the industry landscape for EMS companies? What will help keep us afloat?

Flying High With Digital Twin

The opportunity to use manufacturing simulation as a test bed for job planning and process optimization brings continuous improvement into the modern age. This may be an all-or-nothing type of project, but it's worth the investment.

Columns

Latest Columns

||| MENU
IPC APEX EXPO: Blackfox Celebrating 20 Years of Providing Quality Training
March 31, 2016 | Real Time with...IPC
Estimated reading time: Less than a minute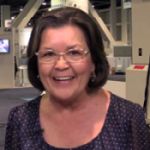 Sharon Montana-Beard, vice president of sales and operations at Blackfox, talks with I-Connect007's Andy Shaughnessy about the company's 20th year in business, their recent partnership with Pace, as well as their activities.
Montana-Beard specifically highlights their advanced manufacturing certification program for military veterans, as well as plans of expanding that program to other cities.
---
Suggested Items
05/17/2023 | I-Connect007 Editorial Team
Successful skills training is a crucial part of the onboarding process and can take experienced staff members away from their primary jobs on the manufacturing floor. Effective training to onboard new employees can not only speed up the ramp-up times, but can also be customized to a company's specific needs. We posed these four questions about new hire training to Sharon Montana-Beard, vice president of sales and operations at Blackfox.
02/08/2023 | Real Time with...IPC APEX EXPO
Hannah Nelson discusses the latest IPC standard revision changes with Jeffrey Duch of Blackfox Training Institute, and their expansion to Minnesota. He talked about how it is impacting the surrounding areas in positive ways, especially economically.
01/16/2023 | Blackfox Training Institiute
Blackfox Training Institute reports that it officially expands its electronics manufacturing training and certification services to a third location in the United States with a new facility in the Minneapolis/St. Paul region of Minnesota. Headquartered in Longmont, Colorado, Blackfox now has three locations in the USA including the new Minnesota location and our existing Longmont, CO and Phoenix, AZ facilities. Blackfox also has two locations in Mexico along with locations in Malaysia and Singapore for a total of seven worldwide Training Centers. All Blackfox locations offer the same IPC Certifications and Blackfox Skill-based Certifications that the electronics industry demands.
01/04/2023 | Andy Shaughnessy, I-Connect007
Andy Shaughnessy recently spoke with Sharon Montana-Beard, vice president and director of sales for Blackfox Training Institute, about their plans for IPC APEX EXPO 2023 and the upcoming year. Sharon discusses the company's expansion plans, including their seventh facility, opening soon in Minneapolis, and the meetings and events she'll be attending in San Diego.
12/26/2022 | I-Connect007 Editorial Team
Each December, we like to look back at the most popular articles of the past 12 months. You never know which article is going to blow up like an Avril Lavigne album. So, grab a cup of eggnog and curl up by the fire! For your holiday enjoyment, here's a blast from the past: the top five most-read I-Connect007 articles of 2022.