Books

Featured Books

pcb007 Magazine

Latest Issues

Current Issue

The Registration Sweet Spot

Registration is underrated and underappreciated. The key is to ensure proper registration from layer to layer across the entire printed circuit board. It's a holistic process requiring anticipation, prediction, precise attention at each step, and detailed data tracking and monitoring.

High-reliability Fabrication

In this month's issue, our expert contributors discuss the latest in technologies, trends, complexities and resources regarding high-reliability fabrication.

Finding Ultra

New demands on PCB fabrication, namely advanced packaging, ultra high density interconnect (UHDI), and new specialty materials, are converging, changing the landscape of our business. Is it time to start paying close attention to this convergence?

Columns

Latest Columns

||| MENU
IPC President John Mitchell on the Past, Present, and Future, Part 1
April 7, 2016 | Barry Matties, I-Connect007
Estimated reading time: 18 minutes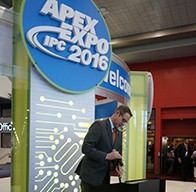 Along with newest IPC Hall of Famer and I-Connect007 Editor, Patty Goldman, I sat down with IPC President John Mitchell on the show floor at IPC APEX EXPO to discuss the event, the changes on the IPC board, and the key metrics that IPC uses to measure their own performance and effectiveness. John also invites the industry to a unique challenge.
Barry Matties: First of all, great awards ceremony. We are so happy that Patty Goldman is now an IPC Hall of Famer.
John Mitchell: Yes, our newest Hall of Fame member. Patty has been wonderful. She has been an active IPC volunteer for 35 years.
Matties: It's nice, and we've known Patty for nearly 30 years as well. My goodness it's been a long time. We were much younger when we got started.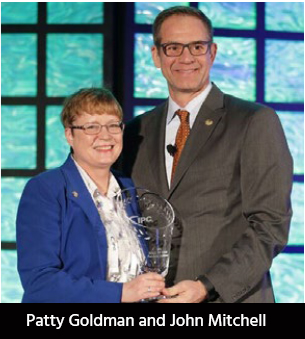 Mitchell: Fifty's the new thirty. That's what I'm going for. I turn 50 this year. I'm going for 150 so I figure I'm one-third done. I've got to figure out what to do with the next two-thirds of my life.
Matties: It's not completely unrealistic.
Mitchell: It's crazy with the advances in technology on all fronts. We heard a few of them from the Tuesday keynote. Dean Kamen is doing some good stuff. I got to know him a little bit when I worked at Bose. Bose and Dean's group, DEKA, had a lot of bright people moving back and forth. In fact, one of the icons of Bose worked for him for a decade afterwards. He left Bose and went to work for Dean. In the early history of the Segway, I met him because I was working in the automotive group. There was some exploration about putting sound on a Segway…always cool things happening around Dean and Bose.
He's just a good guy with a great vision. I love what he's doing for the future of engineering in his FIRST program, and actually it's not finalized yet, but hopefully by summer IPC will be an interesting part of that.
Patty Goldman: That's great to hear.
Matties: Bringing young people into the industry and getting them when they're young is the right move for sure. This man is committed and passionate about it, there's no doubt.
Mitchell: Yes, and then our Wednesday speaker, Peter Singer, was also great. He talked about a derivative topic from what we heard during the previous day's keynote, which was how technology can be used. We all go into it starry-eyed and say, "This is a cool, neat thing," but you've got to be thinking about how somebody is going to try to use that in different ways than what we might have intended for that technology. He talked about the Internet of Things and how 70% of all devices deployed are vulnerable to hacking.
Goldman: Yeah, used and abused.
Mitchell: Exactly. It's a paradigm shift because, as he was saying, medical companies, for example, that provide things like tongue depressors, just need to know if it fixed your problem. That's all they've had to think about. If it did, great, we'll license it and go out. Now what they have to think about is, "Can I hack your body and into your pacemaker," —which has a Wi-Fi or Bluetooth or other connection to your device so you can monitor it. Yet, somebody else can come in and go, "I think I'm just going to stop that."
Matties: It changes everything.
Mitchell: It's a whole new world. He said he was going to talk to us about some scary stuff, but we've got to think a little bit about security and we just have to get better. Then, he talked about how it used to be the defense segment that led development, and now it's really the private sector that leads it because the defense groups don't have the budgets or the turn-around time.
According to Dr. Singer, the British Air Force, or their defense contractors, apparently built a drone and we all know how long and expensive a process that can be. However, a group of college students said, "We think we can build a better drone. Let's see how fast we can do it and actually make it work." They did it in seven days—from design to production prototype—and then flew it.
Goldman: They flew it on the seventh day.
Mitchell: Think about how long our aerospace groups take to develop something like that, and these college students did it in seven days. That's doing 3D printing and all that good stuff.
Matties: It's amazing what you can accomplish when you really try.
Mitchell: Isn't it?
Goldman: And you don't have a lot bureaucracy around you.
Mitchell: No barriers. Do whatever you want, however you want to do it, just make it work. In Dean's discussion of specs, he said, "Normally there are all these specifications that take forever to create." When discussing the spec for a human arm replacement, Dean shared that the spec was quite simple for the customer to describe to him. He continued, "Here's the definition for the robotic arm [for a human]: pick up a raisin and eat it; pick up a grape and eat it. There's your spec." That's all you need to do.
I love the practical aspect of this because it spoke volumes to the complexities that we trying to create a spec and get it exactly right. They said, "No, this is just what you want to do. We're done. When you can do that, come call us."
Matties: Also, during the awards program yesterday there was some shifting of board members going on. How's that going to change?
IPC APEX EXPO 2016 SHOW OPENING CEREMONY VIDEO (abridged)
Page 1 of 4
---
Suggested Items
11/29/2023 | TT Electronics
TT Electronics, a global provider of custom power solutions and engineered technologies, has announced that its Power and Control business has officially opened its new state-of-the-art research, development and manufacturing facility.
11/27/2023 | HyRel
HyRel Technologies, a global provider of quick turn semiconductor modification solutions, announces the achievement of International Traffic in Arms Regulations (ITAR) registration.
11/20/2023 | MIT
MIT's Department of Aeronautics and Astronautics (AeroAstro) recently hosted the 2023 Future Leaders in Aerospace Symposium, inviting women and underrepresented minorities in aerospace fields to campus for a two-day program.
11/14/2023 | NEO Tech
NEOTech, a leading provider of electronic manufacturing services (EMS), design engineering, and supply chain solutions in the high-tech industrial, medical device, and aerospace/defense markets, is thrilled to welcome James Doyle to the team as Chief Executive Officer of NEOTech's Aerospace & Defense division, effective immediately.
11/06/2023 | PRNewswire
Vuzix Corporation, a leading supplier of smart glasses and Augmented Reality (AR) technology and products, announced it has completed delivery against a follow-on order from a Tier-1 aerospace and defense contractors with which it has been working with.