Books

Featured Books

smt007 Magazine

Latest Issues

Current Issue

Test and Inspection

Test and inspection methods are undergoing rapid change. In this issue, we consider the influence of AOI, AI, and human eyes. How exactly are these pieces of the puzzle changing the role of test and inspection?

Chips Don't Float

In Europe and the U.S., legislation is under way to revitalize PCB fabrication and packaging. What is the status of this work, and how specifically does this change the industry landscape for EMS companies? What will help keep us afloat?

Flying High With Digital Twin

The opportunity to use manufacturing simulation as a test bed for job planning and process optimization brings continuous improvement into the modern age. This may be an all-or-nothing type of project, but it's worth the investment.

Columns

Latest Columns

||| MENU
Metcal to Exhibit with SmartTec at SMT Nuremberg
April 12, 2016 | Metcal
Estimated reading time: 2 minutes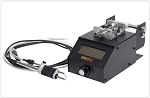 Metcal has announced that it will exhibit in Hall 7, Stand 109 with distributor SmartTec at the upcoming SMT/Hybrid/Packaging show, scheduled to take place April 26-28, 2016 at the Messe in Nuremberg, Germany. Metcal's Scarab Site Cleaning System (APR-2000-SCS) will be on display, along with the Scorpion Rework System, the MX-5200 Soldering & Rework System, and the soon-to-be-launched Solder Wire Feeder.
The Scarab ensures accurate and repeatable cleaning of the component pad in one user-friendly system. It redefines performance and addresses the technical demands presented by component manufacturers today. Additionally, the Scarab addresses the industry needs with an automated system capable of cleaning components pads without contact.
The Scorpion System redefines precision and addresses the technical demands presented by component manufacturers today.  Features include a placement package capable of 50mm of motorized travel in the Z-axis and a full 360° in ϴ (Theta). The placement package offers fine motor control in the Z-axis and ϴ during alignment of the component to the pad. Also included is a new force feedback control during the placement process, enabling the unit to accurately pick and place components without disturbing the component or solder.
The MX-5200 features a dual-simultaneous use option, meaning that two hand-pieces can work from one power supply at the same time. The dynamic option enables the two hand-pieces to share 80 watts output power based on demand, adding even more application flexibility and speed.  Four different hand-pieces and a comprehensive range of soldering and rework cartridges support the MX-5200 Series simultaneous dual operation. These include the Metcal Advanced™Hand-Piece for SMD rework, a Metcal Ultra-Fine™ Hand-Piece for fine access, a Precision Tweezer capable of removing a range of components from 0201 chips to 28mm SOICs, and a Desoldering Gun for safely removing through-hole components.
The USF-1000 Solder Wire Feeder System adds control and convenience to the soldering process. The digital controls, high performance, and its ability to handle multiple solder diameters provide repeatability and functionality to the process.  The USF-1000 pairs with the Metcal MX-5200 or MX-500 Soldering and Rework Systems.
For more information about Metcal stop by Hall 7, Stand 109 at the show, or click here.
About Metcal

Since 1982, Metcal has been a recognized worldwide leader in the electronics assembly marketplace. As part of OK International, Metcal's industry-leading position addressing advanced technology in conduction soldering and rework/repair, has and will continue to broaden to a full electronics bench tool single-source solution. Metcal product lines currently include: hand soldering and desoldering, convection rework products, fume extraction and fluid dispensing tools. 
---
Suggested Items
09/29/2023 | Indium Corporation
Indium Corporation Regional Product Manager Wisdom Qu will present at the SMTA China South Technical Conference, held in conjunction with NEPCON Asia, on October 11 in Shenzhen, China.
09/28/2023 | Nolan Johnson, I-Connect007
The practical question around CHIPS Act development and electronics assembly is, "Will this change how we do business?" Indium Corporation's Dr. Andy Mackie sat down with Nolan Johnson to share what he sees as emerging answers to that question from his perspective as an expert in electronics assembly and packaging, and as a participant in standards development through IPC, JEDEC, and SEMI.
09/27/2023 | Nihon Superior Co. Ltd.
Nihon Superior Co. Ltd. is pleased to announce that Keith Sweatman, the company's Senior Technical Advisor, will deliver a presentation titled "A Path to Ductile Low-Temperature Solders for Mass Production of Electronic Assemblies" at the upcoming SMTA International conference and exposition.
09/27/2023 | Hentec Industries/RPS Automation
Hentec Industries/RPS Automation, a leading manufacturer of selective soldering, lead tinning and solderability test equipment, is pleased to announce that Kyocera International has finalized the purchase of a Hentec/RPS Odyssey 1325 robotic hot solder dip component lead tinning machine. 
09/26/2023 | Conecsus Metals México
Conecsus Metals México, an innovative environmental technology and recycling company, will exhibit at the SMTA Foro Tecnico & Expo, Guadalajara, Jalisco, México, on Wednesday, October 25, 2023, beginning at 11:00 a.m.