Books

Featured Books

pcb007 Magazine

Latest Issues

Current Issue

Finding Ultra

New demands on PCB fabrication, namely advanced packaging, ultra high density interconnect (UHDI), and new specialty materials, are converging, changing the landscape of our business. Is it time to start paying close attention to this convergence?

Developing a Strategy

A solid strategy is a critical part of success. This month, we asked some of the top industry leaders and business strategy "gurus" to share their thoughts on developing strategies.

Winning With TQM

In this issue, we explore how TQM has entered the DNA of continuous improvement disciplines, and the role leadership transformation plays in this. If you've ever competed against a TQM company, you understand their winning advantage.

Columns

Latest Columns

||| MENU
Interview with Dean Kamen, Segway Inventor and Founder of FIRST
April 25, 2016 | Barry Matties, I-Connect007
Estimated reading time: 14 minutes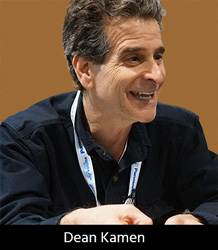 Editor's note: To listen to this interview click here. 
One of the keynote speakers at this year's IPC APEX EXPO 2016 was Dean Kamen, inventor of the Segway and hundreds of other innovative devices. But perhaps most importantly, Kamen is the founder of FIRST (For Inspiration and Recognition of Science and Technology), which is recognized as the leading not-for-profit STEM engagement program for kids worldwide. Now in its 25th year, FIRST aims to "transform our culture by creating a world where science and technology are celebrated and where young people dream of becoming science and technology leaders." 
During our interview at the recent show in Las Vegas, Dean spoke about why he believes the PCB industry should be paying more attention to the FIRST program. 
Barry Matties: Dean, thanks for joining me today. First, tell me a little bit about what you're doing these days?
Dean Kamen: What I'm doing in particular these days, which I hope is relevant and consistent with this whole organization, is trying to create a movement in the next generation of kids around the world to help them appreciate how much fun, how exciting, and frankly, how many career opportunities will become available to them if they embrace technology with the passion that they embrace sports and entertainment and other things that seem to be the common denominator distraction for a whole generation of kids. I mean, they all work hard to be on that varsity team, but even if they're so good they get on a varsity high school team for football or basketball, even if they get a scholarship to go to college with it, what percentage of these kids will ever make a nickel playing professional sports? They devote an overwhelming portion of their growing up time to developing the skill sets to be experts, for instance, in bouncing a ball.
We have a million and a quarter kids involved in FIRST (For Inspiration and Recognition of Science and Technology) with the same passion as any other sport. They go to the competitions, they bring the cheerleaders and the mascots and the school bands. They live and breathe the technology and the excitement of the competitions, except at the end of the season, these kids have learned how to build electronics, how to write code, how to fix the code they wrote, how to debug those electronics and how to figure out why the smoke is coming out of that magic box.
This morning I got to speak to probably a thousand PCB people that represent most of the companies in the world that make all this "stuff" you need to build robots and new technologies, but more importantly, these are the companies that desperately need the next generation of innovators.  I now have this army of kids that are suddenly passionate about technology and focused on figuring out how to be the next great innovators, but they need to be connected with the right people and companies. I think the win/win is going to be that we've created the passion, and you guys have the career paths. If we connect them, the world is going to be a better place.
Matties: Absolutely. What's the age group that you're targeting?
Kamen: We started with high school. We said, "Look, we can't ask professional engineers to go out and mentor other dads' kids that are ten and seven. We've got to start with the high school." By starting with high school, it has become a huge success, and we all really know that those kids are adults. They work with all these companies, and they get to see what the world of tech is like. What happened over the first few years is that all the younger brothers and sisters of these high school kids wanted to come to the championship. It's just like if you have a baseball team—you've got to have a Little League team. If you have a little league, you've got to have tee-ball for the little kids. You've got to hold the ball still. They learn how to hit the ball before they learn how to walk.
We went from FIRST robotics and then after a few years we needed to go down to FIRST Tech Challenge, which is in the middle school with younger kids. Then we went, not to Little League, but to FIRST LEGO League, where they use the LEGO pieces. Then their younger brothers and sisters want in, so now we even have Junior FIRST LEGO League for the five-, six- and seven-year-olds. We have had over 46,000 schools in 86 countries compete this season. We have well over a million kids on these teams. We have 3,600 corporate sponsors, and pretty much every major tech company in the world is sponsoring FIRST teams. It's phenomenal.
Matties: This is great. You're really good for the industry, and what you are doing is good for the world. How many years have you been doing this?
Kamen: We're in our twenty-fifth year. In the first year I had 23 teams. In the second year, about 40-some odd teams then, and in the third year, 100 teams. In the fourth year, 200 teams. We've had something like 55% compound annual growth for 25 years, and every year it's the same. In January, we give them a new kit of parts full of electronic stuff, and we give them a new definition of the problem. This year it's called "Stronghold," and it's sort of like capture the flag on a field about the size of a basketball court. This past January, with all the new teams, we handed out kits to over 46,000 schools, and we had kickoff events in countries around the world. We have teams coming to the championship from 86 countries. In the U.S. alone, we have regional events every weekend starting at the beginning of March going right through the first week in April. We have 116 cities total. Cities like New York, Detroit, Chicago, Los Angeles, San Jose, Cleveland, Seattle, Houston, Orlando, Atlanta and so on. Pretty much every major city in the country. Put it this way, I think something like 90% of the population of kids in the United States is now within a two-hour ride of being at one of these events.
Matties: That's fantastic. What are some of the success stories? You've been doing this for many years...Page 1 of 3
---
Suggested Items
09/29/2023 | Intel
Intel celebrated the arrival of its Intel 4 technology, which uses extreme ultraviolet (EUV) technology, and the first use of EUV in high-volume manufacturing (HVM) in Europe.
09/28/2023 | Anaya Vardya, American Standard Circuits
There has always been pressure to reduce line and space as we have seen the bleeding edge technology go from 8 mils to 5 mils and then to 3 mils. The difference between "then" and "now" is that the prior advancements, for the most part, used the same processes, chemistry and equipment going from 8 mils to 3 mils. But going from 3 mil to sub 1 mil trace and space is a quantum leap in printed circuit board (PCB) technology that requires a whole new set of processes and materials.
09/28/2023 | PNNL
Pacific Northwest National Laboratory is collaborating with leading technology companies Microsoft Corp. and Micron Technology to make computational chemistry—a challenging subject but one with far-reaching significance for our lives—broadly available to applied researchers and industrial users.
09/28/2023 | SIA
The Semiconductor Industry Association (SIA) announced Geoff Martha, chairman and CEO of healthcare technology leader Medtronic, will be the keynote presenter at the 2023 SIA Awards Dinner on Thursday, Nov. 16 in San Jose, Calif.
09/26/2023 | Kirk Thompson, Isola Group
Despite being a leader in R&D investment in semiconductors and packaging with greater than $50 billion per year, the U.S. has seen its market share decrease to less than 3% in areas like advanced packaging and advanced substrates. The cause for this market share erosion was a laser focus in Asian countries to attract semiconductors and advanced packaging investment through ecosystem development and incentives. If the U.S. is serious about changing the momentum to onshore advanced packaging and advanced substrates, an ecosystem approach to innovation and manufacturing incentives must be employed. It is not enough to have the most innovative technology if the supply chain and manufacturing economics do not deliver competitive commercial opportunities.