Books

Featured Books

smt007 Magazine

Latest Issues

Current Issue

Economic Headwinds

This issue takes stock of the current economic outlook and how companies are using current conditions to move themselves through technological evolutions, workforce shifts, and financial changes. Even with these headwinds, there's forward progress to be made.

Attracting New Talent

To get different results in staffing, you must change how you define, promote and recruit your job opportunities. How do you become magnetic to high-quality early-career candidates?

Test and Inspection

Test and inspection methods are undergoing rapid change. In this issue, we consider the influence of AOI, AI, and human eyes. How exactly are these pieces of the puzzle changing the role of test and inspection?

Columns

Latest Columns

||| MENU
KYZEN Picks up an SMT China Vision Award for its AQUANOX A8820 Advanced Aqueous Stencil Cleaner
April 27, 2016 | Kyzen
Estimated reading time: 1 minute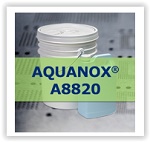 KYZEN announces that it has been awarded the 2016 SMT China Vision Award in the category of Cleaning Materials for its AQUANOX A8820 Advanced Aqueous Stencil Cleaner. The award was presented to the company on April 26, 2016 at the Shanghai World Expo Exhibition & Convention Center during NEPCON China.
"Technology leadership is a never-ending challenge in an industry like ours," said, Mr. Tom Forsythe, Executive VP of KYZEN Corporation. "It is very rewarding for our team to receive this recognition of KYZEN's new technologies such as AQUANOX A8820."
AQUANOX A8820 is an engineered Micro Cell Technology (MCT™) cleaning fluid designed to remove wet solder paste and uncured chip bonder adhesive from stencils used in surface mount printing processes. It effectively removes common solder pastes and fluxes, and demonstrates a favorable compatibility profile with stencil cleaning systems.
A8820 works well with spray-in-air and select ultrasonic cleaning machines, and is effective on uncured adhesives. Additionally, the no-foaming property of A8820 is compatible with all materials commonly used in electronic assembly manufacturing and cleaning processes.
KYZEN's AQUANOXA8820 has been designed from the ground up for the tough challenges of cleaning no-clean, lead-free residue from small, 1005 apertures while being compatible with modern nano-coatings as well as with all of the modern offline cleaning equipment that is popular in the industry. A8820 is a quick drying product that also is rapidly rinsed if water rinsing is preferred
AQUANOX A8820 is available in five, 25 and 200 liter drums. In addition to A8820, KYZEN offers a full line of precision cleaning chemistries to meet any cleaning challenge. For more information, call the KYZEN inside technical team at 615-236-6784.
SMT China magazine launched the SMT China Vision Awards in 2007 to recognize both international and domestic providers of SMT equipment, materials, software and services that have made outstanding contributions to the rapid growth of China's electronics manufacturing industry by their inventions and innovations.

About KYZEN
KYZEN is a global leader in providing environmentally responsible, RoHS compliant precision cleaning chemistries for industries ranging from electronics and advanced packaging to metal finishing and aerospace applications. Since its founding in 1990, KYZEN's innovative cleaning technologies, scientific expertise and customer support have been repeatedly recognized with the industry's most prestigious awards. For more information, click here.
---
Suggested Items
11/30/2023 | AIM
AIM Solder, a leading global manufacturer of solder assembly materials for the electronics industry, is pleased to announce its new NC259FPA Ultrafine No Clean Solder Paste, which it revealed recently during the Productronica Germany trade show.
11/27/2023 | Real Time with...productronica
Koh Young's Harald Eppinger talks about the company's technology for the semiconductor and advanced packaging market and how they address the challenges introduced by reflective components and micro solder deposits.
11/27/2023 | HyRel
HyRel Technologies, a global provider of quick turn semiconductor modification solutions, announces the achievement of International Traffic in Arms Regulations (ITAR) registration.
11/24/2023 | Mek (Marantz Electronics)
Mek (Marantz Electronics), a leader in Automated Optical Inspection (AOI) solutions, used last weeks' Productronica show in Munich to proudly introduce the SpectorBOX X series, a modular full 3D AOI system for THT solder joints and THT components.
11/21/2023 | Pete Starkey, I-Connect007
Productronica 2023 played host to the IPC World Hand Soldering Competition, bringing talented regional solder champions from all over the globe to compete for the title of World Champion. Each competitor was given sixty minutes to assemble a complex printed circuit board with their performance judged in accordance with IPC-A-610 Class 3 criteria. Each competitor's efforts were rated on the merits of the results achieved, scored on the quality of the assembly process, the electrical functionality of the assembly and the speed at which the assembly was produced.