Raytheon to Start Production of First Multi-spectral Targeting System
April 29, 2016 | Raytheon Company
Estimated reading time: 1 minute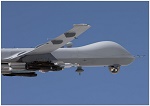 The U.S. Air Force awarded Raytheon Company a $90 million first-lot production contract for the next-generation Multi-Spectral Targeting System. The AN/DAS-4, the latest variant of the MTS family of sensors, incorporates greater fire control and Target Location Accuracy technology for precise coordinates.
Combat-proven, with nearly three million operational flight hours, MTS sensors provide detailed intelligence data from the visual and infrared spectra. The new MTS variant allows mission commanders to use high definition data from an airborne tactical sensor to identify and engage targets with much greater accuracy, significantly improving overall mission effectiveness.
The U.S. Air Force has awarded Raytheon a first-lot production contract for the AN/DAS-4 EO/IR Turret, shown here deployed on the MQ-9 Reaper.
The DAS-4 incorporates other major improvements, including: four high definition cameras covering five spectral bands; a three-color diode pump laser designator/rangefinder; laser spot search and track capability; automated sensor and laser bore sight alignment; three mode target tracker; and built in provisions for future growth.
"These next generation capabilities give our warfighters an unfair advantage through more effective assessment of threats and engagement of targets," said Fred Darlington, vice president of Intelligence, Surveillance and Reconnaissance Systems at Raytheon's Space and Airborne Systems.
Raytheon has delivered more than 3,000 MTS systems on a wide range of platforms, including: remotely piloted aircraft, helicopters and fixed-wing Aircraft. MTS delivers superior performance and reliability at the lowest life-cycle cost.
About Raytheon
Raytheon Company, with 2015 sales of $23 billion and 61,000 employees, is a technology and innovation leader specializing in defense, civil government and cybersecurity solutions. With a history of innovation spanning 94 years, Raytheon provides state-of-the-art electronics, mission systems integration, C5I™ products and services, sensing, effects, and mission support for customers in more than 80 countries. Raytheon is headquartered in Waltham, Mass.
---
Suggested Items
09/20/2023 | I-Connect007 Editorial Team
Panasonic's Darren Hitchcock spoke with the I-Connect007 Editorial Team on the complexities of moving toward ultra HDI manufacturing. As we learn in this conversation, the number of shifting constraints relative to traditional PCB fabrication is quite large and can sometimes conflict with each other.
09/19/2023 | Anaya Vardya -- Column: Standard of Excellence
In my last column, I discussed cutting-edge innovations in printed circuit board technology, focusing on innovative trends in ultra HDI, embedded passives and components, green PCBs, and advanced substrate materials. This month, I'm following up with the products these new PCB technologies are destined for. Why do we need all these new technologies?
09/18/2023 | ViTrox
ViTrox, which aims to be the world's most trusted technology company, is excited to announce that our trusted Sales Channel Partner (SCP) in Mexico, SMTo Engineering, S.A. de C.V., will be participating in SMTA Guadalajara Expo & Tech Forum. They will be exhibiting in Booth #911 from the 25th  to the 26th of October 2023,  at the Expo Guadalajara in Jalisco, Mexico.
09/18/2023 | Intel
Intel announced one of the industry's first glass substrates for next-generation advanced packaging, planned for the latter part of this decade.
09/18/2023 | Aidan Salvi -- Column: Facing the Future
I have been in and around circuit boards most of my life. I started 20 years ago in my family's PCB shop, leaving after a couple of years to start my own software company. About a year ago, I returned to the family business, and the first thing I noticed was that nothing had really changed. We were doing the same things in the same way as the day I left. After talking to several experts in the industry, I realized it was worse than that: The manufacturing of PCBs had not changed in 70 years.