Books

Featured Books

smt007 Magazine

Latest Issues

Current Issue

Economic Headwinds

This issue takes stock of the current economic outlook and how companies are using current conditions to move themselves through technological evolutions, workforce shifts, and financial changes. Even with these headwinds, there's forward progress to be made.

Attracting New Talent

To get different results in staffing, you must change how you define, promote and recruit your job opportunities. How do you become magnetic to high-quality early-career candidates?

Test and Inspection

Test and inspection methods are undergoing rapid change. In this issue, we consider the influence of AOI, AI, and human eyes. How exactly are these pieces of the puzzle changing the role of test and inspection?

Columns

Latest Columns

||| MENU
KIC Brings in New COO
May 3, 2016 | KIC
Estimated reading time: 1 minute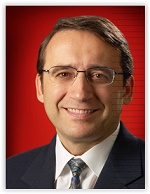 KIC today announced that it has hired Isidre Rosello. Reporting directly to the company's president, Rosello will plan and direct KIC's operations, new product and services development, company objectives, initiatives, and drive the company's financial and operational goals.
Rosello has helped Fortune 500 companies such as HP and Kodak manage and grow businesses. He was vice president and general manager of HP's Indigo Division. Prior to that, he contributed to building HP's global digital imaging leadership. He managed sales, marketing, R&D, operations, finance and HR. Rosello contributed to Kodak as president of the Digital Printing Solutions Group and later was elected as a corporate vice president by the Board of Directors. Prior to joining KIC, Rosello provided engineering services into technology markets, from venture funded companies to established corporations.
"We are pleased that Isidre is joining the KIC team, and we look forward to continued momentum for KIC's Thermal Management Products and Services," commented Bjorn Dahle, President of KIC. "Isidre's experience will help us commercialize KIC's innovative thermal profiling and automatic systems technology, and lead the adoption of software and services in the wake of factory automation, providing value to our clients with traceability, productivity, business intelligence and recipe services."
Mr. Rosello holds a Master's Degree in Computer Science from Stanford University, granted a Fulbright scholarship; a Master's Degree in Electrical Engineering, and a Bachelor's Degree in Engineering from Polytechnic University of Catalonia, Barcelona. Also, he completed an Executive Management Program from IESE-Business School in Barcelona, Spain.
For more information about KIC, click here.
About KIC
Based in San Diego, KIC is the industry leader in automated thermal process tools and systems for reflow, wave, curing and semiconductor thermal processes. The company pioneered the development of oven profilers and process optimization tools, and then worked to create the next generation of thermal systems to help manufacturers improve the thermal process quality while reducing cost.
KIC products include the KIC K2, X5, KICstart2, ProBot, 24/7 Wave and the KIC RPI. With the introduction of cutting edge tools, the company continues to stay on the leading edge of process optimization and automatic thermal process systems, and has won numerous industry awards.
---
Suggested Items
11/30/2023 |
The goal of the collaboration is to promote the standardization of post-quantum cryptography.
11/30/2023 | BUSINESS WIRE
Nordson Electronics Solutions, a global leader in electronics manufacturing technologies, is pleased to announce the release of the new ASYMTEK Select Coat® SL-1040 conformal coating system.
11/30/2023 | Tom Kastner -- Column: Punching Out!
For sellers, the whole process is relatively simple: They may say it's not just about the money, but in truth, it is. Sellers also want a quick process, most of their money upfront, and a reasonable expectation that any deferred compensation will actually be paid. They're usually concerned that the buyer will take good care of their employees, customers, suppliers, and other stakeholders, and that the seller's responsibilities after closing, if any, be acceptable. But what do buyers expect? A lot.
11/30/2023 | Tim Haag -- Column: Tim's Takeaways
I am, at heart, a die-hard "Star Trek" fan. When I was a kid, I was all about phasers, warp drive, and cool stuff like that. However, these days, I tend to put a higher value on production and storytelling. But like any fan (I'm avoiding "Trekkie" because, frankly, it's kind of embarrassing), I have certain moments from the hundreds (if not thousands) of hours filmed for the various TV shows and movies that are among my favorites. One of those moments is in "Star Trek III, The Search for Spock," when our heroes steal the Starship Enterprise from space dock.
11/27/2023 | Andrew Kelley, XACTPCB LTD
While previous industrial revolutions have introduced factories, mass production, and computer-controlled systems, the advent of Industry 4.0 and the concept of the Smart factory have ushered in a new era in PCB manufacturing. For the PCB industry it is a very ambitious and aspirational objective to evolve from disconnected processes to an integrated system with automated data capture, real-time data analysis, process visualization, autonomous control, and self-correcting processes.