Books

Featured Books

pcb007 Magazine

Latest Issues

Current Issue

Finding Ultra

New demands on PCB fabrication, namely advanced packaging, ultra high density interconnect (UHDI), and new specialty materials, are converging, changing the landscape of our business. Is it time to start paying close attention to this convergence?

Developing a Strategy

A solid strategy is a critical part of success. This month, we asked some of the top industry leaders and business strategy "gurus" to share their thoughts on developing strategies.

Winning With TQM

In this issue, we explore how TQM has entered the DNA of continuous improvement disciplines, and the role leadership transformation plays in this. If you've ever competed against a TQM company, you understand their winning advantage.

Columns

Latest Columns

||| MENU
Laser Pointers: Special Edition—Those Five Words I Didn't Expect to Hear
June 30, 2016 | Mike Jennings, ESI
Estimated reading time: 5 minutes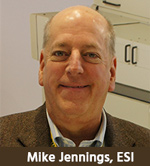 I'm going to hijack the column this month for kind of a public service announcement regarding a topic that hit very close to home for me, and it may well hit home for others. Patrick will be back next month with some letters from our mailbag.
On February 18, 2016, I heard the words, "Mike, you have bladder cancer."
The scary thing was that I had no symptoms that I could see or feel; so I had no idea that anything was wrong. It was discovered during a routine pre-surgical screening for an upcoming tune-up on my knee replacement. My orthopedic surgeon took a look at the test results and told me that there was a slight elevation in blood in the urine, and I should repeat the test to be sure it wasn't a false reading. Repeat I did, and three days later I was in a urology office.
Over the next four days, I had an ultrasound, a CT scan, and a procedure called a cystoscopy, where a camera is fed up into your bladder to allow the doctor to view the bladder wall. After the cystoscopy, I was told the five words that I began this story with. I lamely protested that it can't be true, maybe it's nothing; in short, the usual denial reflex to bad news.
My doctor sat with me and explained the situation, and gave me a number of resources to look into just to help me deal with the diagnosis. With the help of Bladder Cancer Advocacy Network I was able to learn some facts about it and how it is treated today.
Some facts about bladder cancer from BCAN:
It's the 6th most common diagnosed cancer.
While men get bladder cancer more often than women, recent statistics show an increase in the number of women being diagnosed with the disease. Unfortunately, because the symptoms of bladder cancer are similar to those of other gynecologic and urinary diseases affecting women, women may be diagnosed when their disease is at a more advanced stage.
Smoking is the greatest risk factor (irony: I don't smoke). Smokers get bladder cancer twice as often as people who don't smoke.
The risk of bladder cancer increases as you get older (I'm 60, for what it's worth).
The most common sign is blood in the urine, even if it is invisible to your eye and has no accompanying pain (as was my case). It can also be transitory as well…noticeable and then apparently no longer there (but it is…).
People who have had bladder cancer have a higher chance of getting another tumor in their urinary system. People whose family members have had bladder cancer may also have a higher risk.
With this and more knowledge in hand, I had my first surgery on March 1, less than two weeks after I was told about it. I underwent a procedure called "TURBT" (transurethral resection of a bladder tumor).
The TURBT is "incision-less" surgery that was done under general anesthetic as an outpatient procedure at my local hospital. I checked into the hospital at 9 a.m., and I was on my way home by 3 p.m. It is the first-line surgical treatment for bladder tumors. Like the cystoscope, the resectoscope (the instrument used to remove the tumor), is introduced through the urethra into the bladder. Attached to this scope is a small, electrified loop of wire which is moved back and forth through the tumor to cut and remove the tissue.
After the surgery, I received a one-time dose of chemotherapy that was instilled into my bladder at the end of the surgery; I went home with a catheter and bag that stayed in place for two days.
I had what was called a high-grade T1 tumor, which meant it was indeed cancer, and had reached into the second layer of my bladder wall. Pathology reports indicated that it was completely removed; but a second surgery 2−3 months later had already been discussed with me, for the purpose of taking deep tissue biopsies to confirm this.
While I don't want it to sound like it was easy, the level of pain was more a level of high discomfort. I spent the first few days after surgery in the recliner, since the heaviest thing that I was allowed to lift was a remote or a tablet computer so that I could at least stay caught up with work. Within two weeks, I felt well enough to drive and was back to the office at the five-week mark after working from home during my recovery.
The second surgery was on May 17, again done under general anesthesia at my local hospital. I was actually on the way home by 1 p.m., since this procedure, while just as invasive, was a lot less extensive. My recovery was a lot faster as well: I was driving in a week and back in the office in three.
On June 1, I received the good news that the biopsies came back clear, and we could begin a second phase of treatment called immunotherapy, which I began on June 17. Each Friday for six weeks I go into the doctor's office, a catheter is inserted, a small amount of medicine containing a bacteria called Bacille Calmette-Guerin (BCG) is introduced, the catheter is removed and I go home. I'm able to drive myself. There are very detailed protocols that one needs to follow after each treatment, but the doctor clearly explains each step and why it's important. In my case, the side effects are very minimal (my appetite goes away for about 24 hours…not a bad thing necessarily, and I feel pretty lethargic).
In the medium to long term, I will have to repeat the cystoscopy procedure every few months to allow the doctor to see that everything is staying away, and we will probably continue a short course of immunotherapy going forward. The score is Mike 1, Cancer 0, and we want to keep it that way with frequent check-ups.
The reason that I stole the column today to relate my story is to tell everyone to get checked. It can be as simple as taking that little plastic cup from your doctor. Please do it this week while it is on your mind. Call your parents, aunts and uncles, brothers and sisters and gently remind them to have it done as well.
And now back to our regularly scheduled program, joined in progress…
---
Suggested Items
09/21/2023 | Matt Stevenson -- Column: Connect the Dots
PCB prototyping is a critical juncture during an electronic device's journey from concept to reality. Regardless of a project's complexity, the process of transforming a design into a working board is often enlightening in terms of how a design can be improved before a PCB is ready for full production.
09/26/2023 | Bob Duke -- Column: Global Sourcing Spotlight
Sourcing goods and services from around the world can offer many benefits, such as cost savings and access to a wider and better range of products and services, but it also presents many challenges, especially for amateurs. Global sourcing is a game for experienced experts. The path to global sourcing is riddled with stories of failures and catastrophes, from losing a wire payment for your supplier overseas to theft of proprietary intellectual property. In short, you have to know what you're doing before you take the leap to global sourcing.
09/20/2023 | I-Connect007 Editorial Team
Panasonic's Darren Hitchcock spoke with the I-Connect007 Editorial Team on the complexities of moving toward ultra HDI manufacturing. As we learn in this conversation, the number of shifting constraints relative to traditional PCB fabrication is quite large and can sometimes conflict with each other.
09/19/2023 | StratEdge
StratEdge Corporation will present its thermally-efficient line of post-fired and molded ceramic semiconductor packages at several upcoming events including European Microwave Week (EuMW), September 19-21, IMAPS International, October 3-4, and IEEE BCICTS, October 16-17.
09/15/2023 | Seika Machinery, Inc.
Seika Machinery, Inc., a leading provider of advanced machinery, materials and engineering services, is pleased to announce a special sale on the McDry DXU-580UF Feeder Storage Cabinet.