Books

Featured Books

design007 Magazine

Latest Issues

Current Issue

Simplification

On the subject of simplification, our expert contributors explain how to design PCBs without making them complex and over-constrained—whatever the level of technology. In addition, we discuss the effect your decisions and tradeoffs have on design complexity.

The Standards of Design

Our expert contributors discuss how PCB designers can utilize standards to save time and money, not to mention frustration. We also spotlight the newly updated version of the IPC Checklist, a handy guide that illustrates which standards cover which topics, from front-end design through assembly.

Rigid-flex: Designing in 3D

In this month's issue, our expert contributors share their best tips, tricks and techniques for designing rigid-flex circuits. If you're a rigid board designer considering moving into the 3D world of rigid-flex, this issue is just what the doctor ordered!

Columns

Latest Columns

||| MENU
I-Connect007 Launches 'On the Line with...' Podcast with Series on Sustainability
May 12, 2023 | I-Connect007
Estimated reading time: 1 minute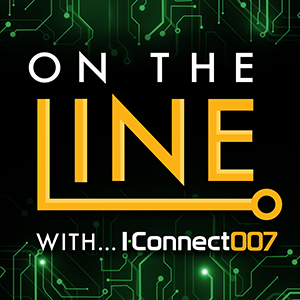 Expanding its avenues of content delivery, I-Connect007 is excited to announce the launch of our latest educational product, On the Line with..., available now on Spotify and coming soon on all major podcast platforms. In this podcast, we speak with industry experts to get the latest insights and perspectives on the most relevant topics in the electronics industry today.
The first series of On the Line with… features conversations on sustainability. Listeners can expect in-depth coverage as topic experts from Siemens explore the challenges and opportunities surrounding sustainability in manufacturing.
Join us for Episode 1, "Sustainability in PCB Design," as guests Patrick Hope and Pat McGoff discuss what sustainability means in the electronics manufacturing space. They'll set the agenda for the series and delve into key topics like design, validation, manufacturing, supply chain, and logistics.
The On the Line with... podcast series is the latest way I-Connect007 is committed to providing readers (and listeners) with a wide range of digital content and information to help them succeed in the industry. From magazines, books and newsletters to market reports and event coverage, we offer a variety of digital content to suit the needs of our reader community presented by the industry sector.
I-Connect007, part of IPC Publishing Group Inc., is the industry's longest-running media company and leading publisher of original, exclusive content for the global electronics industry. Our mission is to create original content to expand readers' knowledge to help them improve their businesses.
---
Suggested Items
11/27/2023 | IPC
IPC welcomes the actions outlined today by the U.S. Government "to strengthen supply chains critical to America's economic and national security."
11/27/2023 | GOEPEL Electronics
The US branch of GÖPEL electronic is proud to announce the addition of David Kalaidjian as the new National Sales Development Manager.
11/27/2023 | Wurth Elektronik
HyPerStripes project partners will create a technology platform including manufacturing techniques for roll-to-roll (R2R) processing as well as the integration of electronic components onto very long ("endless"), flexible and stretchable printed circuit boards.
11/24/2023 | Messe München
Messe München's electronics network with the world's leading trade fairs electronica and productronica is expanding its partnership with SEMI, the global semiconductor industry association, in India.
11/23/2023 | Wurth Electronics
Wurth Electronics New Zealand Ltd., the 37th subsidiary of Würth Elektronik, officially celebrated with an opening ceremony.