Books

Featured Books

pcb007 Magazine

Latest Issues

Current Issue

The Registration Sweet Spot

Registration is underrated and underappreciated. The key is to ensure proper registration from layer to layer across the entire printed circuit board. It's a holistic process requiring anticipation, prediction, precise attention at each step, and detailed data tracking and monitoring.

High-reliability Fabrication

In this month's issue, our expert contributors discuss the latest in technologies, trends, complexities and resources regarding high-reliability fabrication.

Finding Ultra

New demands on PCB fabrication, namely advanced packaging, ultra high density interconnect (UHDI), and new specialty materials, are converging, changing the landscape of our business. Is it time to start paying close attention to this convergence?

Columns

Latest Columns

||| MENU
A Look Inside SEL's New PCB Factory
August 22, 2023 | Barry Matties, I-Connect007
Estimated reading time: 2 minutes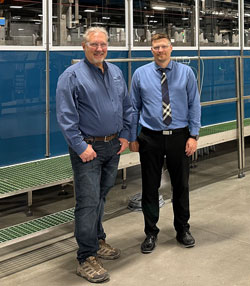 After years of planning, Schweitzer Engineering Laboratories is now manufacturing printed circuit boards in its new $100 million captive facility in Moscow, Idaho. I recently toured the facility with Engineering Director John Hendrickson, who managed the design and setup of the greenfield site, along with Mike Brask, president of Integrated Process Systems (IPS), a key supplier for the new Moscow facility.
Mike Brask (left) and John Hendrickson pose in front of the 81-foot ENIG line supplied by IPS.
The facility showcases the latest technology in PCB fabrication, along with a zero-liquid discharge water  treatment system. The site is surrounded by wheat fields—not a location where you would traditionally expect to find a PCB manufacturing facility. However, with their environmentally friendly factory, the city officials have welcomed SEL, and the facility has already been honored with the Idaho Association of Commerce & Industry Environmental Excellence Award. 
The manufacturing area is set up on an open floorplan with only a couple of processes—drill and route—in closed rooms. As you would expect, data automation is in full use here. Each panel starts off with a serial number read by scanning equipment that connects with the MES to identify the job and program, and then loads that program onto the machine. SEL's in-house software team builds and maintains these systems. They also employ automation/integration software engineers as well.
Barry Matties: Now, the goal of automation here was not to reduce headcount?
John Hendrickson: Correct. That's not why we focused on automation; we automated first to drive quality. The number one defect at board shops is typically handling damage. So, how do you reduce that? You put in equipment, like we have from GreenSource and others, to help eliminate handling. Quite frankly, now our operators aren't just feeding panels on a line. They're managing an entire line, and they're learning more about how those lines work and how to maintain them. They have a lot more ownership of that, even more than our maintenance team on a day-to-day basis.
All our lines are integrated. One of the cool things we're doing here is using SEL equipment to collect real-time process data. We have a product called RTAC (Real-Time Automation Controller) that communicates with PLCs, and we use that to get information using a range of industrial communication protocols. Using our Software-Defined Network, we control all network traffic between MES, RTAC, and equipment. This increases the security between our systems and our equipment in case there's ever a security vulnerability with each piece of equipment.
To read the rest of this in-depth conversation, which appeared in the August 2023 issue of PCB007 Magazine, click here.
---
Suggested Items
09/20/2023 | I-Connect007 Editorial Team
Panasonic's Darren Hitchcock spoke with the I-Connect007 Editorial Team on the complexities of moving toward ultra HDI manufacturing. As we learn in this conversation, the number of shifting constraints relative to traditional PCB fabrication is quite large and can sometimes conflict with each other.
09/19/2023 | Anaya Vardya -- Column: Standard of Excellence
In my last column, I discussed cutting-edge innovations in printed circuit board technology, focusing on innovative trends in ultra HDI, embedded passives and components, green PCBs, and advanced substrate materials. This month, I'm following up with the products these new PCB technologies are destined for. Why do we need all these new technologies?
09/18/2023 | ViTrox
ViTrox, which aims to be the world's most trusted technology company, is excited to announce that our trusted Sales Channel Partner (SCP) in Mexico, SMTo Engineering, S.A. de C.V., will be participating in SMTA Guadalajara Expo & Tech Forum. They will be exhibiting in Booth #911 from the 25th  to the 26th of October 2023,  at the Expo Guadalajara in Jalisco, Mexico.
09/18/2023 | Intel
Intel announced one of the industry's first glass substrates for next-generation advanced packaging, planned for the latter part of this decade.
09/18/2023 | Aidan Salvi -- Column: Facing the Future
I have been in and around circuit boards most of my life. I started 20 years ago in my family's PCB shop, leaving after a couple of years to start my own software company. About a year ago, I returned to the family business, and the first thing I noticed was that nothing had really changed. We were doing the same things in the same way as the day I left. After talking to several experts in the industry, I realized it was worse than that: The manufacturing of PCBs had not changed in 70 years.