Books

Featured Books

smt007 Magazine

Latest Issues

Current Issue

Economic Headwinds

This issue takes stock of the current economic outlook and how companies are using current conditions to move themselves through technological evolutions, workforce shifts, and financial changes. Even with these headwinds, there's forward progress to be made.

Attracting New Talent

To get different results in staffing, you must change how you define, promote and recruit your job opportunities. How do you become magnetic to high-quality early-career candidates?

Test and Inspection

Test and inspection methods are undergoing rapid change. In this issue, we consider the influence of AOI, AI, and human eyes. How exactly are these pieces of the puzzle changing the role of test and inspection?

Columns

Latest Columns

||| MENU
ViTrox Showcases Award-Winning Solution at SMTA International Exposition 2023
September 6, 2023 | ViTrox
Estimated reading time: 1 minute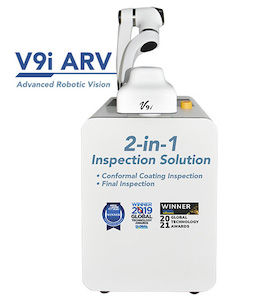 ViTrox, which aims to be the world's most trusted technology company, is excited to announce that we will be participating in SMTA International (SMTAi), at Hall B, Booth #1316 at the Minneapolis Convention Center, MN, USA. SMTAi, the Midwest's Largest Electronics Manufacturing Event, will take place on the 10th  and 11th of October 2023.
This year, we will be showcasing our award-winning V9i Advanced Robotic Vision (ARV) Solution, which revolutionizes flexible inspections for conformal coating and final assembly inspections.
Featuring a unique 6-axis COBOT design, it enables adjustable angle inspections up to 90°, guaranteeing convenience. With its Advanced Smart Learning Algorithm, V9i ARV detects various conformal coating defects. Moreover, it performs thorough inspection for screw, cosmetic, connector, and label defects in final assembly, all achieved seamlessly without requiring CAD information. Our V9i ARV solution is built with multi-focal vision, allowing inspection ranging from 5 mm to 200mm, thus resulting in high-resolution images as clear as 14µm/px for small defect inspection. The V9i ARV solution ensures complete inspection coverage and always delivers reliable and consistent results.
Additionally, users can connect the V9i ARV solution to their production for inline production mode by using the SMEMA connection for upstream and downstream communication, thus providing better traceability in the back-end assembly process compared to human manual inspection. Alternatively, users can place the system for offline mode discussion with the existing conveyor. Read more about our V9i ARV Solution's capabilities in conformal coating inspection and final assembly inspection. 
Also, ViTrox has continued sponsorship of the SMTAi Passport Program. Therefore, we cordially invite all Explorers to visit our booth, delve into our solutions, and engage with us! Don't miss out on this amazing opportunity to meet and connect with us at SMTAi 2023! Our experts from ViTrox will be there to address all your inquiries and ensure you have an incredible experience at our booth.
---
Suggested Items
11/30/2023 | Chris Young, Young Engineering Services
There are many ways, dozens to be sure, and most likely many more, to streamline a PCB design. My goal here is to pick a single-digit number of rules to abide by, that can be reasonably adhered to, and provide some bang for the buck. These rules are meant to reduce design scope creep, avoid PCB respins, and improve production yields.
11/30/2023 | Hirose
Hirose has expanded its low-profile DF51K wire-to-board connector series to include a surface mount technology (SMT) version. Compatible with automated assembly processes, including pick-and-place machines, the DF51K SMT Series simplifies the assembly process and saves significant manufacturing time and cost. 
11/21/2023 | Pete Starkey, I-Connect007
Productronica 2023 played host to the IPC World Hand Soldering Competition, bringing talented regional solder champions from all over the globe to compete for the title of World Champion. Each competitor was given sixty minutes to assemble a complex printed circuit board with their performance judged in accordance with IPC-A-610 Class 3 criteria. Each competitor's efforts were rated on the merits of the results achieved, scored on the quality of the assembly process, the electrical functionality of the assembly and the speed at which the assembly was produced.
11/16/2023 | CIL
In early November 2023, CIL completed the installation of its first volume SMT PCBA assembly line at its BP2 Semiconductor packaging facility
11/15/2023 | PIT Equipment
PIT – Equipment Services, LLC is pleased to announce Don Dennison, founder and CEO of PIT Equipment Services, has been honored with the prestigious 2023 GLOBAL Technology Award in the category of Best Manufacturers Representative - USA. The award ceremony took place during productronica in Munich on November 14, 2023.