Books

Featured Books

smt007 Magazine

Latest Issues

Current Issue

Attracting New Talent

To get different results in staffing, you must change how you define, promote and recruit your job opportunities. How do you become magnetic to high-quality early-career candidates?

Test and Inspection

Test and inspection methods are undergoing rapid change. In this issue, we consider the influence of AOI, AI, and human eyes. How exactly are these pieces of the puzzle changing the role of test and inspection?

Chips Don't Float

In Europe and the U.S., legislation is under way to revitalize PCB fabrication and packaging. What is the status of this work, and how specifically does this change the industry landscape for EMS companies? What will help keep us afloat?

Columns

Latest Columns

||| MENU
Anda Technologies to Showcase State-of-the-Art Plasma, Dispensing and Coating Systems at SMTA International
September 6, 2023 | Anda Technologies USA, Inc.
Estimated reading time: 1 minute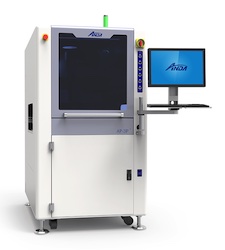 Anda Technologies, a leading provider of fluid application and custom automated manufacturing equipment, will exhibit in Booth #916 at the upcoming SMTA International exhibition. The event will be held at the Minneapolis Convention Center in Minnesota from Oct. 10-11, 2023.
Anda Technologies will utilize this prominent platform to showcase its cutting-edge SMT solutions designed to enhance productivity, precision, and flexibility in the electronics manufacturing industry. The company will also highlight its total selective coating and fluid dispensing line solutions along with the AP-3 Series inline surface plasma treatment machine, iJet-7 dispensing system, iCoat-5 conformal coating system and UV-2 curing oven.
The AP-3 Series by Anda, are advanced inline surface atmospheric pressure plasma treatment machines that are equipped with servo motors and a high-speed ball screw linear actuator system for accuracy. As standard, the AP-3P machine is equipped with a single plasma nozzle situated above the substrate to treat, clean away containments, and activate surfaces by increasing the surface's energy. Surface energy is a key factor for how well a coating or adhesive will bond to a surface. Also available as an optional model, the AP-3DP utilizes dual plasma nozzles top and bottom (single nozzle above and single nozzle below substrate) two nozzles working simultaneously while performing their own independent plasma treatment motion path or program.
Anda's iJet7H and iJet-7L fluid dispensing systems offer both precision and flexibility with a combination of electronic dispensing head and control software. The Anda user interface software ensures fast dispensing speeds and short cycle times. The machine is capable of dispensing adhesives and sealants. 
The iCoat-5 Series Multi-Valve High Precision Selective Conformal Coating Machine is a highly flexible automated system that is suitable for panelized or palletized PCBAs, high mix requirements, process flexibility and large area coating. Suitable for dual or triple valve setup and a variety of different valve configurations, the iCoat-5 adapts to the production needs of diverse PCBAs.
The Anda UV curing oven series is the most powerful compact inline high intensity Ultraviolet (UV) curing oven system in the industry. It can exceed the maximum UV intensity requirements for curing virtually any UV curable product on the market today. In a class of its own, the system cost is also more affordable than rivaling products offered by competitors.
---
Suggested Items
11/30/2023 | BUSINESS WIRE
Nordson Electronics Solutions, a global leader in electronics manufacturing technologies, is pleased to announce the release of the new ASYMTEK Select Coat® SL-1040 conformal coating system.
11/30/2023 | PRNewswire
Hi Sharp, a leading maker of video surveillance systems, is globally announcing its expansion into AI and cloud-based technologies for video capture.
11/29/2023 | Intel
Ahead of Enlit Europe, Intel announced that its technology is helping power the Edge for Smart Secondary Substations (E4S) Alliance's new solution to modernize the energy grid.
11/29/2023 | Airbus
Airbus has signed a contract with the Spanish Ministry of Defence for the development and acquisition of SIRTAP, a High Performance Tactical UAS that will reinforce the tactical capabilities of the Spanish Army and the Air and Space Force.
11/28/2023 | Real Time with...productronica
Marc Aicheler and Pete Starkey discuss TSK's horizontal vacuum systems, including vacuum etching process equipment. Aicheler details the benefits of a vacuum etch in managing challenges such as etchant puddling, etc. Aicheler also teases at a vacuum alkaline etchant systems as well.