Books

Featured Books

smt007 Magazine

Latest Issues

Current Issue

Economic Headwinds

This issue takes stock of the current economic outlook and how companies are using current conditions to move themselves through technological evolutions, workforce shifts, and financial changes. Even with these headwinds, there's forward progress to be made.

Attracting New Talent

To get different results in staffing, you must change how you define, promote and recruit your job opportunities. How do you become magnetic to high-quality early-career candidates?

Test and Inspection

Test and inspection methods are undergoing rapid change. In this issue, we consider the influence of AOI, AI, and human eyes. How exactly are these pieces of the puzzle changing the role of test and inspection?

Columns

Latest Columns

||| MENU
Austin American Technology Creates Buzz with Justin Worden's 1st SMTA Presentation
September 7, 2023 | Austin American Technology (AAT)
Estimated reading time: 1 minute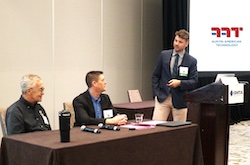 Justin Worden, the dynamic Global Sales and Marketing Director at Austin American Technology (AAT), is no stranger to creating a buzz in the electronics industry. Known for his engaging presence on social media platforms, Worden and AAT have gained recognition for their unconventional marketing strategies. This reputation was once again validated at the recent Surface Mount Technology Association (SMTA) - High Reliability Cleaning and Conformal Coating Conference in Dallas, TX.
The High Reliability Cleaning and Conformal Coating Conference, held biennially, features personal development and educational presentations by some of the electronics industry's foremost cleaning and conformal coating specialists. Worden joined the ranks of these experts as a presenter, accompanied by AAT President Todd Rountree and AAT Founder & CTO Steve Stach.
Worden's presentation diverged from the conventional format typically seen at such events. Instead of a solo presenter clicking through a PowerPoint, attendees experienced a unique and engaging session. The presentation began with a touch of humor, courtesy of technical difficulties with not one, but three malfunctioning microphones. Worden transitioned into an interactive style reminiscent of a late-night talk show host. The audience was treated to an energetic panel discussion, resembling a celebrity interview with Rountree and Stach.
Initial feedback from attendees was appreciation for hosting such an enthusiastic and memorable presentation. For many young engineers in the audience, the highlight of their week in Dallas, TX, was the opportunity to interact with Steve Stach, a pioneer in the industry. Others enjoyed the chance to reconnect with old friends.
As anticipated, Worden delivered a highly impactful experience during his inaugural SMTA presentation. His ability to engage and inspire left a lasting impression on all in attendance, further solidifying his reputation as a forward-thinking industry influencer.
---
Suggested Items
12/07/2023 | ESIA
The General Assembly of the European Semiconductor Industry Association (ESIA), representing the European semiconductor industry and broader ecosystem, unanimously confirmed Jochen Hanebeck, Chief Executive Officer of Infineon Technologies, as the new ESIA President for a two-year mandate. Mr Hanebeck is succeeding NXP Semiconductors' President and CEO Kurt Sievers.
12/06/2023 | Indium Corporation
Indium Corporation is proud to announce the addition of Sales Engineer Meik Fratzel to its European team.
12/06/2023 | SEMI
SEMI announced the SEMI Leadership Accelerator to foster industry growth by assisting organizations in cultivating the next generation of leaders.
12/05/2023 | Travis Kelly -- Column: American Made Advocacy
For this month's PCBAA Member Profile, the focus is on Hari Pillai, president, Technology Components, Sanmina. Hari says, "I think I've had a good dose of luck throughout my career. But beyond luck, I had a vision to become a general manager as far back as my undergraduate years. I made all my career decisions based on that. My evaluation criteria was always, "How does this opportunity get me closer to my goal?" Sometimes opportunities come from unexpected places."
12/05/2023 | American Standard Circuits
West Chicago, Illinois-based PCB fabricator American Standard Circuits will be exhibiting at this year's Annual Association of Old Crows International Symposium to be held from December 11 through the 13th in National Harbor, Maryland.