Books

Featured Books

smt007 Magazine

Latest Issues

Current Issue

Chips Don't Float

In Europe and the U.S., legislation is under way to revitalize PCB fabrication and packaging. What is the status of this work, and how specifically does this change the industry landscape for EMS companies? What will help keep us afloat?

Flying High With Digital Twin

The opportunity to use manufacturing simulation as a test bed for job planning and process optimization brings continuous improvement into the modern age. This may be an all-or-nothing type of project, but it's worth the investment.

Artificial Intelligence

In this issue, we (and AI) explored how and when artificial intelligence plays a role in manufacturing today. Whether on the factory floor, or in the front office, AI applications are emerging and changing how we approach planning, processes and problem solving.

Columns

Latest Columns

||| MENU
BTU will Showcase Innovative Aqua Scrub Flux Management Technology at SMTA International
September 7, 2023 | BTU International, Inc.
Estimated reading time: 1 minute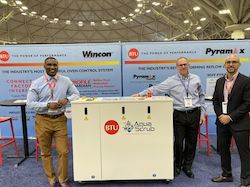 BTU International, Inc., a leading supplier of advanced thermal processing equipment for the electronics manufacturing market, will exhibit at SMTA International 2023. The event is scheduled to take place October 9-12, 2023 at the Minneapolis Convention center in Minneapolis, MN. BTU to showcase its groundbreaking Aqua Scrub™ flux management technology, for its Pyramax™ and Aurora™ reflow ovens in Booth #1221.
"The Aqua Scrub flux management system has been a game changer for many of our high-volume reflow customers," said Isaiah Smith, regional sales manager for BTU International.   "The latest generation of Aqua Scrub is even more effective, with the use of our proprietary AQSB-300 solution – making the payback period even shorter than before," added Smith.
Designed for seamless integration with the Pyramax and Aurora reflow ovens, the Aqua Scrub sets new standards in solder reflow flux management. The stand-alone unit is ingeniously engineered to retrofit onto existing BTU reflow ovens or be incorporated into new units, ensuring a smooth transition without compromising oven operation or factory floor space.
Aqua Scrub introduces a new era of operational efficiency, significantly reducing costs by up to 4X compared to conventional condensation systems. The patent-pending design harnesses aqueous-based scrubber technology compatible with a wide spectrum of paste and flux varieties. This innovative approach not only drives cost savings but also enhances environmental sustainability.
BTU International invites attendees to discover the future of reflow oven flux management technology at their booth during SMTA International. Discover how Aqua Scrub's pioneering approach is revolutionizing solder reflow processes, enhancing efficiency, and delivering unmatched value to the industry.
---
Suggested Items
09/28/2023 | Nolan Johnson, I-Connect007
The practical question around CHIPS Act development and electronics assembly is, "Will this change how we do business?" Indium Corporation's Dr. Andy Mackie sat down with Nolan Johnson to share what he sees as emerging answers to that question from his perspective as an expert in electronics assembly and packaging, and as a participant in standards development through IPC, JEDEC, and SEMI.
09/27/2023 | Nihon Superior Co. Ltd.
Nihon Superior Co. Ltd. is pleased to announce that Keith Sweatman, the company's Senior Technical Advisor, will deliver a presentation titled "A Path to Ductile Low-Temperature Solders for Mass Production of Electronic Assemblies" at the upcoming SMTA International conference and exposition.
09/27/2023 | Hentec Industries/RPS Automation
Hentec Industries/RPS Automation, a leading manufacturer of selective soldering, lead tinning and solderability test equipment, is pleased to announce that Kyocera International has finalized the purchase of a Hentec/RPS Odyssey 1325 robotic hot solder dip component lead tinning machine. 
09/26/2023 | Conecsus Metals México
Conecsus Metals México, an innovative environmental technology and recycling company, will exhibit at the SMTA Foro Tecnico & Expo, Guadalajara, Jalisco, México, on Wednesday, October 25, 2023, beginning at 11:00 a.m.
09/21/2023 | Thermaltronics USA, Inc.
Thermaltronics USA, Inc., a globally acclaimed manufacturer of Precision Soldering Robots and innovative Curie point soldering systems, is excited to announce its participation in the highly anticipated SMTA Guadalajara Expo & Tech Forum, scheduled to take place from October 25-26, 2023.