Terran Orbital Launches Responsive Space Initiative
September 7, 2023 | Business Wire
Estimated reading time: 1 minute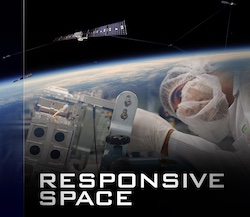 Terran Orbital announced the launch of our Responsive Space Initiative. Under this initiative, we are committed to providing our customers with satellite buses within just 30 days and complete satellite systems with integrated payloads within 60 days. There are seven new satellite buses that will be participating in this program.
Our advanced production capabilities through the implementation of automation and robotics are a game changer for the industry. We are standardizing common components which can be stocked and are interchangeable depending on the bus configuration. We proudly design and manufacture 85% of all modules and components that go into a bus today.
The world is changing rapidly, and we need to change along with it. With our Responsive Space Initiative, Terran Orbital will be able to deliver small satellites that are flexible, high-quality, and reliable to military, civil, and commercial customers at a faster and more cost-effective rate. Satellites for critical missions will be delivered in days instead of taking years. We recently introduced a new product line comprising seven buses that are ready for quick delivery and can be immediately added to our inventory.
We will be partnering with best-of-breed payload suppliers to stock a wide range of payloads. This will allow us to fulfill any customer requirements, whether it's Electro-Optical Imaging, Synthetic Aperture Radar, Communications, Hyperspectral, or any other payload with global demand.
There are currently more than 30 conflict zones worldwide, and the demand for Intelligence, Surveillance, and Reconnaissance (ISR) capabilities to monitor these zones is increasing much faster than satellite manufacturers can currently meet. Our goal is to address this demand and improve the availability of ISR capabilities in critical regions.
"We recently announced our seven new stocking buses; today we are announcing how fast we can build them. These are exciting times not only for Terran Orbital but the industry as a whole," said Marc Bell, Co-founder, Chairman, and CEO of Terran Orbital.
Terran Orbital is building a new facility in Irvine, CA, dedicated to our Responsive Space Initiative. The facility is scheduled to be operational in the summer of 2024, and we plan to launch the program in the fourth quarter of the same year.
---
Suggested Items
09/22/2023 | Boeing
Boeing has announced a $10 million investment in the George W. Bush Presidential Center to support its museum and Veterans and Military Families programs. 
09/15/2023 | Northrop Grumman
Northrop Grumman Corporation's multi-intelligence MQ-4C Triton uncrewed aircraft achieved a declaration of initial operating capability (IOC) by the U.S. Navy.
09/14/2023 |
BAE Systems signed a contract with the Swedish Defence Materiel Administration (FMV) worth approximately $500 million for 48 new ARCHER artillery systems for the Swedish Army.
09/14/2023 | John Watson -- Column: Elementary, Mr. Watson
Electronics are continually evolving, driven by innovations in printed circuit board technology. Flexible PCBs have emerged as a revolutionary force, reshaping the PCB industry and influencing the design and functionality of countless electronic devices. Some believe that flexible PCBs are a relatively newer technology, but as we will see, that is not true. Since I'm an instructor, here's a short history lesson on how we got here and what we can expect.
09/13/2023 | Hentec Industries/RPS Automation
Hentec Industries/RPS Automation, a leading manufacturer of selective soldering, lead tinning and solderability test equipment, is pleased to announce that Sinclair Manufacturing has purchased Pulsar solderability testing and Photon steam aging systems for installation in their Chartley, Massachusetts facility.