Embark on an Innovative Journey: Mexico Technology Day 2023 by ViTrox & SMTo
September 12, 2023 | ViTrox
Estimated reading time: 2 minutes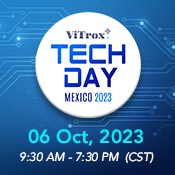 ViTrox, which aims to be the world's most trusted technology company, is thrilled to announce that we will be partnering with our trusted Sales Channel Partner (SCP) in Mexico, SMTo Engineering SA de CV, to bring to you our Mexico Technology Day 2023. The event will occur on 6th October 2023, from 9.30 AM to 7.30 PM, at APODACA 1 ballroom, Crowne Plaza Aeropuerto Hotel, Monterrey, Mexico.
Our Mexico Technology Day 2023 is the premier event for original equipment manufacturers (OEMs) and electronics manufacturing service (EMS) providers who are looking to stay ahead of the curve in today's fast-paced business landscape. This event will serve as a platform for us to engage with interested individuals who would like to learn more about ViTrox's latest SMT PCBA inspection solutions., ranging from V310i Advanced 3D Solder Paste Inspection (SPI) Solution, V510i Advanced 3D Optical Inspection (AOI) Solution, V810i Advanced 3D X-Ray Inspection (AXI) Solution, V9i Advanced Robotic Vision (ARV) Solution, and of course, our Industry 4.0 Manufacturing Intelligence Solutions - V-ONE. We will have designated stations that will feature each solution. We also aim to share with you all how you can achieve production efficiency and excellence with our latest artificial intelligence (A.I.) technologies.
To kickstart the event, we will be hosting an open-day session, from 9.30 AM to 2.30 PM, where you can receive a FREE AOI test report using your own sample boards! From this open-day session, you can experience the efficiency and effectiveness of our V510i Advanced 3D Optical Inspection (AOI) Solution's A.I. technologies, which are our A.I. Smart Programming and also under how AI can assist operators on the defect review through A.I. Assisted Defect Review (A.I. VVTS).  However, slots for this event are limited, so do reserve your slots today by reaching out to our team: ViTrox Mexico Business Development Director, Mr Carlos Ponce, or  SMTo's ViTrox Account Manager, Mr Juan Carlos Santoyo.
We will also be conducting informative sharing sessions on how ViTrox's A.I. technologies and Smart Industry 4.0 solutions assist your production for better efficiency and also support engineers and operators for a better work-life with all the interesting features from our platform, as well as our value proposition that is guaranteed to give you an advantage in the OEM and EMS industry! Among the benefits you will reap from our solutions are:
V310i 3D SPI: Machine-to-machine (M2M) communication with printers, and high-speed inspection programming setup with Ultra Smart A.I. Programming
V510i 3D AOI: A wide coverage of up to 90% SMT component coverage with A.I. Smart Programming, and up to 60% labour reduction with A.I. VVTS.
V810i 3D AXI:  Effortless programming and process optimisation with AXI A.I. Solutions (A.I. Programming, A.I. Classification and A.I. VVTS) for challenging joint inspections (IGBT, HiP, etc.)
V9i ARV: Reliable, consistent and traceable inspection with 2-in-1 inspection capabilities (covering conformal coating and final assembly inspections).
V-ONE: Monitor production status and experience real-time data traceability, process optimisation and quality assurance.
---
Suggested Items
11/27/2023 | Real Time with...productronica
Koh Young's Harald Eppinger talks about the company's technology for the semiconductor and advanced packaging market and how they address the challenges introduced by reflective components and micro solder deposits.
11/27/2023 | HyRel
HyRel Technologies, a global provider of quick turn semiconductor modification solutions, announces the achievement of International Traffic in Arms Regulations (ITAR) registration.
11/24/2023 | Mek (Marantz Electronics)
Mek (Marantz Electronics), a leader in Automated Optical Inspection (AOI) solutions, used last weeks' Productronica show in Munich to proudly introduce the SpectorBOX X series, a modular full 3D AOI system for THT solder joints and THT components.
11/21/2023 | Pete Starkey, I-Connect007
Productronica 2023 played host to the IPC World Hand Soldering Competition, bringing talented regional solder champions from all over the globe to compete for the title of World Champion. Each competitor was given sixty minutes to assemble a complex printed circuit board with their performance judged in accordance with IPC-A-610 Class 3 criteria. Each competitor's efforts were rated on the merits of the results achieved, scored on the quality of the assembly process, the electrical functionality of the assembly and the speed at which the assembly was produced.
11/21/2023 | MacDermid Alpha
MacDermid Alpha Electronics Solutions, a leader in integrated materials and technologies for the electronics industry, introduces ALPHA® SF828-MBB.