Books

Featured Books

smt007 Magazine

Latest Issues

Current Issue

Chips Don't Float

In Europe and the U.S., legislation is under way to revitalize PCB fabrication and packaging. What is the status of this work, and how specifically does this change the industry landscape for EMS companies? What will help keep us afloat?

Flying High With Digital Twin

The opportunity to use manufacturing simulation as a test bed for job planning and process optimization brings continuous improvement into the modern age. This may be an all-or-nothing type of project, but it's worth the investment.

Artificial Intelligence

In this issue, we (and AI) explored how and when artificial intelligence plays a role in manufacturing today. Whether on the factory floor, or in the front office, AI applications are emerging and changing how we approach planning, processes and problem solving.

Columns

Latest Columns

||| MENU
Embark on an Innovative Journey: Mexico Technology Day 2023 by ViTrox & SMTo
September 12, 2023 | ViTrox
Estimated reading time: 2 minutes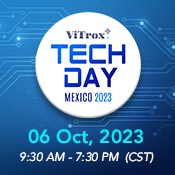 ViTrox, which aims to be the world's most trusted technology company, is thrilled to announce that we will be partnering with our trusted Sales Channel Partner (SCP) in Mexico, SMTo Engineering SA de CV, to bring to you our Mexico Technology Day 2023. The event will occur on 6th October 2023, from 9.30 AM to 7.30 PM, at APODACA 1 ballroom, Crowne Plaza Aeropuerto Hotel, Monterrey, Mexico.
Our Mexico Technology Day 2023 is the premier event for original equipment manufacturers (OEMs) and electronics manufacturing service (EMS) providers who are looking to stay ahead of the curve in today's fast-paced business landscape. This event will serve as a platform for us to engage with interested individuals who would like to learn more about ViTrox's latest SMT PCBA inspection solutions., ranging from V310i Advanced 3D Solder Paste Inspection (SPI) Solution, V510i Advanced 3D Optical Inspection (AOI) Solution, V810i Advanced 3D X-Ray Inspection (AXI) Solution, V9i Advanced Robotic Vision (ARV) Solution, and of course, our Industry 4.0 Manufacturing Intelligence Solutions - V-ONE. We will have designated stations that will feature each solution. We also aim to share with you all how you can achieve production efficiency and excellence with our latest artificial intelligence (A.I.) technologies.
To kickstart the event, we will be hosting an open-day session, from 9.30 AM to 2.30 PM, where you can receive a FREE AOI test report using your own sample boards! From this open-day session, you can experience the efficiency and effectiveness of our V510i Advanced 3D Optical Inspection (AOI) Solution's A.I. technologies, which are our A.I. Smart Programming and also under how AI can assist operators on the defect review through A.I. Assisted Defect Review (A.I. VVTS).  However, slots for this event are limited, so do reserve your slots today by reaching out to our team: ViTrox Mexico Business Development Director, Mr Carlos Ponce, or  SMTo's ViTrox Account Manager, Mr Juan Carlos Santoyo.
We will also be conducting informative sharing sessions on how ViTrox's A.I. technologies and Smart Industry 4.0 solutions assist your production for better efficiency and also support engineers and operators for a better work-life with all the interesting features from our platform, as well as our value proposition that is guaranteed to give you an advantage in the OEM and EMS industry! Among the benefits you will reap from our solutions are:
V310i 3D SPI: Machine-to-machine (M2M) communication with printers, and high-speed inspection programming setup with Ultra Smart A.I. Programming
V510i 3D AOI: A wide coverage of up to 90% SMT component coverage with A.I. Smart Programming, and up to 60% labour reduction with A.I. VVTS.
V810i 3D AXI:  Effortless programming and process optimisation with AXI A.I. Solutions (A.I. Programming, A.I. Classification and A.I. VVTS) for challenging joint inspections (IGBT, HiP, etc.)
V9i ARV: Reliable, consistent and traceable inspection with 2-in-1 inspection capabilities (covering conformal coating and final assembly inspections).
V-ONE: Monitor production status and experience real-time data traceability, process optimisation and quality assurance.
---
Suggested Items
09/28/2023 | Nolan Johnson, I-Connect007
The practical question around CHIPS Act development and electronics assembly is, "Will this change how we do business?" Indium Corporation's Dr. Andy Mackie sat down with Nolan Johnson to share what he sees as emerging answers to that question from his perspective as an expert in electronics assembly and packaging, and as a participant in standards development through IPC, JEDEC, and SEMI.
09/27/2023 | Nihon Superior Co. Ltd.
Nihon Superior Co. Ltd. is pleased to announce that Keith Sweatman, the company's Senior Technical Advisor, will deliver a presentation titled "A Path to Ductile Low-Temperature Solders for Mass Production of Electronic Assemblies" at the upcoming SMTA International conference and exposition.
09/27/2023 | Hentec Industries/RPS Automation
Hentec Industries/RPS Automation, a leading manufacturer of selective soldering, lead tinning and solderability test equipment, is pleased to announce that Kyocera International has finalized the purchase of a Hentec/RPS Odyssey 1325 robotic hot solder dip component lead tinning machine. 
09/26/2023 | Conecsus Metals México
Conecsus Metals México, an innovative environmental technology and recycling company, will exhibit at the SMTA Foro Tecnico & Expo, Guadalajara, Jalisco, México, on Wednesday, October 25, 2023, beginning at 11:00 a.m.
09/21/2023 | Thermaltronics USA, Inc.
Thermaltronics USA, Inc., a globally acclaimed manufacturer of Precision Soldering Robots and innovative Curie point soldering systems, is excited to announce its participation in the highly anticipated SMTA Guadalajara Expo & Tech Forum, scheduled to take place from October 25-26, 2023.