Saab Opens New UK Radar Production Site in Fareham
September 12, 2023 | Saab
Estimated reading time: 1 minute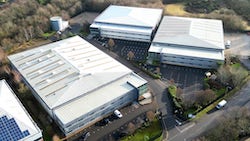 Saab UK's Sensor Systems business operates from Saab's site in Fareham, with a team also located in Farnborough. The skilled staff in Fareham primarily produce and integrate the new Deployment Set, a configuration of the Giraffe 1X highly mobile, compact, rapidly deployed, software-based, 3D AESA radar. This increases Saab's production capacity for its Giraffe 1X Deployment Set and the first units are already in production at the Fareham site.
Saab UK's Sensor Systems business will also act as a Centre of Excellence developing follow-on UK Intellectual Property in the radar domain. It will also grow to maintain existing radars in-service with the UK Ministry of Defence, such as Giraffe 1X and Giraffe AMB air defence radars and artillery locating MAMBA (Arthur) radars.
The whole site in Fareham benefits 400 jobs at Saab, in established and future roles across various business activities.
"This announcement of our new production facility in Fareham is the latest step in Saab UK's growth and closely follows our recent acquisition of BlueBear. Starting up Sensor Systems means hundreds of skilled and economically valuable jobs, and a new UK defence industrial capability for our customers," says Dean Rosenfield, Group Managing Director of Saab UK.
Minister for Defence Procurement, James Cartlidge said: "I very much welcome Saab's investment into the UK, creating hundreds of skilled jobs and supporting our defence industrial base. I look forward to this new facility supporting our Armed Forces in utilising advanced radar capabilities."
Saab UK's Fareham site has been growing with the announcement in February 2023 of the expansion of its Underwater Systems business of Seaeye autonomous and remotely operated vehicles. Across the UK, Saab has eight principal sites which focus on software engineering, underwater robotics, training services, radars and more.
Saab UK's presence has been growing at pace, with employee numbers quadrupling through consolidation, acquisition and organic growth, bringing together the best of Swedish and British innovation.
---
Suggested Items
09/28/2023 | Technica USA
Technica USA announced it has reached a Master Distribution Agreement with SAA to promote and support automation systems & technology offered by SAA.
09/26/2023 | Lockheed Martin
Lockheed Martin Skunk Works, in partnership with the U.S. Air Force, completed the first flight of the U-2 Dragon Lady's Avionics Tech Refresh (ATR) program.
09/26/2023 | PRNewswire
Macronix International Co., Ltd., a leading integrated-device manufacturer in the non-volatile memory (NVM) market, announced its OctaFlash memory line has received ISO 26262 ASIL D (Automotive Safety Integrity Level) certification from SGS TÜV Saar, ensuring makers of automotive electronic systems that OctaFlash meets the highest level of safety in automotive electronics.
09/25/2023 | Alison James
"Electronics systems are at the heart of almost all modern technology. The performance and functionality of these systems have increased at breathtaking speed, chiefly as a result of advancements in semiconductor technology. Semiconductors do not function in isolation," writes Alison James, IPC senior director of government relations, in a 2023 report for the European Commission's Directorate General for Internal Market, Industry, Entrepreneurship. "These electronics systems feature prominently in key sectors like defence, aerospace, space, automotive, medical, and high-performance computing, but electronics are vital to every industry and are central to a variety of EU priorities, including the twin digital and green transitions and Europe's technological sovereignty."
09/28/2023 | Michael Carano -- Column: Trouble in Your Tank
In a previous column, the critical process of desmear and its necessity to ensure a clean copper surface connection was presented. Now, my discussion will focus on obtaining a void-free and tightly adherent copper plating deposit on these surfaces. After the desmear process, the task is to insure a continuous, conductive, and void-free deposit on the via walls and capture pad. Today, there are several processes that can be utilized to render vias conductive.