Books

Featured Books

smt007 Magazine

Latest Issues

Current Issue

Chips Don't Float

In Europe and the U.S., legislation is under way to revitalize PCB fabrication and packaging. What is the status of this work, and how specifically does this change the industry landscape for EMS companies? What will help keep us afloat?

Flying High With Digital Twin

The opportunity to use manufacturing simulation as a test bed for job planning and process optimization brings continuous improvement into the modern age. This may be an all-or-nothing type of project, but it's worth the investment.

Artificial Intelligence

In this issue, we (and AI) explored how and when artificial intelligence plays a role in manufacturing today. Whether on the factory floor, or in the front office, AI applications are emerging and changing how we approach planning, processes and problem solving.

Columns

Latest Columns

||| MENU
Naprotek Enhances Manufacturing Capabilities with Seica Flying Probe
September 12, 2023 | Naprotek LLC
Estimated reading time: 1 minute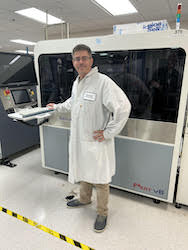 Naprotek, LLC., a leading provider of high-reliability, quick-turn electronics manufacturing, announced the strategic addition of Seica's Pilot V8 Next Flying Probe to their state-of-the-art manufacturing facility.
The acquisition of the Seica Pilot V8 Next Flying Probe is a testament to Naprotek's commitment to innovation and excellence in electronics manufacturing. This cutting-edge technology is set to revolutionize the testing and quality control processes, ensuring that Naprotek continues to meet and exceed the stringent demands of its diverse customer base.
Larry Morrissey, Senior Vice President and General Manager of Naprotek, highlighted the significance of this addition: "The addition of the flying probe represents a substantial leap forward in our testing capabilities. It enhances our agility in identifying and rectifying issues, ultimately resulting in quicker turnaround times and even higher quality standards."
The Seica Pilot V8 Next Flying Probe boasts a vertical architecture that enables probing of both sides of the Unit Under Test (UUT) simultaneously. This breakthrough design enhances test throughput and flexibility while ensuring fast, precise, reliable, and repeatable probing. With capabilities ranging from In-Circuit tests to LED tests, this flying probe system empowers Naprotek to maintain the highest quality standards across its product offerings. 
This strategic move further solidifies Naprotek as a provider of cutting-edge electronics technology solutions tailored to high-reliability applications, ensuring that their customers receive unmatched expertise and tailored solutions to meet their specific requirements.
---
Suggested Items
09/28/2023 | KYZEN'
KYZEN, the global leader in innovative environmentally friendly cleaning chemistries, is proud to announce that it is sponsoring the Women's Leadership Program Connection Reception to be held at SMTA International.
09/28/2023 | Nolan Johnson, I-Connect007
The practical question around CHIPS Act development and electronics assembly is, "Will this change how we do business?" Indium Corporation's Dr. Andy Mackie sat down with Nolan Johnson to share what he sees as emerging answers to that question from his perspective as an expert in electronics assembly and packaging, and as a participant in standards development through IPC, JEDEC, and SEMI.
09/28/2023 | ZESTRON
ZESTRON is happy to announce that Senior Application Engineer, Ravi Parthasarathy, will be presenting "Revolutionizing PCB Assembly Cleaning:
09/28/2023 | IPC
IPC continues to collaborate with the electronics manufacturing industry to meet their current and future workforce training needs.
09/28/2023 | IPC
Though product demand weakened this month with Orders and Backlog Indexes slipping, overall electronics industry operations remain healthy per IPC's September 2023 Global Sentiment of the Electronics Supply Chain Report.