Books

Featured Books

smt007 Magazine

Latest Issues

Current Issue

Economic Headwinds

This issue takes stock of the current economic outlook and how companies are using current conditions to move themselves through technological evolutions, workforce shifts, and financial changes. Even with these headwinds, there's forward progress to be made.

Attracting New Talent

To get different results in staffing, you must change how you define, promote and recruit your job opportunities. How do you become magnetic to high-quality early-career candidates?

Test and Inspection

Test and inspection methods are undergoing rapid change. In this issue, we consider the influence of AOI, AI, and human eyes. How exactly are these pieces of the puzzle changing the role of test and inspection?

Columns

Latest Columns

||| MENU
Transition Automation Debuts Squeegee Safe-Storage and Cleaning Tool
September 15, 2023 | Transition Automation, Inc.
Estimated reading time: 1 minute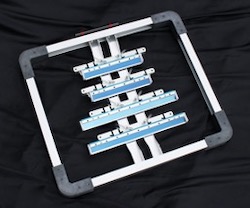 Transition Automation, Inc. is pleased to announce Squeegee Buddy, a new tool for SMT printer users to help improve process quality and organization. This SMT solution provides a secure storage for squeegees in the form of a frame that looks similar to a stencil frame. As such, it may be inserted into stencil cleaners to clean squeegees without damaging them. Capable of use for both squeegee storage and squeegee cleaning, the tool protects the squeegees from damage by keeping them within the outside dimensions of the frame. In this way, if the frame were to drop and fall on the floor, there would be no way for the squeegee blade to be impacted or damaged. This frame can be hung on a wall or inserted into a stencil frame rack to store the squeegees between operations.
In surveys with SMT users of Transition's advanced Permalex Edge Metal Squeegees, it was learned that while the Permalex blades last a very long time in production, they often reach their end-of-life due to mishandling. Further visits to many users show numerous implementations of squeegee storage that required benches or drawers or other large structures that affected real estate in and around the SMT printing process. The Squeegee Buddy helps improve SMT ergonomics. This new tool may be used with any Transition Universal Holder with the addition of two small holes that allow the squeegee to be inserted onto two secure pins. The frame has spring locks that secure the squeegee holders in place during cleaning or transport. The Squeegee Buddy also includes an ergonomic handle for easy pickup and transport in the SMT area. Squeegee Buddy is available in two sizes, similar to popular frame sizes 29-29 and 20-20, and in four colors: blue, red, green, and silver. The part number shown is EZCF-2925-4X-S, and this and other sizes and colors are available with a delivery of three weeks A.R.O.
---
Suggested Items
11/30/2023 | AIM
AIM Solder, a leading global manufacturer of solder assembly materials for the electronics industry, is pleased to announce its new NC259FPA Ultrafine No Clean Solder Paste, which it revealed recently during the Productronica Germany trade show.
10/30/2023 | ITW EAE
MPM® announces the new Edison™ II ACT stencil printer a simple to use, easy to adopt and scalable solution for automation. 
10/12/2023 | DownStream Technologies, LLC
Downstream has announced new versions of their industry-leading PCB post-processing solutions CAM350® and BluePrint-PCB®.
10/11/2023 | I-Connect007 Editorial Team
To get a front-line perspective on test and inspection, we spoke with Raj Vora, manufacturing engineer, and Darren Carlson, operations manager at San Diego-based VAS Engineering, a company that has been paying careful attention to operational efficiencies. "All roads lead to Rome," they say; it seems any operational efficiency work ultimately leads back to data and analysis. In this conversation, Raj and Darren share how test and inspection equipment is vital to the efficiency of the entire manufacturing structure.
09/25/2023 | StenTech
StenTech Inc., the leading multinational SMT Printing Solutions company, is pleased to announce plans to exhibit at the SMTA Guadalajara Expo, scheduled to take place Oct. 25-26, 2023 at the Expo Guadalajara in Guadalajara, Jalisco, Mexico.