Books

Featured Books

pcb007 Magazine

Latest Issues

Current Issue

Finding Ultra

New demands on PCB fabrication, namely advanced packaging, ultra high density interconnect (UHDI), and new specialty materials, are converging, changing the landscape of our business. Is it time to start paying close attention to this convergence?

Developing a Strategy

A solid strategy is a critical part of success. This month, we asked some of the top industry leaders and business strategy "gurus" to share their thoughts on developing strategies.

Winning With TQM

In this issue, we explore how TQM has entered the DNA of continuous improvement disciplines, and the role leadership transformation plays in this. If you've ever competed against a TQM company, you understand their winning advantage.

Columns

Latest Columns

||| MENU
I-Connect007 Editor's Choice: Five Must-Reads for the Week
September 15, 2023 | Andy Shaughnessy, Design007 Magazine
Estimated reading time: 2 minutes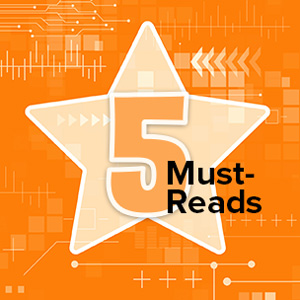 It's been a hot week in Atlanta. The Braves just clinched the division title with the best record in the league, 95-50, and Matt Olson tied the Braves' franchise record with 51 home runs in one season (more than Hank Aaron ever hit in one year, if you're a baseball history buff).
We've had a hot week in this industry too. In my picks for this week, we introduce a new SMT007 columnist, and we have a look at the CHIPS Act one year later. We have a great article about sourcing diversification, and a look at the latest electronics news coming out of India. And columnist Vern Solberg explains DFM best practices for flexible circuits.
Have a great weekend!
Meet Aidan Salvi of Amitron, SMT007 Columnist
Published September 14
This week, we welcomed Aidan Salvi to the I-Connect007 columnist roster. Aidan is the chief transformation officer for Amitron, and he'll be covering the move from robots to cobots in PCB manufacturing. Check out his columns in the SMT007 and Mil-Aero newsletters.
Sourcing Diversification – Empowering Your Supply Chain for Success
Published September 13
The supply chain situation has stabilized now, but smart companies are being proactive and shoring up their sourcing processes, just in case. Léa Maurel of ICAPE has a great article about sourcing diversification and the need to foster relationships with multiple vendors from around the globe.
CHIPS Act, One Year On
Published September 12
It's been one year since the CHIPS Act was introduced with a lot of hoopla and promises to fund the U.S. electronics industry. But where are we now? Has anything really changed? In this conversation, PCBAA Chair Travis Kelly lays it all out. He also discusses the Protecting Circuit Boards and Substrates Act that was recently reintroduced in Congress.
Designer's Notebook: DFM Principles for Flexible Circuits
Published September 14
DFM practices can be challenging in the best of times, and things only get crazier when we move into flexible circuits. In this column, Vern Solberg discusses flex DFM techniques that designers need to keep in mind when working in the 3D flex environment.
Material Insight: India's Rise in the Global Electronics Ecosystem
Published September 12
In this column, Preeya Kuray focuses on India's continued expansion in the global electronics market. She discusses some of the electronics news from the Land of Many Wonders, including Micron's plans to build a $2.75 billion advanced packaging factory in India. There's a lot going on in India right now.
---
Suggested Items
09/27/2023 | AT&S
AT&S is working on the EECONE (European ECOsystem for greeN Electronics) project to develop new technologies to make electronics production in Europe more sustainable.
09/27/2023 | iNEMI
Join iNEMI and ZESTRON in Shenzhen on October 13 for a full-day workshop on reliability requirements and challenges for automotive electronics and to share the latest information about standards development for this market segment.
09/26/2023 | SMTA
SMTA is pleased to announce Catherine Wong, Foothill College, has been selected as the recipient of the 2023 JoAnn Stromberg Student Leader Scholarship.
09/25/2023 | Purdue University
Purdue University continues building momentum as America's leading university in semiconductors, with a broad range of updates this fall semester.
09/25/2023 | Alison James
"Electronics systems are at the heart of almost all modern technology. The performance and functionality of these systems have increased at breathtaking speed, chiefly as a result of advancements in semiconductor technology. Semiconductors do not function in isolation," writes Alison James, IPC senior director of government relations, in a 2023 report for the European Commission's Directorate General for Internal Market, Industry, Entrepreneurship. "These electronics systems feature prominently in key sectors like defence, aerospace, space, automotive, medical, and high-performance computing, but electronics are vital to every industry and are central to a variety of EU priorities, including the twin digital and green transitions and Europe's technological sovereignty."