Books

Featured Books

smt007 Magazine

Latest Issues

Current Issue

Economic Headwinds

This issue takes stock of the current economic outlook and how companies are using current conditions to move themselves through technological evolutions, workforce shifts, and financial changes. Even with these headwinds, there's forward progress to be made.

Attracting New Talent

To get different results in staffing, you must change how you define, promote and recruit your job opportunities. How do you become magnetic to high-quality early-career candidates?

Test and Inspection

Test and inspection methods are undergoing rapid change. In this issue, we consider the influence of AOI, AI, and human eyes. How exactly are these pieces of the puzzle changing the role of test and inspection?

Columns

Latest Columns

||| MENU
PVA to Showcase Conformal Coating Solutions at SMTA Guadalajara 2023
September 19, 2023 | PVA
Estimated reading time: 1 minute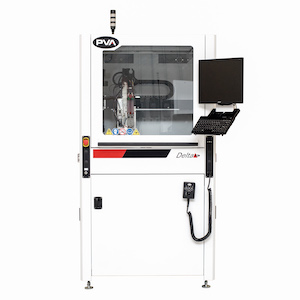 PVA, a global supplier of automated dispensing and coating equipment, is excited to announce its participation in SMTA Guadalajara, one of the most anticipated events in the electronics manufacturing industry. The company will exhibit its cutting-edge conformal coating offerings, designed to deliver unmatched precision and reliability in PCB protection in Booth 1219. The event is scheduled to take place on Wednesday, Oct. 25, 2023 at Expo Guadalajara in Guadalajara, Jalisco.
PVA will showcase its Delta 8 with Servo 4th Axis, equipped with a range of advanced valves for conformal coating applications, including:
FCS300-ES Extended Spray Valve
FC100-CF Non-Atomized Film Coating Valve
FCM100 Front Closing Micro Dispense Valve with Micrometer
These state-of-the-art valves ensure precise and consistent coating applications, offering an array of coating options to meet various requirements and specifications. With PVA's advanced dispensing and coating technology, electronics manufacturers can achieve superior protection for their PCBs, safeguarding them against environmental factors and ensuring reliable performance.
In addition to presenting its conformal coating solutions, PVA is thrilled to announce the upcoming opening of its new Mexico Facility, strategically located in Guadalajara, Mexico. This milestone marks a significant step in bringing PVA's unparalleled support closer to customers in the region. The facility will offer comprehensive customer service, live demonstrations, training sessions, and feature fully-equipped lab capabilities, empowering manufacturers with the resources they need for optimal equipment performance and enhanced production processes.
"We are delighted to participate in SMTA Guadalajara and share our latest conformal coating solutions with the electronics manufacturing community," said Frank Hart, Managing Director at PVA. "The Delta 8 with Servo 4th Axis, along with our advanced dispensing valves, represent the pinnacle of precision and efficiency in conformal coating applications. Additionally, the opening of our Mexico Facility reflects our commitment to providing unparalleled support and resources to our valued customers in the region."
PVA is excited to present its conformal coating offerings at SMTA Guadalajara and looks forward to connecting with industry professionals to explore opportunities for collaboration and growth. PVA is a world-class innovator of high quality, repeatable dispensing and conformal coating systems. The company manufactures turnkey solutions that help customers improve their competitiveness, such as coating inspection, optical bonding and curing ovens.
---
Suggested Items
11/30/2023 | BUSINESS WIRE
Nordson Electronics Solutions, a global leader in electronics manufacturing technologies, is pleased to announce the release of the new ASYMTEK Select Coat® SL-1040 conformal coating system.
10/26/2023 | Libra Industries
Libra Industries, a valued portfolio company of CW Industrial Partners (CWI), is thrilled to announce the launch of its cutting-edge Powder Coat paint line in their Guaymas, Mexico factory­­, adding surface finishing capabilities and services.
10/24/2023 | PVA
PVA, a global supplier of automated dispensing and coating equipment, is pleased to announce is pleased to announce its exciting new partnership with ESD-Center.
10/23/2023 | Assel
Assel is the first in Poland to invest in an AOI (Automatic Optical Inspection) PCI 100 machine from PARMI, used to verify the varnishing process (Conformal coating).
10/12/2023 | Specialty Coating Systems (SCS)
Specialty Coating Systems (SCS) is pleased to announce the integration of liquid coating capabilities into its Woking, England, facility.