Books

Featured Books

smt007 Magazine

Latest Issues

Current Issue

Economic Headwinds

This issue takes stock of the current economic outlook and how companies are using current conditions to move themselves through technological evolutions, workforce shifts, and financial changes. Even with these headwinds, there's forward progress to be made.

Attracting New Talent

To get different results in staffing, you must change how you define, promote and recruit your job opportunities. How do you become magnetic to high-quality early-career candidates?

Test and Inspection

Test and inspection methods are undergoing rapid change. In this issue, we consider the influence of AOI, AI, and human eyes. How exactly are these pieces of the puzzle changing the role of test and inspection?

Columns

Latest Columns

||| MENU
Seika Machinery Showcasing Tabletop Router, Stencil Cleaner & More at the SMTA Guadalajara Expo
September 20, 2023 | Seika Machinery, Inc.
Estimated reading time: 1 minute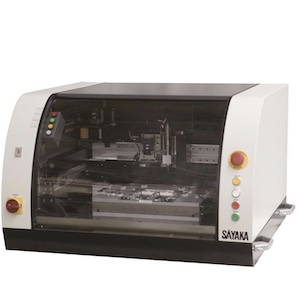 Seika Machinery, Inc., a leading provider of advanced machinery, materials and engineering services, is excited to announce its participation at SMTA Guadalajara, scheduled to take place on Wednesday, Oct. 25, 2023 at Expo Guadalajara in Guadalajara, Jalisco. Seika Machinery will present an impressive array of state-of-the-art solutions that cater to diverse manufacturing needs in Booth 803.
Attendees will have the unique opportunity to explore Seika Machinery's featured products, which are designed to enhance efficiency, precision, and overall productivity.
Highlighted Solutions at SMTA Guadalajara include:
Sayaka CT23S Router: The Sayaka CT23S Table-Top PCB Router will be in the spotlight, featuring advanced image-processing software for efficient programming of router paths. With its high-speed router bit, the CT23S ensures clean and precise depanelization of densely populated PCBs, providing stress-free solutions for PCB separation.
Sawa AH100E-LV Ecobrid Cleaner: Seika Machinery's Sawa AH100E-LV Ecobrid cleaner stands out with its high-capacity stencil cleaning capabilities. With low solvent usage and running costs, this cleaner delivers fast and efficient results. The powerful ultrasonic cleaning head ensures optimal cleaning, even in small apertures.
Unitech PCB Cleaner: The Unitech PCB Cleaner features a dual dust removal system utilizing brush and adhesive cleaning rollers. This innovative design offers superior cleaning results, including the top surface of PCBs and chip components attached to the bottom side, making it an essential tool for maintaining cleanliness in electronics manufacturing.
Malcom PCU-02V Viscometer: For quick and easy spot viscosity readings, the Malcom PCU-02V Viscometer is the ideal solution. This compact viscometer requires a minimal sample size and provides rapid temperature control, ensuring efficient viscosity measurement in less than 3 minutes. It's perfect for quality control and process optimization.
Malcom RCX Series Modular Reflow Oven Profiling System: The Malcom RCX Series offers comprehensive profiling of reflow ovens, covering temperature, video imaging, O2 concentration, and convection air velocity. This versatile system verifies optimal oven performance, enables troubleshooting, and ensures production consistency.
Seika Machinery invites attendees to visit their booth at SMTA Guadalajara 2023 and experience firsthand the innovative solutions that are shaping the future of manufacturing. Experts will be available to provide insights, answer questions, and demonstrate the capabilities of the showcased products.​​​
---
Suggested Items
11/09/2023 | Ventec International Group
Ventec Giga Solutions, the equipment division of Ventec International Group, announces that it has been appointed as sales agent and distributor of Taiwanese manufacturer Yeitek's specialized PCB cleaning machines and accessories. The agreement encompasses EMEA, the United Kingdom, and the Americas.
10/26/2023 | KYZEN'
KYZEN, the global leader in innovative environmentally friendly cleaning chemistries, has been honored with the prestigious Mexico Technology Award in the category of Cleaning Materials for its revolutionary AQUANOX® A4618 Aqueous In-Line Cleaning Solution.
10/23/2023 | ZESTRON
ZESTRON, the leading global provider of high-precision cleaning products, services, and training solutions in the electronics manufacturing and semiconductor industries, is excited to announce its participation in the upcoming SMTA Guadalajara Expo and Tech Forum, a premier event in the electronics manufacturing industry.
10/19/2023 | KYZEN'
KYZEN is proud to announce the addition of Beth Bivins as Global Key Accounts Manager for Solvents.
10/11/2023 | KYZEN'
KYZEN, the global leader in innovative environmentally friendly cleaning chemistries, is proud to announce its participation at productronica 2023, where it will showcase the revolutionary AQUANOX® A4625N Aqueous In-Line Cleaning Solution in Hall A4, Stand 450. The event is scheduled to take place Nov. 14-17 at the Messe München in Munich, Germany.