Books

Featured Books

pcb007 Magazine

Latest Issues

Current Issue

The Registration Sweet Spot

Registration is underrated and underappreciated. The key is to ensure proper registration from layer to layer across the entire printed circuit board. It's a holistic process requiring anticipation, prediction, precise attention at each step, and detailed data tracking and monitoring.

High-reliability Fabrication

In this month's issue, our expert contributors discuss the latest in technologies, trends, complexities and resources regarding high-reliability fabrication.

Finding Ultra

New demands on PCB fabrication, namely advanced packaging, ultra high density interconnect (UHDI), and new specialty materials, are converging, changing the landscape of our business. Is it time to start paying close attention to this convergence?

Columns

Latest Columns

||| MENU
Gotion High-tech Selects Siemens Xcelerator for Digital Transformation of Battery Engineering and Manufacturing
September 20, 2023 | Siemens
Estimated reading time: 1 minute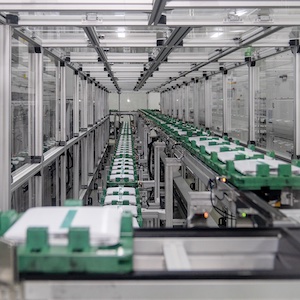 Siemens Digital Industries Software announced that Gotion High-tech Co., Ltd. has selected the Siemens Xcelerator portfolio of industry software to build an intelligent battery manufacturing platform as part of achieving its digital transformation goals. Gotion High-tech intends to use artificial intelligence enabled industrial control system technology to build a closed-loop digital research and development, manufacturing and management platform. This new platform will help further strengthen Gotion's intelligent manufacturing of batteries and pave the way for future digital development.
According to the agreement, Gotion High-tech, in collaboration with Siemens, plans to explore the application of digital twins and battery specific digital threads in product research and development, production and manufacturing and technical services.
"The new era is about material transformation and digitization. As an enterprise with a strong sense of mission and responsibility, Gotion High-tech is striving to build an energy science system based on materials science and digital science. By integrating digital technology into the entire process of material research and development, production and manufacturing, product operation, and battery recycling, it hopes to truly achieve its goal of green energy accessible and sustainable, empowering the future," said Li Zhen, Chairman, Gotion "The cooperation between Siemens and Gotion High-tech aims to enhance the operational capabilities of global factories through the joint creation of Gotion's digital Intelligence plant."
"As an advocate and practitioner of Industry digitization, Siemens is very pleased to work with Gotion High-tech to help the company achieve digital transformation in the field of new energy power batteries and energy storage," said Leo Liang, senior vice president and managing director for Greater China, Siemens Digital Industries Software. "As a reliable partner, Siemens will fully assist Gotion High-tech in improving its digital level, enhancing its innovation and competitiveness globally."
---
Suggested Items
11/28/2023 | Real Time with...productronica
Pete Starkey speaks with Frederic Soulier and Damien Boureau from Altix and MGI Digital Technology. The combined expertise of two innovative companies lead to a radically simplified digital solution for solder mask and additive processes in one machine.
11/27/2023 | Amphenol Invotec
Amphenol Invotec a leading manufacturer of advanced, high technology printed circuit boards, is proud to announce this month that it has achieved ISO/IEC 27001 certification for its information security management.
11/27/2023 | Linköping University
Linköping university has been granted six million SEK from the Swedish Innovation Agency (Vinnova) for the research project Catena-D (Circular and resource-efficient value chain systemically enabled with AI and digital thread).
11/23/2023 | TrendForce
This is all despite venture capital (VC) investments falling in 2023 compared to 2021 and 2022 due to rising interest rates, global recession, and currency fluctuations.
11/17/2023 | Siemens
Siemens Digital Industries Software announced that its PAVE360-based solution for automotive digital twin is now available on AWS.