Books

Featured Books

smt007 Magazine

Latest Issues

Current Issue

Economic Headwinds

This issue takes stock of the current economic outlook and how companies are using current conditions to move themselves through technological evolutions, workforce shifts, and financial changes. Even with these headwinds, there's forward progress to be made.

Attracting New Talent

To get different results in staffing, you must change how you define, promote and recruit your job opportunities. How do you become magnetic to high-quality early-career candidates?

Test and Inspection

Test and inspection methods are undergoing rapid change. In this issue, we consider the influence of AOI, AI, and human eyes. How exactly are these pieces of the puzzle changing the role of test and inspection?

Columns

Latest Columns

||| MENU
Experience Juki's Cutting-Edge Solutions in Automated Assembly at SMTA Guadalajara
September 21, 2023 | Juki Automation Systems (JAS), Inc.
Estimated reading time: 1 minute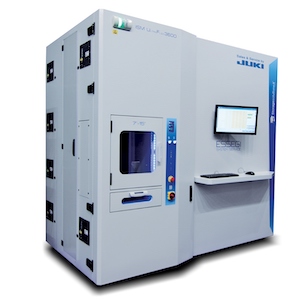 Juki Automation Systems (JAS), Inc., a world-leading provider of automated assembly products and systems and subsidiary of Juki Corporation, is excited to announce its participation in the upcoming SMTA Guadalajara Expo. The event is scheduled to take place on Wednesday, Oct. 25, 2023, at Expo Guadalajara in Guadalajara, Jalisco.
Juki's distinguished team will be present in Booth 1317 to provide demonstrations the award-winning ISM UltraFlex 3600S and the revolutionary Incoming Material Station.
Redefining Component Storage with ISM UltraFlex 3600S
The ISM UltraFlex 3600S sets a new standard in the electronic component storage market, pushing the boundaries of current capabilities. This solution offers unparalleled flexibility, allowing users to reconfigure the unit to adapt to evolving requirements. Building on its predecessor's foundation, the ISM UltraFlex 3600S demonstrates impressive improvements in speed and efficiency when it comes to reel extraction and return. Equipped with an advanced robotic arm, this model boasts a storage capacity of up to 3600 reels in individual cases. This not only enhances operational efficiency but also streamlines the entire storage process.
Streamlining Operations with the Incoming Material Station
Juki's Incoming Material Station is designed to enhance operational efficiency by expediting the registration of new reels, eliminating errors, and elevating traceability. Driven by the innovative Autoincoming software, this station seamlessly reads and imports essential information from suppliers and customers' labels. It generates a Unique ID label that can be seamlessly integrated with pick-and-place machines, ERP software, and other systems. Operating the Incoming Material Station is a user-friendly process: operators simply position the material on the station, and its high-resolution camera reads all critical codes and data. The station captures a detailed image for traceability records, prints a new label, and can even transmit the UID and material purchase order to customers' receiving systems, ERPs, and MES software.
---
Suggested Items
11/29/2023 | Inovaxe
Inovaxe, a world leader and provider of innovative material handling and inventory control systems, proudly announces its role as a distributor for VisiConsult's innovative X-ray Counter solutions in the United States.
11/29/2023 | Anaya Vardya -- Column: Standard of Excellence
To sustain a standard of excellence, it's equally important to look at both what we're doing today as well as what we'll do in the future. In other words, plan ahead. In that spirit, I thought it would be prudent to peek into the future and talk about what a printed circuit board fabrication facility with a "standard of excellence" will look like five years from now.
11/27/2023 | PRNewswire
Since its isolation in 2004, graphene has received widespread attention as a 'wonder' material, with the reported potential to enable a whole host of next-generation technologies, some of which would not be out of place in the latest sci-fi blockbuster.
11/24/2023 | PRNewswire
Superconductors are materials that offer no resistance to electrical current flowing through them. Combining their study with spintronics, which deals with the intrinsic spin of electrons and their use in electronics, has paved the way for the new field of superconducting spintronics.
11/21/2023 | ACN Newswire
Researchers of RIKEN at Japan's state-of-the-art synchrotron radiation facility, SPring-8, and their collaborators, have developed a faster and simpler way to carry out segmentation analysis, a vital process in materials science.