Books

Featured Books

smt007 Magazine

Latest Issues

Current Issue

Economic Headwinds

This issue takes stock of the current economic outlook and how companies are using current conditions to move themselves through technological evolutions, workforce shifts, and financial changes. Even with these headwinds, there's forward progress to be made.

Attracting New Talent

To get different results in staffing, you must change how you define, promote and recruit your job opportunities. How do you become magnetic to high-quality early-career candidates?

Test and Inspection

Test and inspection methods are undergoing rapid change. In this issue, we consider the influence of AOI, AI, and human eyes. How exactly are these pieces of the puzzle changing the role of test and inspection?

Columns

Latest Columns

||| MENU
Takaya Launches FastTrack ODB++ to Takaya Program Generator
September 21, 2023 | Takaya
Estimated reading time: 1 minute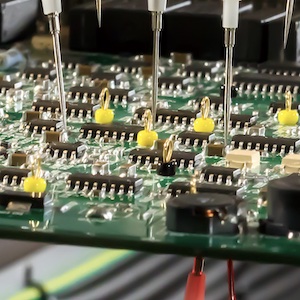 TEXMAC/Takaya, the pioneering developer of flying probe testing systems for assembled Printed Circuit Board Assemblies (PCBAs), announces the launch of FastTrack ODB++, the Takaya Program Generator, a Takaya-developed conversion software program that simplifies and streamlines communication between machines when generating APT testing programs. "FastTrack ODB++ is just that," states Roy McKenzie, Takaya Group Manager. "A faster, easier route for Takaya program generation."
"Communication should always be easy – whether it's between people or machines," Roy says. "In today's emerging Industry 4.0 environment, most equipment in a production line is usually provided by different vendors, and most use their own means of data exchange and format of information saving. "As a result, creating an automated testing or APT program for a PCB Assembly, for example, using third-party data and software can be a real headache. Different machines, different test programs, and different languages all add complexity."
To help simplify matters, Roy adds, Takaya, the pioneering developer of flying probe testing systems for assembled Printed Circuit Board Assemblies (PCBAs), has developed FastTrack ODB++, a conversion software package that simplifies the creation of Takaya APT testing programs.
Using PCB CAD data that is stored in ODB++ (Open Data Base) format, FastTrack ODB++ can convert the data into APT software test programs with no need for intermediate software. It's a more direct way to operate, with fewer hurdles to jump." Free-to-use ODB++ contains all the information in the PCB CAD data and can reflect more information in the APT test program than third-party software that outputs in CA9 format.
FastTrack ODB++ saves time and eliminates unnecessary work. For example, Roy says, "The conversion can be based on various factors including a comparison of differences in the files. If an existing test program is generated from an ODB++ file, then FastTrack ODB++ is able to compare a revised ODB++ with an existing one and convert only the part where changes have been made." Using this function helps greatly reduce the time and cost on test program debug since users do not need to create a test program from scratch. "It's another step by TAKAYA in the realization and implementation of Industry 4.0 goals," Roy adds.
---
Suggested Items
08/15/2022 | Mark Laing, Siemens Digital Industries Software
For PCB and assembly manufacturers, test engineering has become a critical factor in enhancing the profitability of new product introductions (NPIs). Given the trend toward high-mix, low-volume production, the journey from design data to an automated PCB testing program must be quicker and more efficient than ever before. In this article, we will discuss how to optimize the efficiency of the test engineering process in accordance with these new market realities.
07/13/2022 | Ucamco
Ucamco is proud to release UcamX v2022.06 and Integr8tor v2022.06. These new versions of our CAM and Pre-CAM software include dozens of additions, new options, fixes and general improvements to increase our customers's productivity.
01/25/2022 | Team Siemens -- Column: Digital Transformation
Without a seam. That's what seamless means. There is no evidence of the transition from one material to another, or in the case of processes, from one process to another. The transition happens smoothly, effortlessly. That is the goal of everyone in the PCB ecosystem — designers, fabricators, and contract manufacturers alike. Every designer wishes they could send a data package out to their suppliers and never have to worry about whether it will be built correctly or be bothered with answering technical queries. Likewise, bare board fabricators and contract manufacturers wish all their customers would send them complete, clean, unambiguous, non-contradicting data so they can get on with their value-added work without asking for missing information or seeking clarification.
03/12/2021 | I-Connect007
It is with deep sorrow that Balver Zinn Josef Jost GmbH & Co. KG says goodbye to its managing director, Dipl.-ing. Gregor Jost.
09/30/2020 | Zac Elliott -- Column: Lean Digital Thread
In past columns, Sagi Reuven has written about topics mostly related to the shop floor. In this column, he talks about design for manufacturing (DFM). It is clear to everyone in the Industry 4.0 era that the holy grail is to close the loop between design and manufacturing.