Books

Featured Books

smt007 Magazine

Latest Issues

Current Issue

Economic Headwinds

This issue takes stock of the current economic outlook and how companies are using current conditions to move themselves through technological evolutions, workforce shifts, and financial changes. Even with these headwinds, there's forward progress to be made.

Attracting New Talent

To get different results in staffing, you must change how you define, promote and recruit your job opportunities. How do you become magnetic to high-quality early-career candidates?

Test and Inspection

Test and inspection methods are undergoing rapid change. In this issue, we consider the influence of AOI, AI, and human eyes. How exactly are these pieces of the puzzle changing the role of test and inspection?

Columns

Latest Columns

||| MENU
Airbus Unveils PioneerLab as its New Twin-engine Flying Laboratory
September 26, 2023 | Airbus
Estimated reading time: 1 minute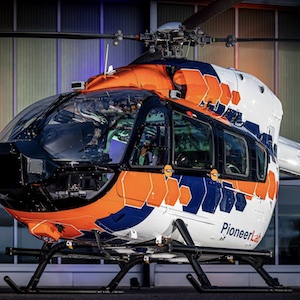 During the German National Aviation Conference in Hamburg, Airbus Helicopters unveiled the PioneerLab, its new twin-engine technology demonstrator based on the H145 platform. It complements Airbus' range of FlightLabs and focuses on testing technologies that reduce helicopter emissions, increase autonomy and integrate bio-based materials.

"With PioneerLab, we continue our ambitious strategy to test and mature new technologies on board our helicopter demonstrators," said Tomasz Krysinski, Head of Research and Innovation Programmes at Airbus Helicopters. "PioneerLab, which is based in Germany at our Donauwörth site, will be our platform to test technologies specifically dedicated to twin-engine helicopters."

The PioneerLab aims to demonstrate a fuel reduction of up to 30% compared to a conventional H145, thanks to a hybrid electric propulsion system and aerodynamic
improvements. Aboard the demonstrator, Airbus Helicopters will also flight-test structural components made from bio-based and recycled materials, which aim to reduce the
environmental footprint across the entire aircraft life cycle. The company intends to produce the new parts using processes that reduce material and energy consumption and improve recyclability. Further research activities will include the integration of the latest digital technologies into the aircraft's flight control system and associated sensors to increase autonomy and safety during critical flight phases such as take-off and landing.

PioneerLab is partially co-funded by the BMWK, the Federal German Ministry for Economic Affairs and Climate Actions through its national research program LuFo. Airbus Helicopters' FlightLabs provide agile and efficient test beds to quickly test technologies. They are part of the company's strategy to bring incremental innovation to improve its current products and as well as to mature technology for future platforms.

The PioneerLab's flight campaign has already begun at the manufacturer's largest German site in Donauwörth, with a rotor strike alerting system being the first techno-brick tested on board the demonstrator. The next phase will be to test an automated take-off and landing system.
---
Suggested Items
12/05/2023 | Amkor Technology
Amkor Technology, Inc., a leading provider of semiconductor packaging and test services, has announced its plan to build an advanced packaging and test facility in Peoria, Arizona.
12/04/2023 | BUSINESS WIRE
Sierra Space, a leading pureplay commercial space company building the first end-to-end business and technology platform in space, announced the commencement of a comprehensive testing campaign for the Shooting Star™ cargo module at NASA's Neil Armstrong Test Facility in Sandusky, Ohio.
12/01/2023 | GÖPEL electronic
Having been responsibly committed to a clean environment for many years, GÖPEL electronic GmbH has taken an important step towards greater climate protection by obtaining its initial certification in accordance with DIN EN ISO 14001:2015.
11/30/2023 | Chris Young, Young Engineering Services
There are many ways, dozens to be sure, and most likely many more, to streamline a PCB design. My goal here is to pick a single-digit number of rules to abide by, that can be reasonably adhered to, and provide some bang for the buck. These rules are meant to reduce design scope creep, avoid PCB respins, and improve production yields.
11/30/2023 | Keysight Technologies, Inc.
Keysight Technologies, Inc. announces that Arbe has selected the E8719A Radar Target Solution (RTS) to test the Arbe 4D imaging radar chipset for automotive applications.