Books

Featured Books

pcb007 Magazine

Latest Issues

Current Issue

The Registration Sweet Spot

Registration is underrated and underappreciated. The key is to ensure proper registration from layer to layer across the entire printed circuit board. It's a holistic process requiring anticipation, prediction, precise attention at each step, and detailed data tracking and monitoring.

High-reliability Fabrication

In this month's issue, our expert contributors discuss the latest in technologies, trends, complexities and resources regarding high-reliability fabrication.

Finding Ultra

New demands on PCB fabrication, namely advanced packaging, ultra high density interconnect (UHDI), and new specialty materials, are converging, changing the landscape of our business. Is it time to start paying close attention to this convergence?

Columns

Latest Columns

||| MENU
I-Connect007 Editor's Choice: Five Must-Reads for the Week
September 29, 2023 | Andy Shaughnessy, I-Connect007
Estimated reading time: 2 minutes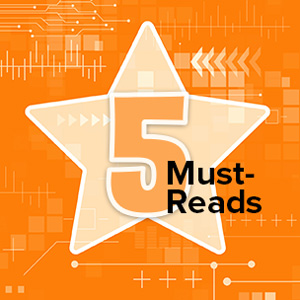 In the 24 years that I've been covering this industry, I don't think I've ever had a boring day. There's always something new happening in the world of PCB design and manufacturing. Each week, our contributors bring us a wide variety of articles, columns, and news items from around the globe.
This week's must-reads cover a little bit of everything: advanced packaging substrates, rigid-flex design, the potential loss of tribal knowledge, ultra HDI processing, and the need for fabricators to begin utilizing Smart systems.
In a few weeks, we'll be attending SMTA International in Minneapolis, and then productronica in Munich. We hope to see you on the road!
Pivoting on Substrates
Published September 27
Much of the discussion around the CHIPS Act focused on the need for greater supply chain for advanced packaging substrates. PCB Technologies is stepping up to the plate and investing in facilities to design, fabricate, and assemble these substrates. CEO Oved Shapira recently spoke with the editorial team about his company's plans and how this move could disrupt the electronics marketplace.
Rigid-flex Design Guidelines
Published September 27
Every year, traditional rigid board designers move into the world of rigid-flex. As the old saying goes, "It's the same, but different." Cherie Litson wrote a great article about the fundamentals of designing these 3D structures, and what rigid PCB designers need to know before they get started on their first rigid-flex design.
The New Chapter: The Pros and Cons of Tribal Knowledge
Published September 29
Tribal knowledge is a big part of the electronics industry, and like many ideas, it has its advantages and disadvantages. In this column, Paige Fiet discusses the pros and cons of tribal knowledge, as well as the loss of subject matter experts who are now facing retirement age. As she points out, it's time to document this knowledge so that future generations can benefit from it.
UHDI Fundamentals: A Primer on UHDI
Published September 28
As lines and spaces continue to shrink down to 1 mil and beyond, the industry must embrace an entirely new way of thinking. As Anaya Vardya explains, what worked in the past, when lines and spaces dropped to 3 mils, will no longer work. He also discusses the benefits of additive processes vs. traditional subtractive processes, which are not effective with UHDI technologies.
Smart Factory Insights: The Smart Business Case for Local PCB Manufacturing
Published September 29
In this column, Michael Ford explains why PCB manufacturers need to embrace Smart technologies. He also discusses what he calls "The 3 Ss" of manufacturing: a smarter, secure, and sustainable approach.
---
Suggested Items
11/02/2023 | SIA
The Semiconductor Industry Association (SIA) announced global semiconductor sales for the month of September 2023 increased 1.9% compared to August 2023 and fell 4.5% compared to September 2022.
10/26/2023 | IPC
IPC announced the September 2023 findings from its North American Electronics Manufacturing Services (EMS) Statistical Program. The book-to-bill ratio stands at 1.27.
10/26/2023 | IPC
IPC announced the September 2023 findings from its North American Printed Circuit Board (PCB) Statistical Program. The book-to-bill ratio stands at 1.01.
10/09/2023 | Compeq
Taiwan-based Compeq Manufacturing Co. Ltd has posted positive revenue growth for the third straight month in September, registering unaudited sales of NT$7.1 billion ($220.56 million at $1:NT$32.19), up by 9.9% from the previous month and just 6.7% lower from year-ago figures.
10/06/2023 | Nolan Johnson, I-Connect007
This week, our must-read picks include the PCB industry monthly report, IPC's Alison James' statement to the EU regarding the vitality of our industry, an overview of test and inspection, greenfield fabrication facility design, and the future of advanced packaging and solder.