Books

Featured Books

pcb007 Magazine

Latest Issues

Current Issue

The Registration Sweet Spot

Registration is underrated and underappreciated. The key is to ensure proper registration from layer to layer across the entire printed circuit board. It's a holistic process requiring anticipation, prediction, precise attention at each step, and detailed data tracking and monitoring.

High-reliability Fabrication

In this month's issue, our expert contributors discuss the latest in technologies, trends, complexities and resources regarding high-reliability fabrication.

Finding Ultra

New demands on PCB fabrication, namely advanced packaging, ultra high density interconnect (UHDI), and new specialty materials, are converging, changing the landscape of our business. Is it time to start paying close attention to this convergence?

Columns

Latest Columns

||| MENU
Serving Up Fresh and Hot: PCB007 Magazine's November 2023 Issue
November 16, 2023 | I-Connect007 Editorial Team
Estimated reading time: 1 minute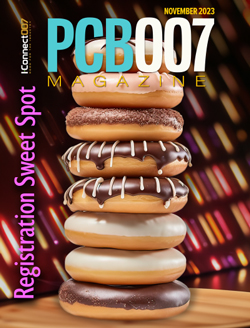 The Registration Sweet Spot
Registration is underrated and underappreciated. You can try to argue with us about this, but after diving into the current state of registration, we're convinced. What's key here is ensuring proper registration from layer to layer across the entire printed circuit board. It's a holistic process requiring anticipation, prediction, precise attention at each step, and detailed data tracking and monitoring, because a slight error up front will only snowball as the process continues.
In IC fabrication, working with crystalline silicon, the IC engineers have the luxury of a remarkably stable foundation. Study the challenges in obtaining consistent, high-quality printed circuit registrations at today's PCB geometries, and it starts to feel like a moonshot: when the coefficient of thermal expansion in your substrate can be larger than the features you are fabricating, getting all of them to line up across multiple layers is an exercise in managing multiple moving targets.
In this issue of PCB007 Magazine, we talked to industry experts about getting it right with registration, with an overarching theme on how to keep all your steps in their respective sweet spots. Features include Alex Stepinski sharing his from-the-field lessons on how to design fabrication processes for improved registration, and some of his signature "hacks." Happy Holden returns to the value of coupons, and XACTPCB's Andrew Kelley discusses the use of planning software tools to anticipate misregistration and compensate. We also visited with Aidan Salvi from Amitron, a PCB fabricator committed to improving registration—to the tune of 60+ pieces of new equipment and development of a Factory 5.0 model.
So, pour yourself a coffee or a tea, grab one of your favorite donuts, and see how your registration processes stack up.
---
Suggested Items
11/27/2023 | HyRel
HyRel Technologies, a global provider of quick turn semiconductor modification solutions, announces the achievement of International Traffic in Arms Regulations (ITAR) registration.
11/17/2023 | Nolan Johnson -- Column: Nolan's Notes
Registration is underrated and underappreciated. You can try to argue with me about this, but after diving into the current state of registration, I'm convinced. For example, 30 years ago, the state-of-the-art for integrated circuit geometries was in the low-double and high-single digits of microns, single-sided, on a consistently planar and highly polished crystalline substrate. Almost without exception, the entire integrated circuit was built on top of the substrate.
11/13/2023 | IPC
IPC APEX EXPO 2024 attendees can expand their global network and meet with electronics industry innovators and connect with peers throughout the show floor, in technical conference sessions, professional development courses, standards development meetings, special networking events, and social receptions at the Anaheim Convention Center, April 6–11, 2024. Registration is now open.
10/10/2023 | PRNewswire
MacroFab Inc., the operator of North America's largest technology platform for electronics manufacturing, is pleased to announce its recent ITAR registration from the Directorate of Defense Trade Controls (DDTC).
07/06/2023 | Kitron
Reference is made to the stock exchange announcement from Kitron ASA on 1 June 2023 regarding issuance of 526,081 new shares under the Company's share incentive program.