Books

Featured Books

smt007 Magazine

Latest Issues

Current Issue

Economic Headwinds

This issue takes stock of the current economic outlook and how companies are using current conditions to move themselves through technological evolutions, workforce shifts, and financial changes. Even with these headwinds, there's forward progress to be made.

Attracting New Talent

To get different results in staffing, you must change how you define, promote and recruit your job opportunities. How do you become magnetic to high-quality early-career candidates?

Test and Inspection

Test and inspection methods are undergoing rapid change. In this issue, we consider the influence of AOI, AI, and human eyes. How exactly are these pieces of the puzzle changing the role of test and inspection?

Columns

Latest Columns

||| MENU
US Department of Labor, IPC Establish National Registered Apprenticeship Program In Electronics Manufacturing Sector
November 17, 2023 | US Department of Labor
Estimated reading time: Less than a minute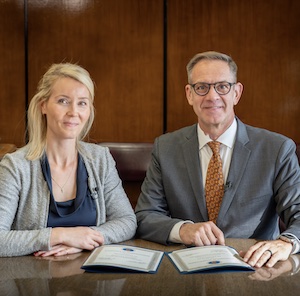 The U.S. Department of Labor announced that IPC International Inc., a global association of electronics industry manufacturers and suppliers, has established a national Registered Apprenticeship program to develop talent through industry standards and formal certification pathways.
At a ceremony at the department's Washington headquarters, Deputy Administrator for the department's Office of Apprenticeship Megan Baird and IPC International President and CEO John Mitchell solidified the company's commitment to establish, operate and administer a Registered Apprenticeship program to onboard or upskill electronics assemblers and printed circuit board fabricators.
The department's partnership with IPC aligns with its continuing effort to build a workforce to connect workers with good-paying jobs created by the CHIPs and Science Act and President Biden's "Investing in America" agenda. The agreement enables IPC to offer paid training and experiential learning opportunities to recruit, train and retrain the skilled workers needed to build critical components used in electronics systems.
Today's ceremony was one of nearly 1,800 events and proclamations highlighting the importance of Registered Apprenticeships through Nov. 19 as the nation marks National Apprenticeship Week 2023.
---
Suggested Items
11/17/2023 | Nolan Johnson, I-Connect007
On a global scale, productronica has been dominating the news this week, mostly with announcements and show preliminaries. It's been a long and full week for those who have exhibited and attended the trade show (despite the November rain), and I encourage you to review our productronica coverage from this week. In the coming days, we'll be showcasing more photos, videos, and interviews, so please stay tuned.
11/16/2023 | IPC
The U.S. Department of Labor (DOL) approved IPC's National Program Standards of Apprenticeship—the first-ever in the U.S. electronics manufacturing industry—in a move designed to expand the skilled workforce for this strategically vital industry. The recognition was bestowed during a ceremony yesterday as part of National Apprenticeship Week, November 13-19. The DOL's action ensures that IPC's Registered Apprentice programs are recognized nationally and align with the industry's highest standards of proficiency in electronics manufacturing. IPC is now authorized to register with each state's Eligible Training Provider List.
10/23/2023 | Indium Corporation
Indium Corporation proudly celebrated the first eight graduates of its apprenticeship program during an event at the company's Lincoln Avenue facility in Utica on October 18, 2023.
08/31/2022 | Peters
The new apprentices of Peters agree: The introductory training for apprentices organised by the Lower Rhine Entrepreneurship Association to accompany their apprenticeship was great!
03/29/2022 | SEMI
SEMI announced that, in partnership with Ignited Education, Foothill College and Krause Center for Innovation, it has won a $1 million California Apprenticeship Initiative (CAI) New and Innovative Grant for the development of a semiconductor pre-apprenticeship and apprenticeship program to expand the pathway to careers in the microelectronics industry.