Books

Featured Books

smt007 Magazine

Latest Issues

Current Issue

Attracting New Talent

To get different results in staffing, you must change how you define, promote and recruit your job opportunities. How do you become magnetic to high-quality early-career candidates?

Test and Inspection

Test and inspection methods are undergoing rapid change. In this issue, we consider the influence of AOI, AI, and human eyes. How exactly are these pieces of the puzzle changing the role of test and inspection?

Chips Don't Float

In Europe and the U.S., legislation is under way to revitalize PCB fabrication and packaging. What is the status of this work, and how specifically does this change the industry landscape for EMS companies? What will help keep us afloat?

Columns

Latest Columns

||| MENU
Productronica 2023: It's a Wrap!
November 17, 2023 | I-Connect007 Editorial Team
Estimated reading time: 2 minutes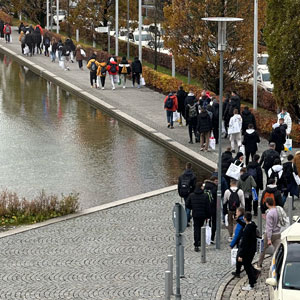 It's the last day of productronica 2023, the doors are closed, and will not reopen until November 2025. The show was a success, however, there is still talk about uncertainty in the economy. Of course, those that service the defense industry are busy, while other industries lag behind. As exhibitors finished up their last conversations, the halls began to empty out, final sales were made, and IPC wrapped up its World Hand Soldering Championship. Even the rain let up for a bit.
On the technology front, it seemed that every aisle displayed robotic arms demonstrating how they can move panels or parts from one process to the next. Clearly, the need to automate is in the forefront of purchase decisions. Along with the mechanization and software, the digital factory was an ongoing conversation as the need to capture and interpret data is growing. As we looked at equipment on the floor, the conversation included the software and the user interface, along with connectivity.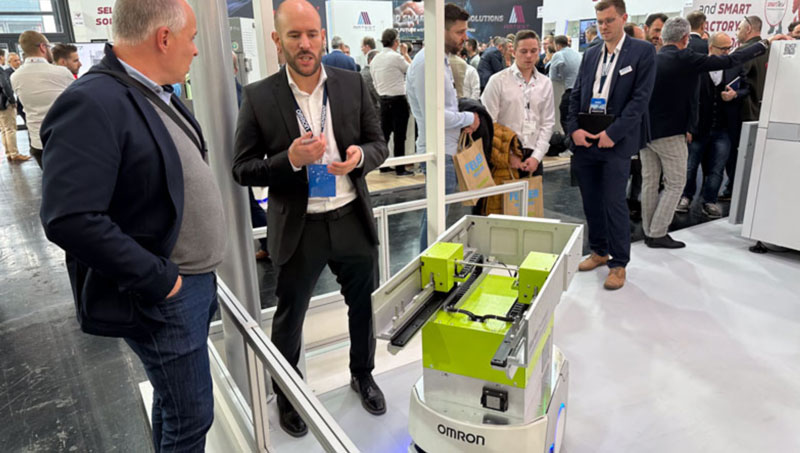 Artificial Intelligence was also talked about in many booths, but one conversation in particular with a new Swiss AOI company piqued our interest as they used the term "neural network" to describe their approach to AI, while other companies are using AI algorithms. They connect their learning AI neural network to their new patented optical heads, and now think that they will change how we approach AOI. We conducted an in-depth interview with the president of this new company that will be published in the coming days. It's certainly something worth paying attention to.
On the bare board fabrication side, we found a growing number of solder mask inkjet machines on the show floor, and I expect we'll see more in the coming shows as this technology continues to improve and becomes more widely accepted. Altix, a Real Time with... productronica 2023 event coverage sponsor, was showcasing its latest inkjet machine. In addition to Altix, we would like to thank all our event coverage sponsors: MYCRONIC, Koh Young America, Cogiscan, Rehm Thermal Systems, and TSK Schill. Be sure to look for their video interviews along with others and our full photo gallery at Real Time with... productronica 2023.
In addition to the exhibition and ongoing forums, IPC wrapped up its 2023 World Hand Soldering Championship. This global competition has been going on for several years and has become an important event that really demonstrate the top skill level of the industry.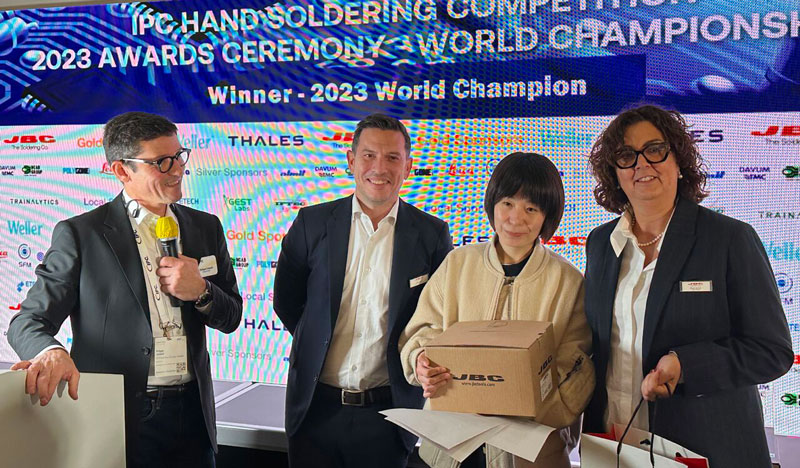 Congratulations to Yao Tang from Shenyang Railway Signal, the 2023 world champion. She received a cash prize, certificate from IPC, a trophy, and multiple gifts from sponsors of the competition.
Friday has traditionally been student day where hundreds of students take in the productronica experience, and this year was no exception. Students interact with the exhibitors to learn about the technology and industry. Of course, the robotic arms and mechanized machines get a lot of attention. The students also enjoy the trade show gifts from a variety of booths, along with the food. This certainly is a great way to introduce youth to the industry.
>> You don't want to miss our video and photo coverage of this event at Real Time with... productronica 2023.
---
Suggested Items
11/29/2023 | TrendForce
TrendForce's latest research indicates that despite a decrease in the CPI in Europe and the US this year, consumer budgets are still constrained due to the current high-interest-rate environment, and the real estate bubble in China has suppressed TV demand. Moreover, a significant increase in TV panel prices this year has led brands to scale down promotional events.
11/29/2023 | ICAPE Group
ICAPE Group, a global technology distributor of printed circuit boards (PCB), announced the acquisition of 100% of the assets of Bordan Electronic Consult, a German company specializing in the design of "custom-made" technical parts.
11/29/2023 | Real Time with...productronica
Mycronic's Kevin Clue discusses the new MyPro A40, a pick and place machine that is 48% faster than its predecessor. The A40 maintains the flexibility desired by high-mix, low-volume manufacturers while offering a wider component range, better accuracy and repeatability.
11/29/2023 | Dana Korf -- Column: Dana on Data
November's issue of Design007 Magazine had an excellent theme that evolved around design simplification. There were exceptionally good articles about how to reduce over-constrained or needlessly complex designs. One significant time-consuming category is the creation of many design files and drawings which lead to lengthy creation and interpretation time along with the considerable time to resolve conflicting or erroneous information.
11/28/2023 | Real Time with...productronica
Pete Starkey speaks with Frederic Soulier and Damien Boureau from Altix and MGI Digital Technology. The combined expertise of two innovative companies lead to a radically simplified digital solution for solder mask and additive processes in one machine.