Books

Featured Books

smt007 Magazine

Latest Issues

Current Issue

Chips Don't Float

In Europe and the U.S., legislation is under way to revitalize PCB fabrication and packaging. What is the status of this work, and how specifically does this change the industry landscape for EMS companies? What will help keep us afloat?

Flying High With Digital Twin

The opportunity to use manufacturing simulation as a test bed for job planning and process optimization brings continuous improvement into the modern age. This may be an all-or-nothing type of project, but it's worth the investment.

Artificial Intelligence

In this issue, we (and AI) explored how and when artificial intelligence plays a role in manufacturing today. Whether on the factory floor, or in the front office, AI applications are emerging and changing how we approach planning, processes and problem solving.

Columns

Latest Columns

||| MENU
Saline Lectronics Invests in the Millennial Generation
September 28, 2016 | Real Time with...SMTAI
Estimated reading time: Less than a minute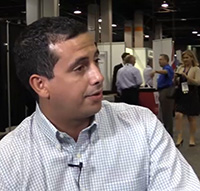 You're heard all the knocks against millennials: they're flaky job-hoppers and they're tough to motivate. But Saline Lectronics has a larger presence of these younger employees, and they find quite a few advantages to hiring staff who are far from retirement age. Saline's Jason Sciberra explains how he manages and motivates these young people. 
To watch this interview, click here.
---
Suggested Items
09/26/2023 | Brent Fischthal, Koh Young America
Koh Young's Brent Fischthal explains how UHDI and advanced packaging are challenging inspection systems. He says the shift toward larger components and advanced packaging brings a host of challenges that impact the industry. These challenges include complexity, density, package diversity, and inspection methodologies, all of which necessitate a more innovative approach.
09/25/2023 | Alison James
"Electronics systems are at the heart of almost all modern technology. The performance and functionality of these systems have increased at breathtaking speed, chiefly as a result of advancements in semiconductor technology. Semiconductors do not function in isolation," writes Alison James, IPC senior director of government relations, in a 2023 report for the European Commission's Directorate General for Internal Market, Industry, Entrepreneurship. "These electronics systems feature prominently in key sectors like defence, aerospace, space, automotive, medical, and high-performance computing, but electronics are vital to every industry and are central to a variety of EU priorities, including the twin digital and green transitions and Europe's technological sovereignty."
09/25/2023 | Nanusens
The problem at the moment is that sensors are currently manufactured on a tiny sliver of silicon, or die, by a small number of specialist companies with each sensor type being produced on a dedicated production line so it is hard to ramp up production.
09/28/2023 | Michael Carano -- Column: Trouble in Your Tank
In a previous column, the critical process of desmear and its necessity to ensure a clean copper surface connection was presented. Now, my discussion will focus on obtaining a void-free and tightly adherent copper plating deposit on these surfaces. After the desmear process, the task is to insure a continuous, conductive, and void-free deposit on the via walls and capture pad. Today, there are several processes that can be utilized to render vias conductive.
09/26/2023 | Bob Duke -- Column: Global Sourcing Spotlight
Sourcing goods and services from around the world can offer many benefits, such as cost savings and access to a wider and better range of products and services, but it also presents many challenges, especially for amateurs. Global sourcing is a game for experienced experts. The path to global sourcing is riddled with stories of failures and catastrophes, from losing a wire payment for your supplier overseas to theft of proprietary intellectual property. In short, you have to know what you're doing before you take the leap to global sourcing.