Books

Featured Books

pcb007 Magazine

Latest Issues

Current Issue

Finding Ultra

New demands on PCB fabrication, namely advanced packaging, ultra high density interconnect (UHDI), and new specialty materials, are converging, changing the landscape of our business. Is it time to start paying close attention to this convergence?

Developing a Strategy

A solid strategy is a critical part of success. This month, we asked some of the top industry leaders and business strategy "gurus" to share their thoughts on developing strategies.

Winning With TQM

In this issue, we explore how TQM has entered the DNA of continuous improvement disciplines, and the role leadership transformation plays in this. If you've ever competed against a TQM company, you understand their winning advantage.

Columns

Latest Columns

||| MENU
What's New with IPC's Validation Services
November 15, 2016 | Judy Warner, I-Connect007
Estimated reading time: 7 minutes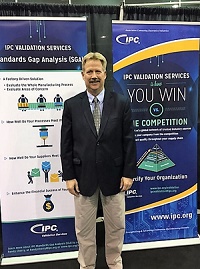 During this year's IPC Fall Committee Meetings, held in conjunction with SMTAI in Chicago, I met with my friend Randy Cherry, director of IPC Validation Services. Since the inception of Validation Services three years ago, I've conducted video interviews with Randy at IPC APEX EXPO, and I've been tracking the growth and progress of this department. I decided that this would be a great opportunity to do a mid-year check-up on IPC's Validation Service programs. 
Judy Warner: Randy, it's always great to see you. Why don't you start by telling us a little bit about the Qualified Product Listing (QPL) that you've been working on.
Randy Cherry: Thank you very much, Judy. It's always good to get together and catch up. We're coming out with a brand-new program based around IPC-4101 which is focused on copper-clad laminates. This will be another three-year certification with testing of the laminates, but we're going to do that over a five-year period. It's a little bit different than some of the other programs that we have. Most of the programs, especially in the Qualified Manufacturers Listing (QML) category, are all on three-year certifications, but due to the complexity of testing the laminates, we're going to do this on a five-year cycle. We believe that the customers and the laminate suppliers will embrace this new program.
We're going to kick it off here in the fourth quarter of this year and we hope to have our first beta site audit done by the end of the year. I'll share a lot more on this program next February at IPC APEX EXPO 2017.
Warner: Laminates are a critical factor not only for the bare-board industry, but also in regards to how the end-product ultimately performs, so that should be interesting. Last year at IPC APEX EXPO, we talked about your standard gap analysis program (SGA), which sounds like a very dynamic program. Give us an update on how that's going and how many companies you're engaged with currently.
Cherry: Yes, the SGA program was kind of in its infancy back at IPC APEX EXPO 2016 in Las Vegas but we've had a very good year. Year-to-date I've done about a dozen SGAs, which is much more than what I budgeted for, so that's great news. We're continuing to move forward with the SGA program. As I've stated before, all the SGAs are confidential. We don't do a lot of marketing on that, but we've had some really nice benefits with the SGA program. I've had some non-member companies ask to get involved with this and we've acquired some new membership growth from this program. Also, we've increased the awareness of IPC standards. That was really never the original intent of the SGA program, but these are some extra benefits that have come from doing SGAs and have been very welcomed, because we're always trying to grow membership.
Warner: Why do you think that is occurring, and can you perhaps take us through a deeper dive into what SGA is, just in case some haven't seen our world-famous video interviews [laughs].
Cherry: Sure, absolutely. For some of the non-member companies—these are smaller OEMs or smaller EMS companies—that, in the past, may not have had the budgets to take the time to explore all the benefits that IPC offers. By completing a gap analysis of their internal processes to IPC standards, they're actually seeing the benefit of getting these standards into their library. At the same time, becoming a member of IPC, you save money, of course, when purchasing the standards. It also gives them an opportunity to come to our shows, like IPC APEX EXPO. They see an opportunity there. It seems to be working out very well.
Also, I plan to do a buzz session at IPC APEX EXPO next February, in San Diego, like I do every year. I'm going to focus this time on the SGA program. I'm going to talk about some high-level successes that I've had through case studies. I know a lot of people like to hear about case studies. Once again, these will be at a very high level and we'll talk about some of the successes that we've had with the SGA program.
Warner: Along that line, I want to play devil's advocate for a moment, just from the market's perspective. I believe case studies will be very welcome because I think some people have mixed feelings. Suppliers get all these certifications, but I think that OEMs sometimes may wonder, "Okay, so you come in and you earn a QML, but what happens after your team leaves the building? Do they maintain that? Are there things in place that continue to ensure these standards remain active and in place?" People will ask that about every kind of certification, so what would you say to an OEM that might be asking those questions? From your experience, since you're spearheading all of this, what would you say that you see as the ongoing value?
Cherry: Another one of the positives from the SGA program, whether it's a non-IPC member company or a member company, it lays the groundwork for a QML audit in the future. A lot of OEMs are not quite sure if they are ready for an audit and this holds true with EMS companies too. By getting introduced to this program through the SGA and becoming aware of IPC standards and the benefits of using IPC standards, you are better prepared for a QML audit maybe 12 months down the line, for example. I've seen a lot of positive response in that area.
As we move into the QML, we have some very solid programs there. My main program around the solderability standards is the QML for J-Standard 001/A-610. That's the requirements and the acceptability for soldering,respectively. I'm still seeing steady growth with that program. It's still generating a lot of positive interest. We've been doing some auditing in Asia, in China, and I completed my first QML in Europe last June.
That was kind of a nice milestone there that we achieved. Then we still have IPC-6012/A-600 QML that we introduced at IPC APEX EXPO 2016 for the bare board circuit shops that's starting to gain traction. We've only completed a couple of audits so far, but we're still seeing some traction there and getting some interest. I think that will continue to grow over time.
Warner: How long do the 6012s take? I know there's a lot more involved than, say, just doing solderability standards.
Cherry: Correct. Typically, the audit takes three business days. Then there's testing involved with the IPC-6012/A-600 QML program. We're using the test coupons out of IPC-2221 Appendix A. If you're a Class 3 board shop, the testing is required every quarter. Class 2, it's every 6 months. It's the audit/the testing that makes the program. So, it is a bit more involved.
Warner: Once someone gets a QML, whether it's at the board level or EMS level, do they go back and have subsequent yearly audits or something to confirm that they're still in compliance? How does that work?
Cherry: We don't do an actual yearly visit to the company. We're trying to minimize the time we spend at the board shop or with the customer. So, what we will do is a call-in assessment every year. By using a conference call we save time and are able to collect our metrics as required. We can then chart the metrics over the three-year period determining the company's performance.
That's a little bit different than some of the other programs. We will go back and do an additional audit if it's required, but basically these programs are structured with one audit, a company visit, every three years, along with the annual assessments. The testing, depending on whether it's Class 2 or Class 3, is ongoing throughout the three-year certification.
Warner: So there is some ongoing accountability in place that keeps everybody in check and on the right path. Well, we're here at the SMTA International show while concurrent fall committee meetings are taking place for IPC. I noticed IPC has a booth on the floor and Validation Services has prominent signage there. How is the show going at the booth?
Cherry: On Tuesday, the traffic was great. It was very steady throughout the day. We weren't overwhelmed and it was very consistent. As we get towards the end of the show, it'll start thinning out. That's pretty typical. But we've acquired some new leads and we'll have quite a bit of follow-up after the show.
Warner: Is this typically a good show for you?
Cherry: I believe so, especially for the Midwest. Since IPC is located in the Chicagoland area, I get a lot of local customers and people who we've known for a long time. It's just good to catch up and there's nothing wrong with that. We do better at IPC APEX EXPO because we get more of the printed circuit board folks there, but overall this is still a very good show for us.
Warner: It looks like you have a packed agenda on the committee meeting side too. Well, thank you, Randy, for this mid-year check-in, and I look forward to seeing you again at IPC APEX EXPO 2017 in February, and hearing about your further progress.
Cherry: Thank you, Judy. I am looking forward to it.
---
Suggested Items
09/20/2023 | I-Connect007 Editorial Team
Panasonic's Darren Hitchcock spoke with the I-Connect007 Editorial Team on the complexities of moving toward ultra HDI manufacturing. As we learn in this conversation, the number of shifting constraints relative to traditional PCB fabrication is quite large and can sometimes conflict with each other.
09/14/2023 | MKS' Atotech
MKS' Atotech, a leading surface finishing brand of MKS Instruments, will participate in the upcoming IPCA Expo at Bangalore International Exhibition Centre (BIEC) and showcase its latest PCB manufacturing solutions from September 13 – 15.
09/14/2023 | Vern Solberg -- Column: Designer's Notebook
Flexible circuit applications can be as basic as furnishing electrical interconnect between two conventional circuit board assemblies, or to prove a platform for placing and interconnecting electronic components. During the planning and pre-design phase of the flexible circuit, there will be several material and process related questions that need to be addressed. Most flexible circuit fabricators welcome the opportunity to discuss their customers' flexible circuit objectives prior to beginning the actual design process.
09/14/2023 | John Watson -- Column: Elementary, Mr. Watson
Electronics are continually evolving, driven by innovations in printed circuit board technology. Flexible PCBs have emerged as a revolutionary force, reshaping the PCB industry and influencing the design and functionality of countless electronic devices. Some believe that flexible PCBs are a relatively newer technology, but as we will see, that is not true. Since I'm an instructor, here's a short history lesson on how we got here and what we can expect.
09/11/2023 | PRNewswire
Can digital and/or high throughput manufacturing be applied to circuit boards? Can stretchable electronics be produced without sacrificing processing capabilities?