Books

Featured Books

smt007 Magazine

Latest Issues

Current Issue

Test and Inspection

Test and inspection methods are undergoing rapid change. In this issue, we consider the influence of AOI, AI, and human eyes. How exactly are these pieces of the puzzle changing the role of test and inspection?

Chips Don't Float

In Europe and the U.S., legislation is under way to revitalize PCB fabrication and packaging. What is the status of this work, and how specifically does this change the industry landscape for EMS companies? What will help keep us afloat?

Flying High With Digital Twin

The opportunity to use manufacturing simulation as a test bed for job planning and process optimization brings continuous improvement into the modern age. This may be an all-or-nothing type of project, but it's worth the investment.

Columns

Latest Columns

||| MENU
December 2016 Issue of SMT Magazine Available Now
December 2, 2016 | I-Connect007
Estimated reading time: Less than a minute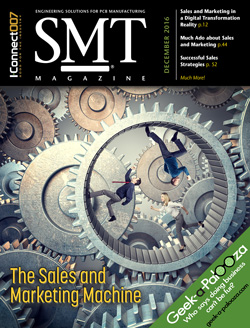 The December 2016 issue of SMT Magazine examines the myriad challenges facing sales and marketing execs in the PCB assembly industry. Our feature contributors offer winning sales and marketing methods, and describe key attributes of sales strategies from their unique perspectives.
Read the December issue of SMT Magazine, now on the virtual newsstand and available for delivery in your e-mailbox by subscribing here.
---
Suggested Items
10/02/2023 | Altair
Altair, a global leader in computational science and artificial intelligence (AI), acquired OmniQuest, a Novi, Mich.-based optimization software company.
09/29/2023 | Dixon
Dixon wholly owned subsidiary- Padget Electronics Private Limited enters into an Agreement with Xiaomi to carry out manufacturing of smart phones and other related products for Xiaomi.
08/15/2023 | PRNewswire
UbiQD, Inc., a New Mexico-based nanotechnology company, announced that it has entered into a joint development agreement, with First Solar, Inc., to further collaborate on developing the potential to incorporate fluorescent quantum dot technology in advanced solar modules.
08/09/2023 | IMI
Integrated Micro-Electronics, Inc. (IMI) reported US$345 million of revenues in the second quarter of 2023, 3% lower than the same period of the previous year but on par when comparing first-half results. Gross margin improved from 8.1% to 9.6%, with the company posting US$ 33.0 million of gross profit for the quarter.
08/08/2023 | Nolan Johnson, I-Connect007
Chris Chapman is a Deming management method practitioner and consultant who publishes "The Digestible Deming" blog on Substack. Chris has been a student of Deming's agile, Lean, and related methods since 2007. With his software and data background, he brings something of a 21st century perspective to quality. In this conversation, we explore how data and AI might be changing how we approach quality.