Books

Featured Books

smt007 Magazine

Latest Issues

Current Issue

Economic Headwinds

This issue takes stock of the current economic outlook and how companies are using current conditions to move themselves through technological evolutions, workforce shifts, and financial changes. Even with these headwinds, there's forward progress to be made.

Attracting New Talent

To get different results in staffing, you must change how you define, promote and recruit your job opportunities. How do you become magnetic to high-quality early-career candidates?

Test and Inspection

Test and inspection methods are undergoing rapid change. In this issue, we consider the influence of AOI, AI, and human eyes. How exactly are these pieces of the puzzle changing the role of test and inspection?

Columns

Latest Columns

||| MENU
Technology Enabler Highlights Benefits of Having Design Services for an EMS Firm
June 27, 2017 | Stephen Las Marias, I-Connect007
Estimated reading time: 3 minutes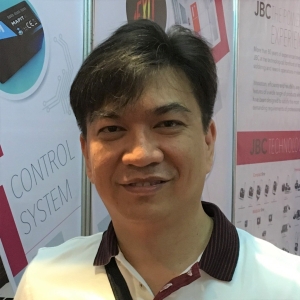 PCI Ltd is a Singapore-based electronics manufacturing services (EMS) company that focuses on human-machine interface (HMI) solutions, haptic technology, and single board computers. It has a subsidiary in the Philippines called Technology Enabler Designer Philippines Inc., where all its design services are being done.
At the 14th Philippine Semiconductor and Electronics Convention and Exhibition (PSECE) held last week in Manila, Philippines, Robin Ramiso, design and development manager at Technology Enabler, discusses their activities, and the benefits of having a design services team for an EMS company with I-Connect007 Managing Editor Stephen Las Marias.
Stephen Las Marias: Robin, tell us more about your activities at Technology Enabler, for those who may not be familiar with the company.
Robin Ramiso: At Technology Enabler, we basically support all design related requests of our parent company, PCI. Our specialties involve single-board computers—such as those you see in smartphones. These are the types of products that we develop. We are also into quite a number of wireless technologies since that is the direction of the industry. We are into Bluetooth, NFC, Wi-Fi, and cellular—3G, LTE—and we are also moving into IoT. Generally, that's the main focus of the business. PCI has factories based in both Kunshan, China, and Batam, Indonesia.
Las Marias: How big is the team here in the Philippines?
Ramiso: For this development group, we have a total of 20 people, composed of mechanical design engineers, a firmware group, and electronics engineers. Their output is more of a paper output. By that, I am saying schematic designs or block diagrams, PCB layouts, and of course, 3D drawings that eventually end up as CNC models.
Las Marias: Your team here does design services only for PCI?
Ramiso: Yes. Exclusively for PCI. We are not, at the moment, accepting design works from other companies. That's the approach of our company—to be part of any customer's early development phase, and eventually building up these products in our current manufacturing sites. It's like a captive business model. You design it, you prototype it, you release it, you qualify it, and finally, mass produce it.
Las Marias: Robin, how does having a design services team benefit an EMS company?
Ramiso: The advantage is strong customer relations. If you talk to a customer, and you built their products for them, and you collaborate in terms of design, you are actually securing the business 100%. They no longer subcontract to other companies. You capture the entire totality of the business.
Las Marias: Is the design usually done by the customer or by your team?
Ramiso: When we start developing new customers, it is possible that the initial designs are from them. So, we understand them, perhaps do some adjustments, and continue on. But once we have built this trust, we can then help them in supporting their pipeline of products.
For example, we will do a certain project, and ask them if they find it feasible. Of course, they will have to analyze it to see if there is a market for that. If it is something that they could utilize, then definitely they will ask us to design and develop again. That's the cycle, and there's sustainability in that business model.
Las Marias: What can you say about the future of the electronics manufacturing industry in the Philippines?
Ramiso: I believe the industry would grow from manufacturing simple products into more complex outputs—because we are very competitive.
For example, it used to be a case where the Philippines produces diodes. It could be a lot of mixed complex type of products in the future. I believe it will be good for the country, because we have sufficient talent, our universities are producing quite a number of engineers. That's the most important thing. But it would be best if the students would even go to higher level education—get their masterals and even PhDs—because that's what we also need.
Las Marias: Do you have any final comments?
Ramiso: We should support the industry. It's an industry where I have been working for 27 years now, and I think it has improved leaps and bounds. And it could even grow more. So, the most important thing is to develop talent. People should develop from within, but the industry should also do their part to support and grow the talents in the country.
---
Suggested Items
09/20/2023 | I-Connect007 Editorial Team
Panasonic's Darren Hitchcock spoke with the I-Connect007 Editorial Team on the complexities of moving toward ultra HDI manufacturing. As we learn in this conversation, the number of shifting constraints relative to traditional PCB fabrication is quite large and can sometimes conflict with each other.
09/19/2023 | Anaya Vardya -- Column: Standard of Excellence
In my last column, I discussed cutting-edge innovations in printed circuit board technology, focusing on innovative trends in ultra HDI, embedded passives and components, green PCBs, and advanced substrate materials. This month, I'm following up with the products these new PCB technologies are destined for. Why do we need all these new technologies?
09/18/2023 | ViTrox
ViTrox, which aims to be the world's most trusted technology company, is excited to announce that our trusted Sales Channel Partner (SCP) in Mexico, SMTo Engineering, S.A. de C.V., will be participating in SMTA Guadalajara Expo & Tech Forum. They will be exhibiting in Booth #911 from the 25th  to the 26th of October 2023,  at the Expo Guadalajara in Jalisco, Mexico.
09/18/2023 | Intel
Intel announced one of the industry's first glass substrates for next-generation advanced packaging, planned for the latter part of this decade.
09/18/2023 | Aidan Salvi -- Column: Facing the Future
I have been in and around circuit boards most of my life. I started 20 years ago in my family's PCB shop, leaving after a couple of years to start my own software company. About a year ago, I returned to the family business, and the first thing I noticed was that nothing had really changed. We were doing the same things in the same way as the day I left. After talking to several experts in the industry, I realized it was worse than that: The manufacturing of PCBs had not changed in 70 years.