Books

Featured Books

smt007 Magazine

Latest Issues

Current Issue

Economic Headwinds

This issue takes stock of the current economic outlook and how companies are using current conditions to move themselves through technological evolutions, workforce shifts, and financial changes. Even with these headwinds, there's forward progress to be made.

Attracting New Talent

To get different results in staffing, you must change how you define, promote and recruit your job opportunities. How do you become magnetic to high-quality early-career candidates?

Test and Inspection

Test and inspection methods are undergoing rapid change. In this issue, we consider the influence of AOI, AI, and human eyes. How exactly are these pieces of the puzzle changing the role of test and inspection?

Columns

Latest Columns

||| MENU
TRI to Showcase PCBA Inspection Solutions at NEPCON Japan 2018
November 29, 2017 | TRI
Estimated reading time: 2 minutes
Test Research Inc. (TRI) will join NEPCON Japan 2018, which will be held at the Tokyo Big Sight, to showcase its Industry 4.0 inspection solution, YMS 4.0, along with its complete PCBA manufacturing inspection solutions. TRI will be at Booth #E33-4.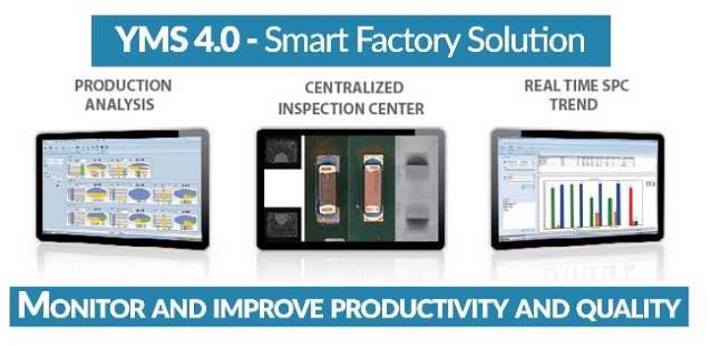 "The PCBA manufacturing industry has never been so close to experience the full Industry 4.0 Solutions. Visit TRI during NEPCON Japan to experience TRI's YMS 4.0 solution and discover the benefits of real time M2M communication for centralized inspection," said Jim Lin, TRI's VP of sales and marketing. 
M2M Communication
Machine to machine (M2M) Communication is the data transmission between devices, sensors and other machines. M2M communication enables the collection of Big Data between different sources. The processing of this data facilitates fully automated real time process control for Smart Factories with production analysis, defect image linkage and SPC trend monitoring capabilities. M2M communication is key for the Industry 4.0 development. 
The highlights of TRI's portfolio will include the Global Technology Award-winning TR7007QI 3D SPI, along with market leading 2D + 3D AOI solution TR7500QE. Both systems deliver industry leading performance based on CoaXPress Imaging Technology. TRI will showcase its hallmark inline PCBA inspection solution, the TR7600 SIII series CT AXI. Built with CT and high density boards in mind allows the TR7600 SIII series models to rapidly deliver very clear 3D X-ray images using high speed cameras with advanced image processing. TRI will also present the TR7700Q 3D AOI with Depth from Focus (DFF) module and stop-and-go technology to optimize the inspection of complex PCBs, delivering high speed, high accuracy and high reliability testing. 
Depth from Focus
Depth of Focus (DFF) is a revolutionary 3D sensing technique that searches for the optimal focus position and measures the depth of the image. The DFF algorithm will create 3D model of the component and its surroundings.
Discover how TRI's complete range of PCBA test solutions works together to bring you maximum value in production line and minimize production costs. Our experts will demonstrate the advantages of TRI's Industry 4.0- ready smart inspection software and our high performance hardware design can bring to your production.
About TRI
TRI offers the most robust product portfolio in the industry for Automatic Test and Inspection solutions. From Solder Paste Inspection (SPI), Automated Optical Inspection (AOI), and 3D Automated X-ray Inspection (AXI) systems to Manufacturing Defect Analyzers (MDAs) and In-Circuit Test equipment, TRI provides the most cost-effective solutions to meet a comprehensive range of manufacturing Test and Inspection requirements. Learn more here.
---
Suggested Items
12/04/2023 | Transition Automation
Transition Automation, Inc. recently received a large order for Advanced Holder and Blade Assemblies compatible with DEK printers from Rotec BV in Belgium.
11/30/2023 | AIM
AIM Solder, a leading global manufacturer of solder assembly materials for the electronics industry, is pleased to announce its new NC259FPA Ultrafine No Clean Solder Paste, which it revealed recently during the Productronica Germany trade show.
11/27/2023 | Real Time with...productronica
Koh Young's Harald Eppinger talks about the company's technology for the semiconductor and advanced packaging market and how they address the challenges introduced by reflective components and micro solder deposits.
11/27/2023 | HyRel
HyRel Technologies, a global provider of quick turn semiconductor modification solutions, announces the achievement of International Traffic in Arms Regulations (ITAR) registration.
11/24/2023 | Mek (Marantz Electronics)
Mek (Marantz Electronics), a leader in Automated Optical Inspection (AOI) solutions, used last weeks' Productronica show in Munich to proudly introduce the SpectorBOX X series, a modular full 3D AOI system for THT solder joints and THT components.