Books

Featured Books

smt007 Magazine

Latest Issues

Current Issue

Chips Don't Float

In Europe and the U.S., legislation is under way to revitalize PCB fabrication and packaging. What is the status of this work, and how specifically does this change the industry landscape for EMS companies? What will help keep us afloat?

Flying High With Digital Twin

The opportunity to use manufacturing simulation as a test bed for job planning and process optimization brings continuous improvement into the modern age. This may be an all-or-nothing type of project, but it's worth the investment.

Artificial Intelligence

In this issue, we (and AI) explored how and when artificial intelligence plays a role in manufacturing today. Whether on the factory floor, or in the front office, AI applications are emerging and changing how we approach planning, processes and problem solving.

Columns

Latest Columns

||| MENU
TRI to Showcase PCBA Inspection Solutions at NEPCON Japan 2018
November 29, 2017 | TRI
Estimated reading time: 2 minutes
Test Research Inc. (TRI) will join NEPCON Japan 2018, which will be held at the Tokyo Big Sight, to showcase its Industry 4.0 inspection solution, YMS 4.0, along with its complete PCBA manufacturing inspection solutions. TRI will be at Booth #E33-4.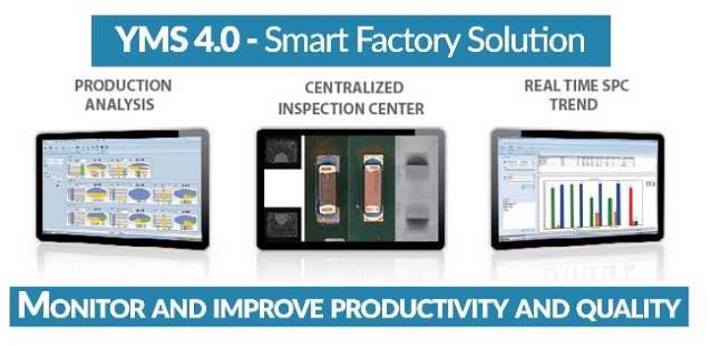 "The PCBA manufacturing industry has never been so close to experience the full Industry 4.0 Solutions. Visit TRI during NEPCON Japan to experience TRI's YMS 4.0 solution and discover the benefits of real time M2M communication for centralized inspection," said Jim Lin, TRI's VP of sales and marketing. 
M2M Communication
Machine to machine (M2M) Communication is the data transmission between devices, sensors and other machines. M2M communication enables the collection of Big Data between different sources. The processing of this data facilitates fully automated real time process control for Smart Factories with production analysis, defect image linkage and SPC trend monitoring capabilities. M2M communication is key for the Industry 4.0 development. 
The highlights of TRI's portfolio will include the Global Technology Award-winning TR7007QI 3D SPI, along with market leading 2D + 3D AOI solution TR7500QE. Both systems deliver industry leading performance based on CoaXPress Imaging Technology. TRI will showcase its hallmark inline PCBA inspection solution, the TR7600 SIII series CT AXI. Built with CT and high density boards in mind allows the TR7600 SIII series models to rapidly deliver very clear 3D X-ray images using high speed cameras with advanced image processing. TRI will also present the TR7700Q 3D AOI with Depth from Focus (DFF) module and stop-and-go technology to optimize the inspection of complex PCBs, delivering high speed, high accuracy and high reliability testing. 
Depth from Focus
Depth of Focus (DFF) is a revolutionary 3D sensing technique that searches for the optimal focus position and measures the depth of the image. The DFF algorithm will create 3D model of the component and its surroundings.
Discover how TRI's complete range of PCBA test solutions works together to bring you maximum value in production line and minimize production costs. Our experts will demonstrate the advantages of TRI's Industry 4.0- ready smart inspection software and our high performance hardware design can bring to your production.
About TRI
TRI offers the most robust product portfolio in the industry for Automatic Test and Inspection solutions. From Solder Paste Inspection (SPI), Automated Optical Inspection (AOI), and 3D Automated X-ray Inspection (AXI) systems to Manufacturing Defect Analyzers (MDAs) and In-Circuit Test equipment, TRI provides the most cost-effective solutions to meet a comprehensive range of manufacturing Test and Inspection requirements. Learn more here.
---
Suggested Items
09/27/2023 | Nihon Superior Co. Ltd.
Nihon Superior Co. Ltd. is pleased to announce that Keith Sweatman, the company's Senior Technical Advisor, will deliver a presentation titled "A Path to Ductile Low-Temperature Solders for Mass Production of Electronic Assemblies" at the upcoming SMTA International conference and exposition.
09/27/2023 | Hentec Industries/RPS Automation
Hentec Industries/RPS Automation, a leading manufacturer of selective soldering, lead tinning and solderability test equipment, is pleased to announce that Kyocera International has finalized the purchase of a Hentec/RPS Odyssey 1325 robotic hot solder dip component lead tinning machine. 
09/26/2023 | Conecsus Metals México
Conecsus Metals México, an innovative environmental technology and recycling company, will exhibit at the SMTA Foro Tecnico & Expo, Guadalajara, Jalisco, México, on Wednesday, October 25, 2023, beginning at 11:00 a.m.
09/21/2023 | Thermaltronics USA, Inc.
Thermaltronics USA, Inc., a globally acclaimed manufacturer of Precision Soldering Robots and innovative Curie point soldering systems, is excited to announce its participation in the highly anticipated SMTA Guadalajara Expo & Tech Forum, scheduled to take place from October 25-26, 2023.
09/20/2023 | ULT AG
At this year's productronica, the world's leading trade show for electronics manufacturing, ULT will present a brand new extraction solution for solder fumes and vapor.