Reading time ( words)
In May, I took the opportunity to drive around Lake Michigan and visit the SMTA Milwaukee Chapter's Wisconsin Expo & Tech Forum. Held on May 8 at the Crowne Plaza Milwaukee Airport Hotel, this was a well-organized and attended table-top expo and technical forum, with over 60 exhibitors, and a high school team with their FIRST Robotics entry.
The Tech Forum took the shape of three timely and interesting talks, provided by Jody Saultz, application engineer at Speedline Technologies; Gene Dunn, senior process engineer at Plexus Corp.; and Tony Picciola, manager for service and software systems at Fuji America Corp.
Saultz's presentation was titled "Reinventing the Wheel, Cleaning Under Low Standoff Components." Picciola, meanwhile, spoke about Industry 4.0 and what it is all about. Finally, Dunn presented on overcoming head-in-pillow challenges.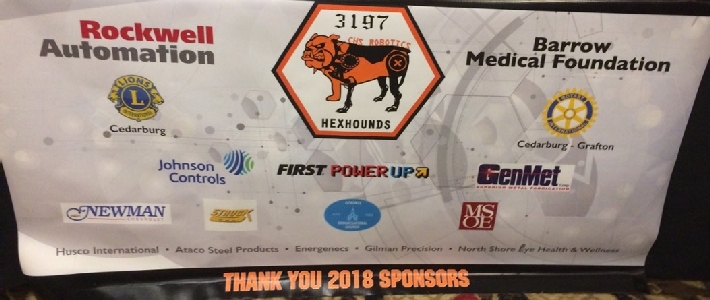 Figure 1: The sponsors and banner for Cedarburg High School FIRST Robotics entry, designed and built by students.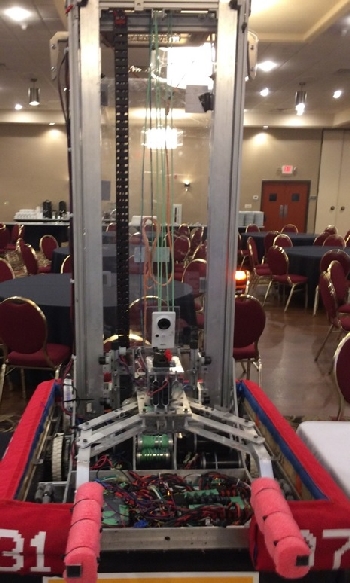 Walking around the tables and chatting with old friends, there was nothing that struck my eye as "new and revolutionary" until I got to the table of the Cedarburg High School Robotics Team (a.k.a. the HexHounds), who are now on their eighth season in competition. I spoke with Aaron Denk, an engineering student, who was formerly on this robotics team but is now the robotics coach. The robot on display was just back from the FIRST Robotics Competition for the World Championship, where they had a record of five wins and five losses. Figure 2 shows this large and impressive robot.
Figure 2: This large, impressive robot was designed and built by the Cedarburg High School Robotics Team. It won the Wisconsin competition and did very well at the World Championship in Detroit.
FIRST (For Inspiration and Recognition of Science and Technology) is an international youth organization that operates the FIRST Robotics Competition. Founded in 1989, its goal is to develop and inspire students in engineering, science and technology fields.
The Wisconsin Expo & Tech Forum ended at 3:00 pm with drawings for door prizes contributed by the exhibitors. Everyone had a good time.
Share
Print
Suggested Items
03/24/2021 | Real Time with...IPC
Nolan Johnson and BTU's Rob DiMatteo drill down into the company's new capabilities in vacuum reflow and new technology for flux management, a system that greatly reduces downtime for cleaning and maintenance, among other benefits.
03/17/2021 | Real Time with...IPC
If you are interested in cleaning and the Process Ionic Contamination Test (PICT), then listen to Graham Naisbitt of Gen3 give his update on this standard.
03/11/2021 | Real Time with...IPC
Tom Forsythe shares how KYZEN applied pandemic experiences to their delivery of customer support. The company's R&D has continued, including AquaNox product line formulations for water soluble organic acids, where cleaning has historically not been necessary but now is increasingly required.