Books

Featured Books

pcb007 Magazine

Latest Issues

Current Issue

The Registration Sweet Spot

Registration is underrated and underappreciated. The key is to ensure proper registration from layer to layer across the entire printed circuit board. It's a holistic process requiring anticipation, prediction, precise attention at each step, and detailed data tracking and monitoring.

High-reliability Fabrication

In this month's issue, our expert contributors discuss the latest in technologies, trends, complexities and resources regarding high-reliability fabrication.

Finding Ultra

New demands on PCB fabrication, namely advanced packaging, ultra high density interconnect (UHDI), and new specialty materials, are converging, changing the landscape of our business. Is it time to start paying close attention to this convergence?

Columns

Latest Columns

||| MENU
Agfa: Staying Ahead of the Technology Curve
August 1, 2018 | Barry Matties, I-Connect007
Estimated reading time: 5 minutes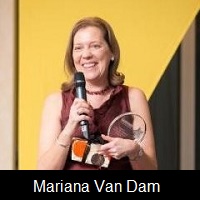 In the ultracompetitive electronics manufacturing space, companies that don't continually evolve and invest in new technologies run the risk of being left behind. At the recent EIPC summer conference, many next-generation processes and technologies were discussed and even put on display. Publisher Barry Matties spoke with Agfa's newly appointed Global Sales Manager, Mariana Van Dam, to talk about how her company, typically known for its phototooling products, continues to evolve by developing inkjet printing, solder mask and additive technologies.  

Matties: Mariana, please give a brief intro of yourself and Agfa for our readers.
Van Dam: I've been with Agfa for two-and-a-half years. I started as New Business Development and Product Manager and have moved on to the position of Global Sales Manager since October 2017. Prior to Agfa, I have worked in different positions related to products for the printed circuit board industry.
Agfa is known in the PCB industry for phototooling, which we have been doing for many years; it is an important product for us still, but some years ago we started with the development of a digital solution. We are now developing functional inks for inkjet printing. We have UV inkjet legend inks, etch resist and we are very far advanced with the solder mask.
Matties: The solder mask is the exciting news.
Van Dam: Yes, that's the one that is getting very high interest from the market. We are excited about it and really have great confidence that this will become a success.
Matties: When we last talked you were well into the process, but I think just starting into the beta site of things.
Van Dam: Yes. Now we believe that the product is "as good as" ready. We are still doing beta site testing, but our product meets all the IPC standards and the additional automotive standards. But solder mask is a complex product and we feel we must test it thoroughly. Because we need the feedback from the customers, there may be requirements we haven't tested yet that we have to look at, so that is ongoing. We have sites in Europe and the U.S.
Matties: Are the equipment manufacturers also in cooperation in the process?
Van Dam: Yes, we work with the different equipment manufacturers that produce inkjet equipment for solder mask. So it's always a three-way with the customer, the equipment manufacturer and Agfa. We have to work together, because the equipment side and the printing strategy are very important. It's not only the ink, it really goes together.
Matties: The benefits from applying with the jets are both to process reductions and the accuracy, especially as we move into a world of HDI. What sort of feedback are you getting from your beta sites?
Van Dam: Right now, it's quite sufficient for the requirement of most PCB companies. Inkjet equipment is also evolving and there are printheads available now with very small nozzle sizes. Because of this evolution it is possible to obtain really fine features.
Matties: How do you overcome the speed issue?
Van Dam: That's more from the equipment side; you can increase the speed by adding more printheads.
Matties: So it's just a function of the number of pieces of equipment that you have in there.
Van Dam: Yes. You see this with the legend ink inkjet that is now an accepted production method. Initially this was a smaller machine with one head or two printheads; today there are machines for mass production. In China you see equipment with eight printheads. They're being installed now.
Matties: Ultimately, you would like to see the big shots in China adopting this technology because there are so many benefits. But the speed answer must be there in an economical way.
Van Dam: Yes. At the moment, the equipment is also in the final stage of development for the solder mask application. It's a new production method and I think initially it will be mainly the quick turnaround and prototype shops where we will start. But we have indeed seen a lot of interest for the mass production also. They already ask for it, so it will get there eventually for sure.
Matties: Orbotech was speaking earlier about some exciting equipment for solder mask coming out.
Van Dam: Yes, indeed, the equipment is not released yet, but they are really working on it and we also work together with them like we work together with the other manufacturers.
Matties: I remember in the past some equipment suppliers brought out equipment, but you could only use their inks, and I thought that was a mistake.
Van Dam: Yes, I think it must be decoupled because I think also that customers, certainly in mass production, want dual supply. If the product is so critical and so important you cannot rely on one supplier, you need to be able to have multiple options.
Page 1 of 2
---
Suggested Items
12/06/2023 | Indium Corporation
Indium Corporation is proud to announce the addition of Sales Engineer Meik Fratzel to its European team.
12/04/2023 | Transition Automation
Transition Automation, Inc. recently received a large order for Advanced Holder and Blade Assemblies compatible with DEK printers from Rotec BV in Belgium.
11/30/2023 | AIM
AIM Solder, a leading global manufacturer of solder assembly materials for the electronics industry, is pleased to announce its new NC259FPA Ultrafine No Clean Solder Paste, which it revealed recently during the Productronica Germany trade show.
11/27/2023 | Real Time with...productronica
Koh Young's Harald Eppinger talks about the company's technology for the semiconductor and advanced packaging market and how they address the challenges introduced by reflective components and micro solder deposits.
11/27/2023 | HyRel
HyRel Technologies, a global provider of quick turn semiconductor modification solutions, announces the achievement of International Traffic in Arms Regulations (ITAR) registration.