Books

Featured Books

pcb007 Magazine

Latest Issues

Current Issue

The Registration Sweet Spot

Registration is underrated and underappreciated. The key is to ensure proper registration from layer to layer across the entire printed circuit board. It's a holistic process requiring anticipation, prediction, precise attention at each step, and detailed data tracking and monitoring.

High-reliability Fabrication

In this month's issue, our expert contributors discuss the latest in technologies, trends, complexities and resources regarding high-reliability fabrication.

Finding Ultra

New demands on PCB fabrication, namely advanced packaging, ultra high density interconnect (UHDI), and new specialty materials, are converging, changing the landscape of our business. Is it time to start paying close attention to this convergence?

Columns

Latest Columns

||| MENU
Gardien Launches Largest Operational Tester in the World
August 16, 2018 | Gardien Group
Estimated reading time: 2 minutes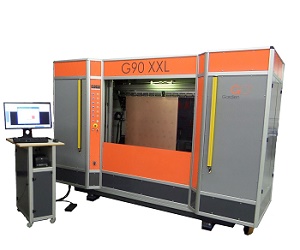 Gardien Group debuts G90 XXL – the biggest operational tester yet in North America. With a maximum board size of 63" x 47.2" (1600mm x 1200mm), this premium double-sided Flying Probe system is set to create a revolution in the industry. Presently, it is the only one of its kind installed and operational.
This machine has the capability of testing both regular sized as well as large format boards, maximising its abilities. Unlike standard testers, the bottom frame of the G90XXL is moveable to accommodate the large format boards. While the bottom frame is in position to be used for standard sized boards (at a regular height), it offers an ergonomic position to the user. This safeguards the user's comfort, thereby increasing productivity.
With its glass scale, it sets a milestone for accuracy of down to 5 micrometres.
The electrical stretch frame allows the G90 XXL to operate without a compressed air connection.
As with all Gardien's equipment, the operating software for the G90XXL is FPX, developed in-house by Gardien's experienced and competent developers. The FPX software supports micro short detection, buried component testing and Hi-pot testing (1000V).  The multi – image testing feature provides the means to load 2 or more panels or images at once into the machine. The FPX platform offers support in Chinese, Japanese and Spanish in addition to English.
The software on the G90 XXL offers a re-start feature in case of an abort. The restart safeguards the results procured from tests conducted before the interruption. We believe it's a noteworthy feature to have.
The G90 XXL integrates into your facility with ease, doing away with the need for extra resources to house it.
"There was a huge demand for testing of large format boards which prompted us to develop this machine. It is garnering great reviews and we look forward to filling this gap in the market," said Niraj Patel, the group's vice president, North America.
"Once we got working on this, we realised we must offer more flexibility in terms of the sizes of boards it can take, in order not to waste its capability- this can take regular sized boards as well. Despite its size, it easily fits through a regular doorway, thus ensuring no extra investments needed to house this machine," added Holger Kern, general manager, Germany.
Presently installed in Nashua, New Hampshire, it is definitely acquiring the attention of many.
About The Gardien Group
Gardien is the world's largest provider of independent testing and QA solutions to the PCB industry with a global footprint across 24 service centres in 5 countries. We cater to the testing and QA needs of the entire spectrum of customers from small family owned PCB shops to large international fabricators. For more information, click here.
---
Suggested Items
11/23/2023 | BUSINESS WIRE
Keysight Technologies, Inc. and MediaTek have successfully completed 5G New Radio (NR) and 5G reduced capability (RedCap) interoperability development testing (IODT) based on the 3GPP Release 17 (Rel-17) standard. The testing verified the latest MediaTek 5G modem technologies using Keysight's 5G Network Emulation Solutions.
11/22/2023 | RTX
Raytheon, an RTX business, in support of the U.S. Army, completed a live-fire engagement using the advanced, 360-degree Lower Tier Air and Missile Defense Sensor, known as LTAMDS.
11/15/2023 | Keysight Technologies, Inc.
Keysight Technologies, Inc. introduces a first in its class advancement in network testing with the new Keysight Elastic Network Generator (KENG) software – an agile, composable network test platform based on open vendor-neutral API and designed for continuous integration (CI).
11/14/2023 | Keysight Technologies, Inc.
Keysight Technologies, Inc. introduces the new Keysight i3070 Series 7i in-line test system, an automated in-circuit test system (ICT), offering increased capacity and throughput, that enables manufacturers to economically meet the complex test demands of larger node count printed circuit board assembly (PCBAs). 
10/26/2023 | Datest
Datest's innovative services are tailored to meet the needs of OEM and EMS customers who seek front-end capabilities for predictive test coverage, test point optimization, and appropriate test platform strategies.