Books

Featured Books

smt007 Magazine

Latest Issues

Current Issue

Chips Don't Float

In Europe and the U.S., legislation is under way to revitalize PCB fabrication and packaging. What is the status of this work, and how specifically does this change the industry landscape for EMS companies? What will help keep us afloat?

Flying High With Digital Twin

The opportunity to use manufacturing simulation as a test bed for job planning and process optimization brings continuous improvement into the modern age. This may be an all-or-nothing type of project, but it's worth the investment.

Artificial Intelligence

In this issue, we (and AI) explored how and when artificial intelligence plays a role in manufacturing today. Whether on the factory floor, or in the front office, AI applications are emerging and changing how we approach planning, processes and problem solving.

Columns

Latest Columns

||| MENU
Koh Young Technology Celebrates Delivery of 13,000th Inspection System
November 7, 2018 | Koh Young Technology
Estimated reading time: 3 minutes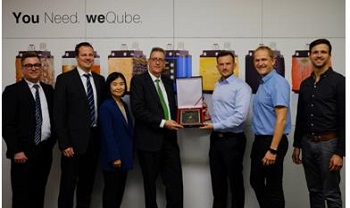 Koh Young Technology reached an impressive milestone recently when the 13,000th inspection system Zenith 2 automatic optical inspection (AOI) was delivered to wenglor sensoric GmbH, Germany. 
Image Caption: Torsten Hahn, Area Sales Manager, SmartRep; Andreas Keller, Managing Director, SmartRep; Regina Lee, Head of Sales, Koh Young; Harald Eppinger, General Manager Koh Young Europe; Peter Tomaszewski, wenglor's Director of Operations; Martin Baur, wenglor's Team Leader Production; Rafael Baur, wenglor's Managing Partner
The Zenith series measures the true profilometric shape of components, solder joints and even foreign material on assembled PCBs with true three-dimensional accuracy and with comprehensive IPC-610 comparison.
Situated in Tettnang, Germany, wenglor sensoric GmbH has been developing intelligent sensor technologies as well as safety and image processing systems over the last 35 years. "Although we started from a family-owned business, wenglor is a lot more than just a family company, because we yearn for innovation," said Rafael Baur, Managing Director of wenglor. "However, to do so, we needed to satisfy ever-challenging quality standards of our customers and Koh Young's Zenith 2 was the ideal solution for this." 
The important delivery milestone was celebrated at the wenglor sensoric production facility, and was attended by Regina Lee, head of Sales Department at Koh Young Technology and Harald Eppinger of Koh Young Europe GmbH at the wenglor sensoric plant. In Germany Koh Young Technology is represented by the distributor SmartRep GmbH who provides support and service for the 3D SPI and AOI systems.
Introducing the first marketable sensor in 1984, wenglor sensoric GmbH has been acknowledged as an innovative market leader for a large variety of sensor solutions, including photoelectronic and inductive sensors, fluid sensors, ultrasonic sensors, 1D/2D scanners, 2D/3D sensors, safety technology as well as special software solutions for the automation industry and more.
Zenith 2, Next-generation 3D AOI
The 13,000th inspection system Zenith 2 offers the ideal combination of considerable versatility and highly flexible programming with new capabilities. Zenith 2 has a wider range of inspection capabilities compared with its predecessor with side-view camera solutions. Altogether with advanced features like Auto Programming, enhanced Auto-Verification capabilities, users can enjoy low total cost of ownership. wenglor sensoric GmbH will install Zenith 2 together with KY8030-2, Koh Young's Full 3D Solder Paste Inspection (SPI) with superior measurement accuracy and inspection reliability, to maximize production line efficiency.
"Together with wenglor we analyzed the needs and found in Zenith 2 an ideal solution to assure quality and to be prepared for industry 4.0", says Andreas Keller, Managing Director of SmartRep. In using a Koh Young SPI and a Koh Young AOI, wenglor can benefit from the KSMART-Solutions which use artificial intelligence to increase production quality.
Koh Young 3D AOI with growing market momentum
While it took six years to deliver the first 1,000 inspection systems, it only took three months to add up extra 1,000 machines to 13,000 machines. In marking the order milestone, Regina Lee, Head of Sales Department at Koh Young Technology said, "We are very honored to celebrate this occasion with wenglor sensoric GmbH, a global supplier of innovative sensor solutions to more than 55,000 customers all around the world." She added: "To our team, the fact that the 13,000th delivered machine is a Zenith 2, means a lot more than its outstanding number. It means greater recognition, acceptance of our 3D AOI from our growing customer-base."
Adding on, "At Koh Young, we are convinced that we can help our customers grow together. We've done it in the past and we are willing to do so in the future, too. Therefore, we are happy to have wenglor not only as a customer, but also as a strong technology partner in many dimensions", said Harald Eppinger, General Manager of Koh Young Europe GmbH. "Today, more than 2,000 global customers from almost all industries are using our solutions, we will strive to help them achieve continual quality improvement," concluded Harald Eppinger.
About Koh Young Technology Inc.
Koh Young Technology Inc., the leading 3D measurement-based inspection equipment and solutions provider, performs an essential role for quality control and process optimization across a growing set of industries including printed circuit board assembly, machining and assembly process manufacturing, semiconductor manufacturing, and various medical fields. In addition to its corporate headquarters in Seoul, Koh Young has sales and support offices in Germany, Japan, Singapore, China, Mexico, and the United States. These local facilities ensure it sustains a close relationship with its growing customer base, while providing them with access to a global network of inspection and measurement process experts. For more information, click here.
---
Suggested Items
09/21/2023 | Thermaltronics USA, Inc.
Thermaltronics USA, Inc., a globally acclaimed manufacturer of Precision Soldering Robots and innovative Curie point soldering systems, is excited to announce its participation in the highly anticipated SMTA Guadalajara Expo & Tech Forum, scheduled to take place from October 25-26, 2023.
09/20/2023 | ULT AG
At this year's productronica, the world's leading trade show for electronics manufacturing, ULT will present a brand new extraction solution for solder fumes and vapor.
09/20/2023 | Hentec Industries/RPS Automation
Hentec Industries/RPS Automation, a leading manufacturer of selective soldering, component lead tinning and solderability test equipment, announces that it has added assembly and production staff members to its team to accommodate its recent increase in sales and order demand.
09/19/2023 | SMTA
SMTA is honored to announce Qais Qasaimeh, a graduate student at Auburn University, has been selected as the winner of the 2023 Charles Hutchins Educational Grant.
09/14/2023 | SHENMAO
SHENMAO America, Inc. is proud to introduce its latest innovation in response to the growing demand for ultra-thin packages in the electronics industry.