Books

Featured Books

design007 Magazine

Latest Issues

Current Issue

Simplification

On the subject of simplification, our expert contributors explain how to design PCBs without making them complex and over-constrained—whatever the level of technology. In addition, we discuss the effect your decisions and tradeoffs have on design complexity.

The Standards of Design

Our expert contributors discuss how PCB designers can utilize standards to save time and money, not to mention frustration. We also spotlight the newly updated version of the IPC Checklist, a handy guide that illustrates which standards cover which topics, from front-end design through assembly.

Rigid-flex: Designing in 3D

In this month's issue, our expert contributors share their best tips, tricks and techniques for designing rigid-flex circuits. If you're a rigid board designer considering moving into the 3D world of rigid-flex, this issue is just what the doctor ordered!

Columns

Latest Columns

||| MENU
Zuken Launches 3D Harness Design Solution
March 1, 2019 | Zuken
Estimated reading time: 2 minutes
Zuken introduces E3.WiringSystemLab, a new software solution that enables the optimization of complex wire harness designs based on inputs from heterogeneous sources. The product can import connectivity information from a broad range of sources and consolidates them with 3D topology data. The resulting 3D topology can be evaluated and optimized in a consistent 3D environment that has been designed to support the needs of casual users without requiring specialized training. Specialized functionality tailored specifically to topology exploration provides the ability to create and evaluate different architectural concepts.
Connectivity data can be imported from E3.cable, as well as via industry standard formats such as KBL, VEC, PLMXML, or even generic Excel® files. Topology information is imported in the form of geometrical bundles defined in the MCAD systems like CATIA, NX or Creo. Based on these inputs, E³.WiringSystemLab provides the ability to host the complete wire harness optimization process within in a consistent 3D environment. Comprehensive modifications can be applied to the imported harness, including changes of packaging, partitioning into sub-harnesses and insertion of new routing pathways.
"Optimizing wire harness designs to meet targeted weight and cost objectives is a complex and challenging task", comments Reinhold Blank, Zuken Business Director for Automotive & Transportation. "In particular, the preparation of data that typically involves a laborious flattening to 2D has been a huge time sink for the industry. With E3.WiringSystemLab we are providing a solution that revolutionizes the import and consolidation of data sources from different origins and supports wiring system experts to optimize their complex designs in a modern 3D environment."
With its generic cost and weight evaluation and exploration capabilities, Zuken's E3.WiringSystemLab achieves a substantial reduction of ramp-up and optimization cycles for wiring harness engineers.
Zuken's new harness topology optimization E3.WiringSystemLab will be presented at the following events:
    USA: Zuken Innovation World Americas
    Hilton Head, SC, April 15 – 17, 2019
    Europe: Automotive Wire Harness Conference
    Ludwigsburg, Germany, March 26–27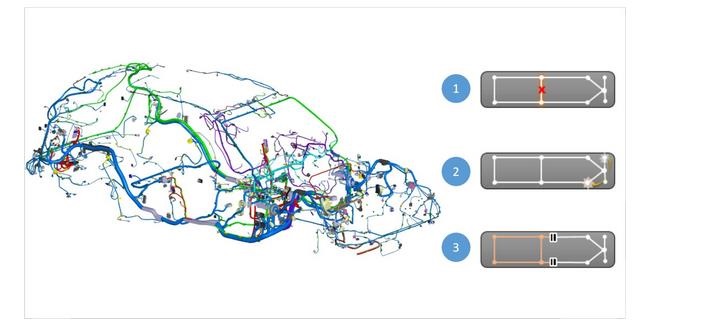 E3.WiringSystemLab provides optimization capabilities of imported wire harness designs: add/delete bundles and route pathways (1), change position of components, splices and ground bolts (2), modify partitioning of harnesses (3)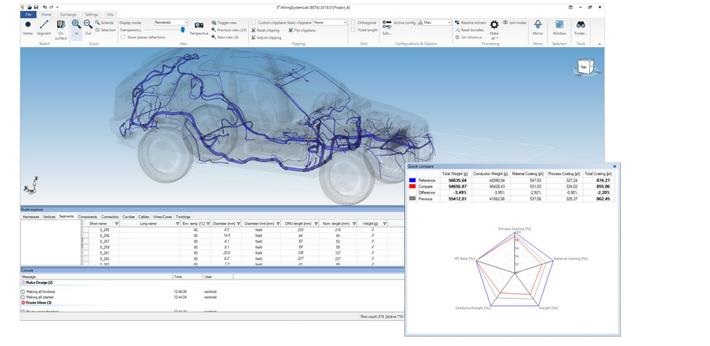 With easy-to-use cost and weight evaluation and modification capabilities, Zuken's E3.WiringSystemLab enables a substantial reduction of ramp-up and optimization cycles for wiring harness engineers.
About Zuken
Zuken is a global provider of leading-edge software and consulting services for electrical and electronic design and manufacturing. Founded in 1976, Zuken has the longest track record of technological innovation and financial stability in the electronic design automation (EDA) software industry. The company's extensive experience, technological expertise and agility, combine to create world-class software solutions. Zuken's transparent working practices and integrity in all aspects of business produce long-lasting and successful customer partnerships that make Zuken a reliable long-term business partner. Zuken is focused on being a long-term innovation and growth partner. The security of choosing Zuken is further reinforced by the company's people—the foundation of Zuken's success. Coming from a wide range of industry sectors, specializing in many different disciplines and advanced technologies, Zuken's people relate to and understand each company's unique requirements.
---
Suggested Items
11/29/2023 | Dana Korf -- Column: Dana on Data
November's issue of Design007 Magazine had an excellent theme that evolved around design simplification. There were exceptionally good articles about how to reduce over-constrained or needlessly complex designs. One significant time-consuming category is the creation of many design files and drawings which lead to lengthy creation and interpretation time along with the considerable time to resolve conflicting or erroneous information.
11/27/2023 | Intel
Intel Granulate, Intel's flagship software performance offering, announced a new collaboration with Databricks to merge Intel Granulate's autonomous, continuous optimization solutions with Databricks' robust Data Intelligence Platform under the Databricks Partner Program.
11/27/2023 | Andrew Kelley, XACTPCB LTD
While previous industrial revolutions have introduced factories, mass production, and computer-controlled systems, the advent of Industry 4.0 and the concept of the Smart factory have ushered in a new era in PCB manufacturing. For the PCB industry it is a very ambitious and aspirational objective to evolve from disconnected processes to an integrated system with automated data capture, real-time data analysis, process visualization, autonomous control, and self-correcting processes. 
11/21/2023 | iNEMI
iNEMI Packaging Tech Topic Series Webinar, LSI/PKG/PCB Co-Design to Support 3D-IC/Chiplet Design will be held on November 28, 2023, by guest speaker Kazunari Koga, Zuken Inc.
11/21/2023 | Barry Olney -- Column: Beyond Design
Electromagnetic energy propagates at about half the speed of light within the dielectric of a multilayer PCB. This speed is inversely proportional to the square root of the dielectric constant (Dk) of the material. The lower the Dk, the faster the propagation of the wave. In the past, we ignored the board-level delay as it was relatively instantaneous compared to the slow rise time of the signal waveform. But now that we have entered the realm of Gigabit/s design, an unaccounted 10 ps of delay can mean the difference between success and absolute failure of a high-speed design. Also, the trend is toward lower core voltages, which conserves power. However, reducing the core voltage also reduces the noise margin and impacts the system timing budget.