Books

Featured Books

smt007 Magazine

Latest Issues

Current Issue

Economic Headwinds

This issue takes stock of the current economic outlook and how companies are using current conditions to move themselves through technological evolutions, workforce shifts, and financial changes. Even with these headwinds, there's forward progress to be made.

Attracting New Talent

To get different results in staffing, you must change how you define, promote and recruit your job opportunities. How do you become magnetic to high-quality early-career candidates?

Test and Inspection

Test and inspection methods are undergoing rapid change. In this issue, we consider the influence of AOI, AI, and human eyes. How exactly are these pieces of the puzzle changing the role of test and inspection?

Columns

Latest Columns

||| MENU
Goepel electronic Solutions, Webinar Series, and Trends
June 19, 2019 | Barry Matties, I-Connect007
Estimated reading time: 7 minutes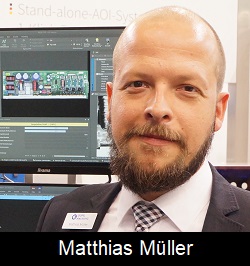 Barry Matties catches up with Matthias Müller to chat about the wide range of test and inspection solutions currently being offered by Goepel electronic as well as the informative webinar series produced by the company to help further educate their customer base and promote technical discussion on a number of topics.
Barry Matties: Can you begin with an overview of your organization for our readers?
Matthias Müller: Goepel electronic offers test and inspection solutions for electronics production in automotive suppliers and automotive companies. We specialize in AOI, AXI, and SPI systems for electronics production as well as JTAG/boundary scan and end-of-line test systems. For instance, for car seats, electric motors, or mechanical components in vehicles.
Matties: When you think of car seats, you don't think of that as something that would be inspected the way that we're describing.
Müller: A car seat is a complex component in the car, and Goepel follows the entire supply chain of this car seat. There are a lot of electronics and electronic control units in the car seat. They have to be designed, produced, and assembled, and these assemblies have to be tested, for instance, with an AOI system. But after these ECUs are built in the seat, they have to be tested again to verify that the communication of the ECU is working correctly. In the end, the entire seat mechanics have to be tested to see that everything works well, doesn't make a noise, or doesn't have any problems in the car. It's a complex thing that no one thinks about.
Matties: I would think in the automotive industry, there's a real demand for traceability in every step.
Müller: That's true.
Matties: What advice do you give to your potential or current customers when they're seeking to improve their process efficiency?
Müller: I would say a good database to collect data information, and on the other hand, a good system to use this data to improve the process.
Matties: Goepel takes an educational approach. You have a lot of webinars. Can you tell us about your webinar series and what you're trying to accomplish?
Müller: We do webinars to deliver content and technical information to customers and people who are interested to show them what's possible from the technical side and even from the process optimization side. We think that webinars are a good way to address a lot of people around the world at the same time. And for us, it's another possibility besides trade shows to show our experience and knowledge as well as what they can improve and do better.
Matties: For somebody who is really looking to streamline their process, your webinar series is a good place for them to start. How are you picking the topics for your webinars?
Müller: It's always things that the customers demand. We have customers that ask, "How can we improve our process? How can we use inspection systems in our manufacturing process?" We think this is something that's interesting for other manufacturers as well.
Matties: You have quite a collection now of webinars in your series. Typically, how often are you releasing webinars?
Müller: We have both German and international webinars. Over the past year, we have produced more than 12 webinars, so each month, there's a webinar. Mostly, they're in the spring or autumn before the big trade shows when we bring out our new products and technologies that we want to promote.
Matties: These webinars are on-demand, so can people come and watch them when they fit their schedule?
Müller: Yes.
Matties: If they have expert questions that they want to ask, of course, they can connect with you through that platform.
Müller: With the on-demand webinars, this is the only way, but we also do live webinars—especially in Germany—where it is possible to have a chat conversation during the webinar so that the attendees can ask questions. Viewers send their questions directly, and after the presentation, there is a 15-minute Q&A where we answer these questions and discuss them. During these discussions, there are more and more questions because sometimes, it needs an initial question for someone to have another question, and another question. Other times, there is a great discussion, and after 60 minutes of presentation and discussion, we have to cut everything and say, "Sorry, the time is over." But we answer every question afterwards by email; we get in touch with the attendees.
Matties: Are you finding that attendees are more technical, or is it more the leadership of a company joining these webinars?
Müller: It depends on the topic. If we have, for instance, special webinars about test coverage or electronic testing and development, then we mostly have technical professionals. But when we are talking about choosing the right inspection solution or technology to save time and money, then we often have the product managers or even the directors of companies who are interested. They want to see more the economic value of these technologies we offer.
Matties: Looking at your technology, you have quite a portfolio here in your booth for the assembly process. What type of inspection does that include—3D, AOI, SPI, etc.?
Müller: We have all of those, and we even have 2D and 3D AOI. The 3D AOI has become very popular in the last five years and has a high demand, but SPI is still important because many companies know that most faults occur during the solder process. X-ray, especially in the automotive industry, is becoming more and more important. So, we cover all these three inspection systems and even special systems customized for customers.
Page 1 of 2
---
Suggested Items
11/30/2023 | AIM
AIM Solder, a leading global manufacturer of solder assembly materials for the electronics industry, is pleased to announce its new NC259FPA Ultrafine No Clean Solder Paste, which it revealed recently during the Productronica Germany trade show.
11/27/2023 | Real Time with...productronica
Koh Young's Harald Eppinger talks about the company's technology for the semiconductor and advanced packaging market and how they address the challenges introduced by reflective components and micro solder deposits.
11/27/2023 | HyRel
HyRel Technologies, a global provider of quick turn semiconductor modification solutions, announces the achievement of International Traffic in Arms Regulations (ITAR) registration.
11/24/2023 | Mek (Marantz Electronics)
Mek (Marantz Electronics), a leader in Automated Optical Inspection (AOI) solutions, used last weeks' Productronica show in Munich to proudly introduce the SpectorBOX X series, a modular full 3D AOI system for THT solder joints and THT components.
11/21/2023 | Pete Starkey, I-Connect007
Productronica 2023 played host to the IPC World Hand Soldering Competition, bringing talented regional solder champions from all over the globe to compete for the title of World Champion. Each competitor was given sixty minutes to assemble a complex printed circuit board with their performance judged in accordance with IPC-A-610 Class 3 criteria. Each competitor's efforts were rated on the merits of the results achieved, scored on the quality of the assembly process, the electrical functionality of the assembly and the speed at which the assembly was produced.