Books

Featured Books

pcb007 Magazine

Latest Issues

Current Issue

Finding Ultra

New demands on PCB fabrication, namely advanced packaging, ultra high density interconnect (UHDI), and new specialty materials, are converging, changing the landscape of our business. Is it time to start paying close attention to this convergence?

Developing a Strategy

A solid strategy is a critical part of success. This month, we asked some of the top industry leaders and business strategy "gurus" to share their thoughts on developing strategies.

Winning With TQM

In this issue, we explore how TQM has entered the DNA of continuous improvement disciplines, and the role leadership transformation plays in this. If you've ever competed against a TQM company, you understand their winning advantage.

Columns

Latest Columns

||| MENU
Real Time with… SMTAI 2019 Slideshow
October 2, 2019 | Real Time with...SMTAI
Estimated reading time: Less than a minute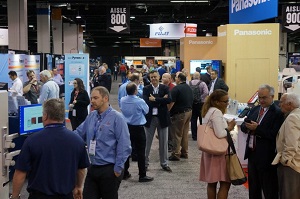 The SMTA International 2019 Conference and Exhibition closed last week on a high note. For those who were not able to attend the event, which was held at Stephens Convention Center in Rosemont, Illinois, the slideshow below contains a selection of photos from the exhibition show floor as well as the conference, which featured two experts in the space industry, Adam Steltzner, Ph.D., NASA, and W. Michael Hawes, DSc, Lockheed Martin Space, delivering keynote addresses.
Visit our Real Time with…SMTAI 2019 site for video coverage from this event.
---
Suggested Items
09/25/2023 | PVA
PVA, a global supplier of automated dispensing and coating equipment, is pleased to announce its participation in the 11th annual ASSEMBLY Show, scheduled to take place Oct. 24-26, 2023 at the Donald E. Stephens Convention Center in Rosemont, IL.
09/22/2023 | Nolan Johnson, I-Connect007
This week has been chock full of news about upcoming trade shows and conferences. Clearly, the season is upon us. This week, I-Connect007 reported on PCB West in Santa Clara (often referred to as the show which kicks off trade show season) and the topic of artificial intelligence was everywhere. By the looks of it, not just at the conference, either. For months now, the mainstream media has been gobbling up all sorts of news about generative AI engines, painting the picture that we'll all lose our jobs to these tools, while also reporting on situations where the results from AI have gotten progressively worse over time.
09/21/2023 | Scienscope International
Join Scienscope at the Guadalajara Expo and Tech Forum, where innovation knows no bounds. 
09/21/2023 | Andy Shaughnessy, I-Connect007
The weather couldn't have been better for PCB West, and PCB designers and manufacturers packed the show floor for much of the exhibition on Wednesday, Sept. 20 in Santa Clara, California. The show floor was sold out, and it was great seeing old friends and meeting new ones.
09/11/2023 | MacDermid Alpha
MacDermid Alpha Electronics Solutions, a leading provider of integrated materials and technologies for the electronics industry, will be at The Electric & Hybrid Vehicle Technology Expo 2023 in Novi from September 12 and 14.