Meet Ari, the Smart Bike That Helps You Catch Green Lights
October 21, 2019 | RMIT University
Estimated reading time: 2 minutes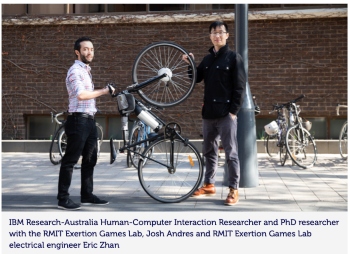 With more bikes than ever taking to the city streets, researchers have designed an e-bike that could help riders cruise the 'green wave' while also improving trust between humans and machines.
The frustration of being stuck at a red light is universal, and electric bike, or 'e-bike', riders are no exception.
But collaborative research between RMIT's Exertion Games Lab and IBM Research-Australia may have resulted in a solution - a system that allows humans and bikes to work together to catch more green lights.
Partners in Riding
The bike, dubbed 'Ari the e-bike', used artificial intelligence (AI) and Internet of Things technologies to assist the rider to regulate the speed and cross traffic lights on green.
Using traffic data and green wave modelling provided by Victoria's road and traffic authority, VicRoads, the researchers trialled the e-bike in real traffic conditions on Melbourne's streets. They calculated the optimum speed required to have the greatest chance of crossing all lights on green at the test location—22km per hour—and then programmed Ari to assist the rider to meet this reference speed.
The e-bike assisted the rider physically by increasing engine support to accelerate, and by literally whispering "slow down a little" via bone-conducting headphones, which left the rider's ears uncovered in order to safely navigate the environment.
IBM Research-Australia Human-Computer Interaction Researcher and PhD researcher with the Exertion Games Lab, Josh Andres, said the project is an example of how advances in AI and the Internet of Things in everyday objects could have implications in many aspects of our day-to-day lives.
"Through this research, we can begin to explore what it means for humans to partner with AI systems and how we can design these systems to support user interaction by being trustworthy, explainable, to ultimately explore futures that could make a societal contribution," Andres said.
RMIT Exertion Games Lab Director Professor Florian 'Floyd' Mueller said the research was important as it explored a new type of interaction between human and machine. "In this interaction, the computer does not replace the user's exertion – for example, it's not a motorbike that replaces pedalling—but instead it can physically and cognitively support the rider," he said.
Computer Says Coach
Real-world applications of the e-bike technology could depend on per-country traffic light data access jurisdiction, and currently, there are no plans for exploration. However, the learnings from this experiment may inform the future design of user and AI system partnerships, specifically in contexts where screens like smartphones are not needed, as they can be an obstruction to the user while moving.
RMIT Exertion Games Lab electrical engineer Eric Zhan, who contributed to the project, said he was excited about this future. "The development of reliable and explainable AI could open opportunities where this type of systems can serve as human 'coaches' by complementing physical effort and offering extra cognitive abilities," he said.
---
Suggested Items
11/27/2023 | Cambridge University
The Cambridge Open Zettascale Lab is hosting Dawn, the UK's fastest artificial intelligence (AI) supercomputer, which has been built by the University of Cambridge Research Computing Services, Intel and Dell Technologies.
11/22/2023 | Emirates
In the UAE Year of Sustainability, and at the 3rd ICAO Conference on Aviation and Alternative Fuels (CAAF/3) was held in Dubai, eight founding entities announced the launch of the "Air-CRAFT" initiative - a UAE based research consortium focused on developing, producing, and scaling sustainable aviation fuel (SAF) technologies.
11/21/2023 | ACN Newswire
Researchers of RIKEN at Japan's state-of-the-art synchrotron radiation facility, SPring-8, and their collaborators, have developed a faster and simpler way to carry out segmentation analysis, a vital process in materials science.
11/20/2023 | Northwestern University
During even the most routine visits, physicians listen to sounds inside their patients' bodies — air moving in and out of the lungs, heart beats and even digested food progressing through the long gastrointestinal tract.
11/20/2023 | PRNewswire
Raytheon, an RTX business, has been awarded a four-year, $15 million contract from DARPA to increase the electronic capability of radio frequency sensors with high-power-density Gallium Nitride transistors. Raytheon is the world's leading manufacturer of military-grade Gallium Nitride, a cutting-edge semiconductor technology that, when used in radar systems, improves range and radar resource management handling. This new prototyping work is being performed under DARPA's Technologies for Heat Removal in Electronics at the Device Scale program, known as THREADS.