Books

Featured Books

smt007 Magazine

Latest Issues

Current Issue

Chips Don't Float

In Europe and the U.S., legislation is under way to revitalize PCB fabrication and packaging. What is the status of this work, and how specifically does this change the industry landscape for EMS companies? What will help keep us afloat?

Flying High With Digital Twin

The opportunity to use manufacturing simulation as a test bed for job planning and process optimization brings continuous improvement into the modern age. This may be an all-or-nothing type of project, but it's worth the investment.

Artificial Intelligence

In this issue, we (and AI) explored how and when artificial intelligence plays a role in manufacturing today. Whether on the factory floor, or in the front office, AI applications are emerging and changing how we approach planning, processes and problem solving.

Columns

Latest Columns

||| MENU
Mirtec's Approach to Raw Data: The 'Sushi Principle'
December 9, 2019 | Real Time with...productronica
Estimated reading time: Less than a minute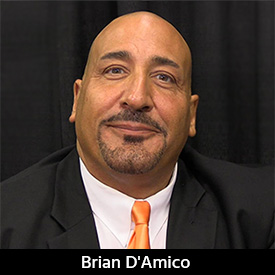 During productronica 2019, the I-Connect007 Editorial Team met with some of the industry's top executives, managers, and engineers.
In this video interview, part of the productronica coverage, the I-Connect007 team speaks with Brian D'Amico, president of Mirtec Corporation.
Editor Pete Starkey and Brian D'Amico discuss the company's new Alpha system, designed for the automotive market. D'Amico explains why Mirtec is focusing on providing customers with raw data instead of "cooked" data, what he terms the "sushi principle." He says that the system is able to pick up tiny defects that would otherwise be filtered away if the system were not using raw data. D'Amico also discusses their use of artificial intelligence, and some of the possible benefits from using AI going forward.
The productronica event is one of the world's leading trade fairs for electronics development and production. The productronica trade fair is held on alternating years, at the Messe München in Munich, Germany. The next productronica will be held November 16-19, 2021.
Watch video below:
---
Suggested Items
09/27/2023 | Keysight Technologies, Inc.
Keysight Technologies, Inc. introduces Keysight EDA 2024, a tightly integrated suite of electronic design automation (EDA) software tools that ensures first pass success.
09/27/2023 | Transition Automation, Inc.
Transition Automation, Inc. has improved the unique Paste Retainer System that is included in the company's line of squeegee holder systems.
09/26/2023 | Kirk Thompson, Isola Group
Despite being a leader in R&D investment in semiconductors and packaging with greater than $50 billion per year, the U.S. has seen its market share decrease to less than 3% in areas like advanced packaging and advanced substrates. The cause for this market share erosion was a laser focus in Asian countries to attract semiconductors and advanced packaging investment through ecosystem development and incentives. If the U.S. is serious about changing the momentum to onshore advanced packaging and advanced substrates, an ecosystem approach to innovation and manufacturing incentives must be employed. It is not enough to have the most innovative technology if the supply chain and manufacturing economics do not deliver competitive commercial opportunities.
09/26/2023 | Airbus
During the German National Aviation Conference in Hamburg, Airbus Helicopters unveiled the PioneerLab, its new twin-engine technology demonstrator based on the H145 platform.
09/26/2023 | Lockheed Martin
Lockheed Martin Skunk Works, in partnership with the U.S. Air Force, completed the first flight of the U-2 Dragon Lady's Avionics Tech Refresh (ATR) program.