Books

Featured Books

smt007 Magazine

Latest Issues

Current Issue

Economic Headwinds

This issue takes stock of the current economic outlook and how companies are using current conditions to move themselves through technological evolutions, workforce shifts, and financial changes. Even with these headwinds, there's forward progress to be made.

Attracting New Talent

To get different results in staffing, you must change how you define, promote and recruit your job opportunities. How do you become magnetic to high-quality early-career candidates?

Test and Inspection

Test and inspection methods are undergoing rapid change. In this issue, we consider the influence of AOI, AI, and human eyes. How exactly are these pieces of the puzzle changing the role of test and inspection?

Columns

Latest Columns

||| MENU
Mirtec's Approach to Raw Data: The 'Sushi Principle'
December 9, 2019 | Real Time with...productronica
Estimated reading time: Less than a minute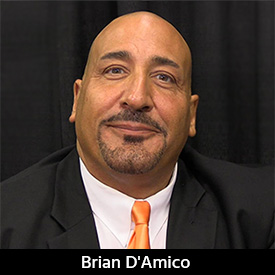 During productronica 2019, the I-Connect007 Editorial Team met with some of the industry's top executives, managers, and engineers.
In this video interview, part of the productronica coverage, the I-Connect007 team speaks with Brian D'Amico, president of Mirtec Corporation.
Editor Pete Starkey and Brian D'Amico discuss the company's new Alpha system, designed for the automotive market. D'Amico explains why Mirtec is focusing on providing customers with raw data instead of "cooked" data, what he terms the "sushi principle." He says that the system is able to pick up tiny defects that would otherwise be filtered away if the system were not using raw data. D'Amico also discusses their use of artificial intelligence, and some of the possible benefits from using AI going forward.
The productronica event is one of the world's leading trade fairs for electronics development and production. The productronica trade fair is held on alternating years, at the Messe München in Munich, Germany. The next productronica will be held November 16-19, 2021.
Watch video below:
---
Suggested Items
12/04/2023 | RTX
Collins Aerospace, an RTX business, is working with easyJet to activate GlobalConnectSM connected aircraft services on more than 330 Airbus aircraft in its fleet. easyJet will become the largest A320 operator in the world to deploy GlobalConnect. This new capability enhances safety oversight, pilot training and operational efficiencies.
11/30/2023 | BUSINESS WIRE
Nordson Electronics Solutions, a global leader in electronics manufacturing technologies, is pleased to announce the release of the new ASYMTEK Select Coat® SL-1040 conformal coating system.
11/30/2023 | PRNewswire
Hi Sharp, a leading maker of video surveillance systems, is globally announcing its expansion into AI and cloud-based technologies for video capture.
11/29/2023 | Intel
Ahead of Enlit Europe, Intel announced that its technology is helping power the Edge for Smart Secondary Substations (E4S) Alliance's new solution to modernize the energy grid.
11/29/2023 | Airbus
Airbus has signed a contract with the Spanish Ministry of Defence for the development and acquisition of SIRTAP, a High Performance Tactical UAS that will reinforce the tactical capabilities of the Spanish Army and the Air and Space Force.