Books

Featured Books

smt007 Magazine

Latest Issues

Current Issue

Economic Headwinds

This issue takes stock of the current economic outlook and how companies are using current conditions to move themselves through technological evolutions, workforce shifts, and financial changes. Even with these headwinds, there's forward progress to be made.

Attracting New Talent

To get different results in staffing, you must change how you define, promote and recruit your job opportunities. How do you become magnetic to high-quality early-career candidates?

Test and Inspection

Test and inspection methods are undergoing rapid change. In this issue, we consider the influence of AOI, AI, and human eyes. How exactly are these pieces of the puzzle changing the role of test and inspection?

Columns

Latest Columns

||| MENU
High Speed Via Reliability Testing Using Updated HATS² Technology
January 28, 2020 | Microtek Laboratories China
Estimated reading time: 1 minute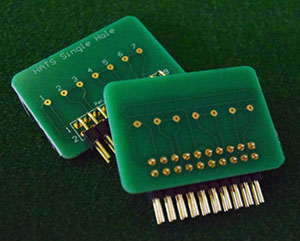 Highly Accelerated Thermal Shock (HATS™) High Speed Via Reliability test systems have now been updated with HATS²™ Technology. These updates provide HATS™ test systems with a wider temperature range (-55°C to 265°C), an improved measurement subsystem capable of high-current, micro-ohm precision, 4-wire resistance measurements and the ability to perform Multiple Cycle Convection Oven Reflow Simulation with in-situ resistance measurements in accordance with IPC-TM-650 Method 2.6.27B. This update also allows HATS™ test systems to test up to 72 IPC-2221B Type "D" coupons and 36 Traditional HATS™ or new HATS²™ Single Via coupons for both Multiple Cycle Convection Oven Reflow Simulation and Thermal Shock/Cycling.
The patented HATS²™ Single Via Test Coupon contains 7 Single Via Nets. Each of these Single Via Nets can be replaced by a daisy-chain net. This allows an updated HATS™ unit to collect electrical resistance data from both Single Via and Daisy-chain test nets for the via structures on the coupons.
According to Bob Neves, Microtek Laboratories China CTO/chairman, "Designers can include 1 or 2 daisy-chain nets along with 5-6 single via nets on the same HATS²™ Single Via Test Coupon. This should provide a bridge between traditional daisy-chain and single via net test results."
For more information about HATS² Technology or the patented* HATS²™ Single Via Test Coupon, please visit HATS-Tester.com.
---
Suggested Items
12/01/2023 | Nolan Johnson, I-Connect007
This week's news items taught me a few things I didn't know. For instance, there's news about the new equipment for THT work, governmental support for advanced packaging technologies, an upcoming webinar from iNEMI on counterfeits, an interview with U.S. Rep. Blake Moore, one of the sponsors of the bipartisan Protecting Circuit Boards and Substrates Act, and columnist Tim Haag, using Star Trek to illustrate why simplicity is, ahem, paramount.
11/30/2023 | PRNewswire
VPT, Inc., a HEICO company, VPT, Inc., a trusted provider of power conversion solutions for aerospace and defense, proudly announces its latest achievement of obtaining SAE AS9100 Revision D certification. SAE AS9100 Revision D enhances VPT's existing suite of certifications, including MIL-PRF-38534, MIL-STD-883, J-STD-001 (Space), IPC-A-610, and IPC-A-600, further cementing our commitment to excellence in quality and reliability.
11/29/2023 | TRI
Test Research, Inc. (TRI), the industry's leading provider of Test and Inspection systems for the electronics manufacturing industry, is pleased to announce the expansion of its Malaysian office, which opened in 2010.
11/29/2023 | Dana Korf -- Column: Dana on Data
November's issue of Design007 Magazine had an excellent theme that evolved around design simplification. There were exceptionally good articles about how to reduce over-constrained or needlessly complex designs. One significant time-consuming category is the creation of many design files and drawings which lead to lengthy creation and interpretation time along with the considerable time to resolve conflicting or erroneous information.
11/27/2023 | IPC
IPC welcomes the actions outlined today by the U.S. Government "to strengthen supply chains critical to America's economic and national security."