Books

Featured Books

pcb007 Magazine

Latest Issues

Current Issue

Finding Ultra

New demands on PCB fabrication, namely advanced packaging, ultra high density interconnect (UHDI), and new specialty materials, are converging, changing the landscape of our business. Is it time to start paying close attention to this convergence?

Developing a Strategy

A solid strategy is a critical part of success. This month, we asked some of the top industry leaders and business strategy "gurus" to share their thoughts on developing strategies.

Winning With TQM

In this issue, we explore how TQM has entered the DNA of continuous improvement disciplines, and the role leadership transformation plays in this. If you've ever competed against a TQM company, you understand their winning advantage.

Columns

Latest Columns

||| MENU
'A Night of Happy-ness' and 2020 Good for the Industry Awards
February 4, 2020 | I-Connect007 Editorial Team
Estimated reading time: 2 minutes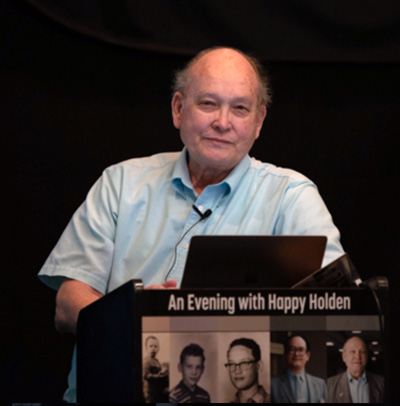 The Horton Grand Hotel in San Diego was the site of "A Night of Happy-ness" on the evening of Monday, February 3, 2020. I-Connect007 transformed the Regal Ballroom into a cozy lecture hall with two key objectives: to award the I-Connect007 Good for the Industry awards, and to celebrate the life, achievements, and personality that is industry pioneer Happy Holden.
The evening started with cocktails and appetizers. Barry Matties served as master of ceremonies, setting the mood with a mix of humor and sincerity.
The headliner of the evening was Happy Holden, who shared his memories and reminiscences growing up, as a student at Oregon State University, and then as a true pioneer at Hewlett-Packard. Happy's career brought him in contact with virtually every other luminary in the electronics and computer segments. Happy kept the crowd captivated with funny stories and interesting asides, right up to the scheduled Q&A session.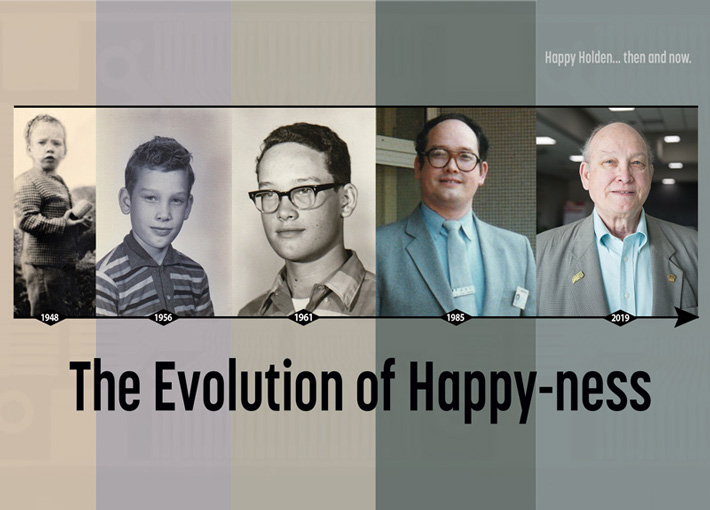 I-Connect007 was also pleased to announce the recipients of this year's prestigious Good for the Industry Award. I-Connect007 columnists from various industry segments—including Design007, PCB007, SMT007, and Flex007—were recognized and celebrated for sharing their knowledge and expertise with the industry. This year's recipients each contributed a minimum of 50 columns, articles, interviews, etc., since becoming I-Connect007 columnists.
Publisher Barry Matties said, "At I-Connect007, we believe being good for the industry means helping the industry improve cycle time, lower cost, increase yields, build better products, increase profitability, reduce waste, become overall more efficient, do things differently, and motivate and inspire others to do the same—all things that are good for the industry. These are things that we strive to do in our own business every day."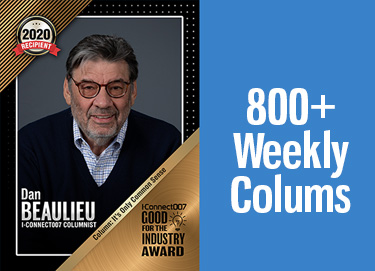 Kiersten Rohde, I-Connect007 editor and columnist coordinator, stated, "It was an honor to recognize these columnists and all the work they have contributed to the industry over many years. They're an incredible group of industry experts and I greatly respect their commitment to education and knowledge-sharing."
The entire I-Connect007 team congratulates these recipients and thanks them for being good for the industry.
>Check out photos from this event at our Real Time with... IPC APEX EXPO 2020 site.
800+ Contributions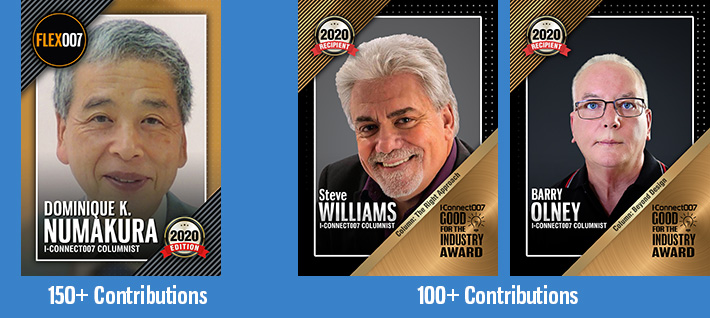 150+ Contributions
100+ Contributions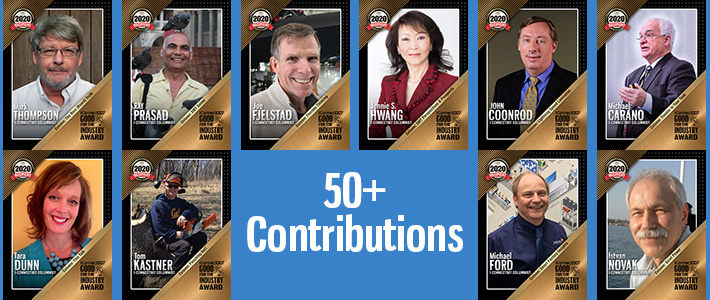 50+ Contributions
---
Suggested Items
09/22/2023 | IPC
Join fellow EMS leaders in the region on Oct 5, 2023, 4:30 - 8:00pm EDT, to share industry pain points and solutions. Our focus for this meeting is how companies profitably reach the next level of revenue. Following a presentation on the current EMS market and revenue tiers in the industry, participants will discuss how to reach the next level and grow their business. Discussion will pull from direct experience, questions, and ideas. From there, the conversation goes where you, the leaders, take it. Every roundtable ends in unique takeaways.  
09/21/2023 | Intraratio
Intraratio, a provider of enterprise software solutions, is pleased to announce its participation in the SMTA Guadalajara Expo and Tech Forum 2023.
09/21/2023 | SEMI
The SEMI Semiconductor Climate Consortium (SCC) issued its first report of the semiconductor ecosystem's greenhouse gas (GHG) emissions profile, an in-depth analysis of the semiconductor value chain's carbon footprint and priority-ranked carbon emission sources for the industry to address.
09/20/2023 | PDR
PDR is set to showcase its cutting-edge IR-E3 Series of SMD/BGA IR rework systems, as well as its industry-leading X-ray solutions.
09/20/2023 | Hentec Industries/RPS Automation
Hentec Industries/RPS Automation, a leading manufacturer of selective soldering, component lead tinning and solderability test equipment, announces that it has added assembly and production staff members to its team to accommodate its recent increase in sales and order demand.