Books

Featured Books

smt007 Magazine

Latest Issues

Current Issue

Chips Don't Float

In Europe and the U.S., legislation is under way to revitalize PCB fabrication and packaging. What is the status of this work, and how specifically does this change the industry landscape for EMS companies? What will help keep us afloat?

Flying High With Digital Twin

The opportunity to use manufacturing simulation as a test bed for job planning and process optimization brings continuous improvement into the modern age. This may be an all-or-nothing type of project, but it's worth the investment.

Artificial Intelligence

In this issue, we (and AI) explored how and when artificial intelligence plays a role in manufacturing today. Whether on the factory floor, or in the front office, AI applications are emerging and changing how we approach planning, processes and problem solving.

Columns

Latest Columns

||| MENU
Peters Partners to Develop University Professors
February 20, 2020 | Peters
Estimated reading time: 1 minute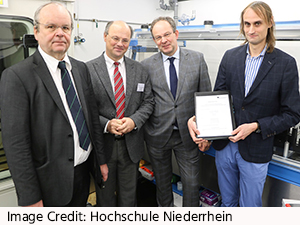 Peters, coatings supplier for electronics, is becoming a cooperating partner for the young academics programme initiated by the Wissenschaftsministerium NRW (Ministry of Sciences, North Rhine-Westfalia) which assists with the entry into a university professorship. In this project young scientists perform teaching activities such as lectures and seminars at the university while also doing practical research together with a cooperation partner of the regional economics.
Dr. Christian Schmitz has done his doctorate at the Duisburg Essen University in cooperation with the University of Applied Sciences Niederhein on the subject of "Near-Infrared Curing Systems." During the next three years he will now commit himself to coating development and statistical test planning at Peters in close cooperation with our Research & Development department. The University's AI based high-throughput machine will also be included into the planning and research activities. This machine is able to produce, apply, cure and test up to 120 coating samples per day, thus considerably optimising and accelerating the development of a coating.
We are looking forward to a constructive and trustful working relationship and welcome Dr. Schmitz!
Picture (from left to right): Prof. Dr. Bernd Strehmel, Professor for Coating Chemistry, Dr. Schmitz' doctor's advisor and mentor within his career programme, Prof. Dr. Hans-Hennig von Grünberg, President University Niederrhein, Ralf Schwartz, Managing Director at Peters and Dr. Christian Schmitz
---
Suggested Items
09/25/2023 | PVA
PVA, a global supplier of automated dispensing and coating equipment, is pleased to announce its participation in the 11th annual ASSEMBLY Show, scheduled to take place Oct. 24-26, 2023 at the Donald E. Stephens Convention Center in Rosemont, IL.
09/21/2023 | Anda Technologies
Anda Technologies, a leading provider of fluid application and custom automated manufacturing equipment, is excited to announce its participation in SMTA Guadalajara, a premier event in the electronics manufacturing industry.
09/21/2023 | Takaya
TEXMAC/Takaya, the pioneering developer of flying probe testing systems for assembled Printed Circuit Board Assemblies (PCBAs), announces the launch of FastTrack ODB++, the Takaya Program Generator, a Takaya-developed conversion software program that simplifies and streamlines communication between machines when generating APT testing programs.
09/20/2023 | Seika Machinery, Inc.
Seika Machinery, Inc., a leading provider of advanced machinery, materials and engineering services, is excited to announce its participation at SMTA Guadalajara, scheduled to take place on Wednesday, Oct. 25, 2023 at Expo Guadalajara in Guadalajara, Jalisco.
09/20/2023 | Hentec Industries/RPS Automation
Hentec Industries/RPS Automation, a leading manufacturer of selective soldering, component lead tinning and solderability test equipment, announces that it has added assembly and production staff members to its team to accommodate its recent increase in sales and order demand.